MULTI-AWARD WINNING SINGER-SONGWRITER-PRODUCER AND AUTHOR, JONATHAN MCREYNOLDS CLOSES OUT 2023 ON A HIGH NOTE!
WINS CONTEMPORARY GOSPEL/URBAN RECORDED SONG FOR "YOUR WORLD" AT THE 54th ANNUAL GMA DOVE AWARDS

KICKED-OFF 2023 WITH THE RELEASE OF 5th STUDIO ALBUM, "MY TRUTH"

HEADLINED HIS "MY TRUTH" NATIONAL TOUR IN PARTERSHIP WITH COMPASSION INTERNATIONAL

CO-HOSTED THE 2023 38th ANNUAL STELLAR GOSPEL MUSIC AWARDS"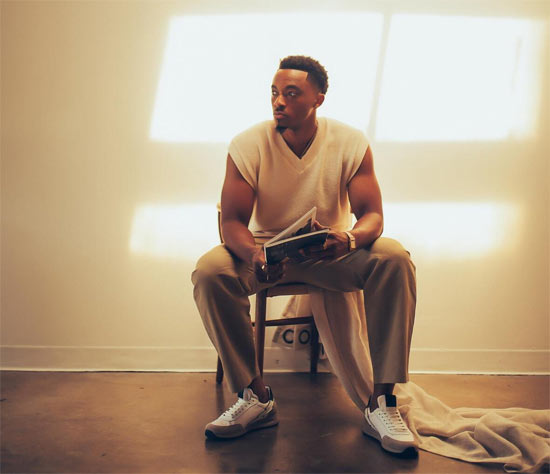 NEWS SOURCE: 2R's Entertainment & Media PR
October 26, 2023
New York, NY - October 25, 2023 - Renowned multi-award singer-songwriter-producer and author, Jonathan McReynolds closes out 2023 on a high note. This year has been nothing but a non-stop rollercoaster-ride filled with amazing highs for the Chicago native.
Last week, the GMA DOVE Awards were handed out to the best of the best in Gospel music and Jonathan McReynolds was front and center not only as presenter, but also as a winner as he walked away with the "Contemporary Gospel/Urban Recorded Song of the Year" for his smash single, "Your World."
This past summer, Jonathan McReynolds co-hosted the 38th Annual Stellar Gospel Awards alongside Tasha Cobbs Leonard. The evening was filled with lots of joy and excitement as his protege' and artist signed to his own record label, Life Room Label, multi-award winning artist, DOE, walked away with three Stellar Awards.
Earlier this year, Jonathan release his much anticipated fifth studio album, "My Truth" to rave reviews. The 12-track album still remains on top of the Billboard Magazine Gospel Charts and holding strong at #20 this week. "My Truth" delivered the powerful and former #1 Gospel song in the country, "Your World". The song went on to hold the #1 spot for 7 consecutive weeks. "Your World" reminds the listener of God's sovereignty – a bop, intentionally upbeat, and happy. Jonathan McReynolds shares, "This song reflects my evolution and growth. I am not the same person I was when I wrote my first album. Now, I am secure enough to take more risks and remove any limits to my creativity. It's God's World, and we are just living in it!"
With the success of the "My Truth" album, Jonathan embarked on his national headlining "My Truth Tour." The tour became one of the most talked about tours of the spring. Jonathan would leave it all on the stage, night after night and city after city. In making sure to always give back, Jonathan partnered with Compassion International, a child sponsorship and Christian humanitarian aid organization that aims to positively influence the long-term development of children globally who live in poverty. "I am truly thankful for the year that I have just had. I always love and appreciate "album years", as it allows for me to go into the world with a specific theme and new message to touch the fans." "I am already looking forward to 2024 and start the creative process for another album," shares Jonathan.
As an author, McReynolds' first book, "Make Room: Finding Where Faith Fits," draws on testimonies in scripture and from personal experiences to invite readers to make room for God in every area of life. Jonathan is in the process of adding finishing touches to his sophomore book, to be released in 2024, under his new publishing deal with W. Publishing. Also in 2024, Jonathan McReynolds will add the title of Professor to his hyphenate, as he will teach a "Christians In Culture," course at The Moody Theological Seminary.
CONNECT WITH JONATHAN MCREYNOLDS:
Website:www.JonathanMcReynolds
Instagram: @JonMcReynolds
X:@JonMcReynolds
Facebook: /JonathanMcReynolds
ABOUT JONATHAN MCREYNOLDS
What was born in his dorm room in the presence of a few friends has graduated to Christian music's biggest stage. And Jonathan, now 33, did it with an incredible voice and a beautifully honest approach to songwriting. His EP ??"People" debuted at #1 and has been called the believers' soundtrack of a crazy 2020. After earning three Stellars, it's single "Grace" became a record fourth #1 Billboard airplay single in a row and "Movin' On" featuring Mali Music garnered his first Grammy win and fourth nomination. Always endeavoring to provide excitement for the genre, he and Mali released a live joint EP "Jonny X Mali: Live in LA" and buzzworthy tour in the second half of 2021.
His latest full-length album Make Room debuted #1 on Billboard Gospel. It has been hailed as a generational work, earning eight Stellars and two Grammy nominations. The title track "Make Room" and hit single "Not Lucky, I'm Loved" from this album, gave Jonathan his first two #1 songs on Billboard. His second album Life Music: Stage Two features another superstar fan in India.Arie and remained #1 on the Billboard Gospel chart for 4 weeks.?
Jonathan starred as a judge on BET's hit series Sunday Best for two seasons (2019, 2020) and in 2021, starred in his first movie "Favorite Son" a BET+ original.
According to the Chicago native, his albums "are about being authentic and genuine, pure and transparent. I'm direct, I'm blunt. I'm not a fan of church clichés and 'Christian-ese'. Life Music is concerned with showing others and reminding myself how the Faith doesn't just fit every part of life, but should frame every part of life."
In May 2015, Jonathan attained his Masters of Arts in Biblical Studies from Moody Theological Seminary. He had previously His contribution to society outside of music is important to him as well. With that, he is an adjunct instructor at his alma mater Columbia College, an official contributor to Huffington Post and the founder of Elihu Nation, a nonprofit organization that promotes wisdom and has awarded $40k in scholarships. He was recently named a new member of Mensa, an international high IQ society, as well.
###