Brotality Featured on "This Was My Life: The Story Of Nick Menza" Soundtrack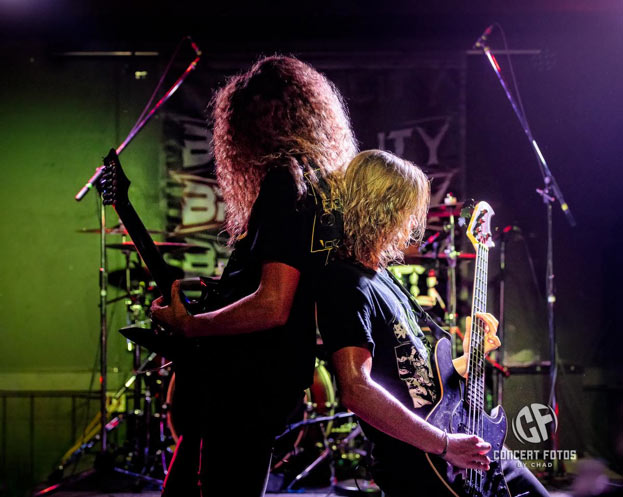 NEWS SOURCE: Brotality
November 2, 2023
Up-and-coming metal powerhouse Brotality has been selected to be featured in the soundtrack to the upcoming feature-length documentary "This Was My Life: The Story Of Nick Menza".
Guitarist/vocalist Bryce Maopolski and bassist/vocalist Reece Maopolski had the opportunity to handcraft an original composition over existing unearthed and unreleased drum tracks former Megadeth drummer Nick Menza recorded two years before his tragic death, resulting in a new song titled "The Endless Eye", to be released later this year as a part of the documentary soundtrack. "This Was My Life: The Story Of Nick Menza" was produced, directed and is currently being edited by Screaming Butterfly Entertainment. David Ellefson (former Megadeth bassist) signed on as a co-producer of the film, and also will provide narration to guide the viewer through the exploration of the late Megadeth drummer's life. The film will be released later this year. A new snippet demo version of the song "The Endless Eye" can be heard in the YouTube clip below.
Wise beyond their years, the Maopolski brothers formed Brotality in 2016, with inspiration taken from iconic groups such as Megadeth, Mastodon, and Pantera. In a few short years, Brotality has released two EPs, multiple singles, and two full length albums. Their debut full length, "Worldwide Desolation", has received countless rave reviews, and landed on several best albums of 2021 lists. Their sophomore album, "The Woods Will End You" won Readers Choice Album of the Year on Metal Epidemic, top seven thrash albums on Scream Blast Repeat (where Bryce was featured on their Top 7 Guitarists of 2022 list), and spots on many other top albums of 2022 lists. An ambitious 2023 schedule saw the band playing regionally around the Northeast U.S. and embarking on an expansive seven week national summer tour, capitalizing on their 2022 summer tour which spanned the US over six weeks. In April 2023 they co-headlined Exodo Fest in Tlaxcala, Mexico, where they will return again in 2024. You can find updated information along with show schedules on all of their social media, or on their website, brotalityband.com.
###