Matt Moore Keeps His Head Above the Waters of Depression with "Darker Waters"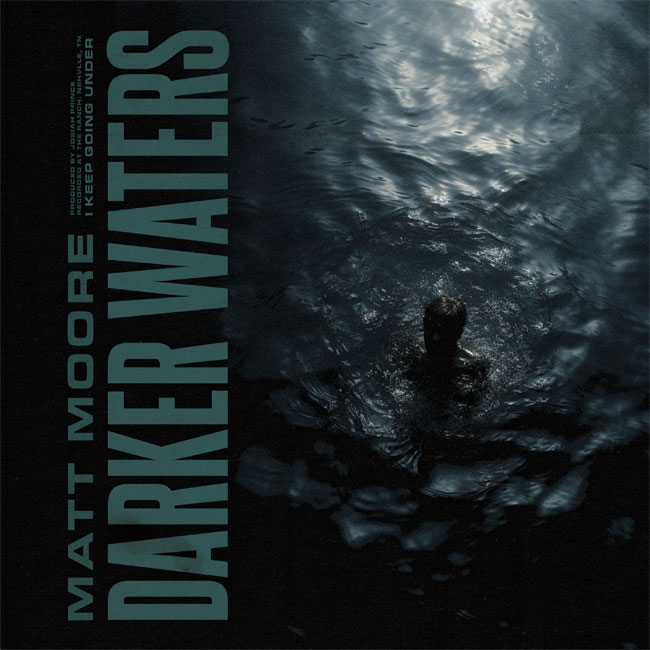 NEWS SOURCE: Mary Nikkel Media
November 3, 2023
FOR RELEASE NOV 3, 2023 — Matt Moore has released a formidable new single with "Darker Waters," a track about navigating the treacherous depths of depression. The track, which follows this fall's top 10 charting single "Tether," is available now on all major streaming outlets.
"When I first started writing this song, it was about struggling to overcome the darker thoughts we wrestle with," Matt Moore explains. "In my experience, sometimes depression and dark thoughts feel like you're drowning: wave after wave crashing in, just fighting to keep our heads above water and not get dragged away. I wanted to use the metaphor of drowning and being surrounded by creatures just waiting to pull you under and consume you. I think that's an accurate picture of what it feels like. I also have a fear of things that live in the water, adding an extra level of terror for me. This song is about calling out to God for rescue."
Like "Tether," "Darker Waters" was created in partnership with Josiah Prince (Disciple) with mixing and mastering by Kellen McGregor (Memphis May Fire). Lester Estelle (Pillar, Kelly Clarkson) provided drums. The resulting rock track is darkly robust, its ominous themes tempered by an earnest cry for help.
It's a natural follow-up, the two tracks playing in tandem.
Moore says, "Both 'Tether' and 'Darker Waters' address issues of mental health, both what it means to struggle with it, but also the search for hope and restoration in the midst of it."
Those themes are timely, both for a world drowning in mental health crises, and for Matt Moore's own life and pastoral ministry.
"Mental health is a subject that is very close to my heart, both because of my personal struggles with depression and anxiety, and also some of the difficult situations I get to walk through with people in my role as a pastor," Matt says. "I feel it's incredibly important that we continue to open up this conversation, share our struggles with one another and begin to experience true healing."
Matt will continue doing exactly that as he crafts new music with Josiah Prince. The two are actively writing and collaborating, with plans for more music from Matt Moore in 2024.
You can find Matt Moore's music on Spotify and Apple Music. You can also find him on social media via Facebook, Instagram and YouTube, or learn more on his website mattmooremusic.com.
###