AsFireFalls Unveils New Single "Praetorian," A Reflective Take on Modern Society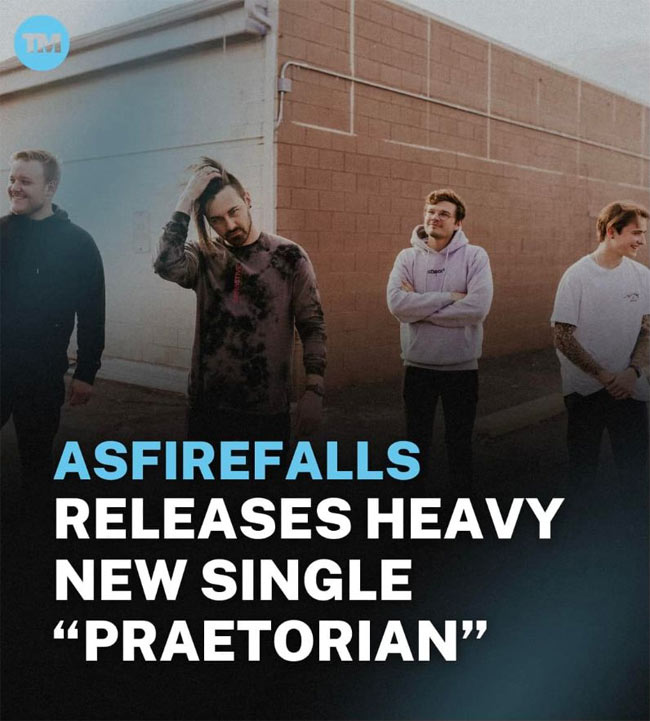 NEWS SOURCE: Transparent Media
November 10, 2023
[Boise, Idaho, 11/7/23] -- AsFireFalls has just dropped their latest single, "Praetorian," available for streaming on all major platforms. Stream here:
https://ffm.to/aff_p
"Praetorian" is a poignant commentary on the complexities of the contemporary world. Vocalist Kris Lindstrom provides insight into the song's theme, describing it as "an exploration of the way those in power manipulate and exploit the masses to serve their own interests."
The track also sheds light on the media's role in perpetuating this cycle through sensationalism, which often drives clicks and views. Despite the song's dark subject matter, "Praetorian" acknowledges that there's no turning back: society has evolved too far to reverse its course.
AsFireFalls' evocative melodies and insightful lyrics make this single a thought-provoking addition to their already impressive discography.
Stream "Praetorian" now on your favorite music platform and join AsFireFalls on a reflective journey through the modern world's intricacies.
For more information about AsFireFalls and their music, please visit
asfirefalls.com
or follow them on socials here:
https://bio.to/asfirefalls
.
About AsFireFalls:
AsFireFalls is an innovative metalcore band driven by DIY expertise, producing their own music out of a studio in Boise, Idaho. Their blend of crushing riffs, emotive melodies, and reflective lyrics create an immersive experience for listeners.

Comprised of Kris Lindstrom (vocals), Nic Lindstrom (drums), Nick Gregory (guitar) and Jake Doster (guitar), the band has been built from a lifetime of musical collaboration between Kris and Nic Lindstrom. The chemistry that results from lifelong friendships means AsFireFalls is able to present a cohesive, well-honed sound.

The lyrics are as heavy-hitting as the sound itself.

"I mostly try to go for abstract thoughts and more thought-provoking lyrics," singer Kris Lindstrom explains. "I like abstract imagery and things that can apply to multiple situations."
###