Sanctus Real's Chris Rohman Signs Publishing Deal with Curb | Word Music Publishing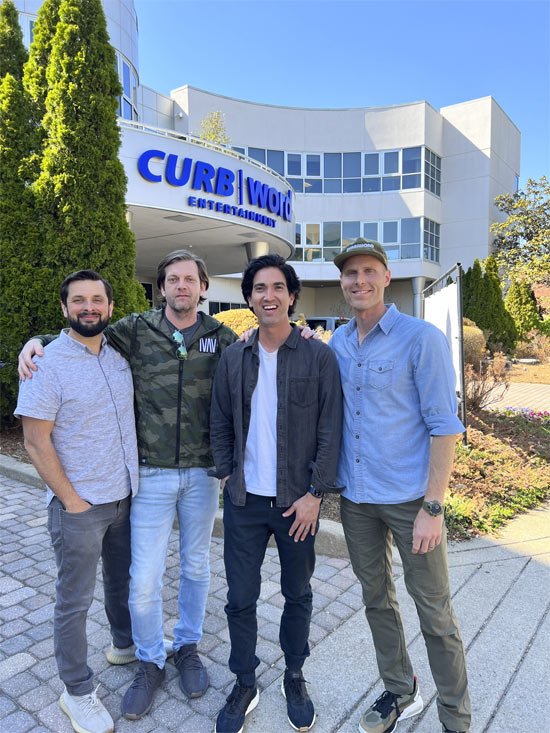 From L to R: Curb | Word's Jonathan Mason; Sanctus Real Manager Mikel McClellan; Chris Rohman; Curb | Word's Trevor Mathieson

NEWS SOURCE: Curb | Word
November 10, 2023
Nashville, Tenn. (November 10, 2023) – Curb | Word Music Publishing is excited to welcome Sanctus Real's Chris Rohman to its publishing roster. Rohman joins Sanctus Real front man Dustin Lolli, who is also signed as a songwriter to Curb | Word Music Publishing.
"I've been blessed to live through many seasons with Sanctus Real and at this point I can relate to the old saying, 'the best is yet to come,'" shares Rohman. "I'm so grateful for the good people at Curb | Word whom I've called friends for many years to now become my publishing partners."
"It has been a joy working alongside this iconic band for many years as we've watched them see overwhelming success at both Christian radio and on digital streaming platforms," shares Curb | Word Entertainment's VP, Christian A&R and Publishing, Jonathan Mason. "We are proud to step into this new season together."
As a teenager, it was the music playing on his local alternative rock station that caused Rohman to ask his father to teach him a few guitar chords. It didn't take long after learning to play songs from artists like Tom Petty and Weezer that Rohman found himself with a group of friends that eventually formed their own band, Sanctus Real. Over 25 years later, the passion for songwriting that drove Rohman to believe that a song can change everything is still what excites him most today. It's that belief in a song that has led to a catalog of music that now spans decades and continues to encourage a growing audience.
Rohman loves writing and self-producing ideas not only for Sanctus Real, but for other artists who believe that a song has the potential to make a lasting impact on someone's life. Recently, Rohman produced Sanctus Real's "What Christmas Means To Me," released today, 11/10.
For more information about Curb | Word Music Publishing, go to www.curbwordmusicpublishing.com.
About Curb | Word Music Publishing
In 2016, Curb Records acquired Word Entertainment, combining two of the music industry's most respected global brands, and more than a century of collective publishing experience. Owned and operated by Mike Curb, the combined publishing entities represent many of today's top contemporary and iconic hits in Country, Christian, Pop, Rock, and Hip-Hop, including the only country song in history to debut at #1, Garth Brooks' "More Than A Memory." Additional legendary songs in the catalog include "Kiss Me," "You Light Up My Life," "Mary, Did You Know," "Hard To Love," "One More Day," "Rumor," "Three Wooden Crosses," "Watching You," "Suds In The Bucket," "Love Can Build A Bridge," "My Girl," "I Don't Dance," "El Shaddai" and "Love Like Crazy," among many others. For more information, visit www.curbwordmusicpublishing.com.
###
For more info on Sanctus Real, visit the JFH Artists Database.