JACOB (Deluxe Edition) OUT NOW Ty Herndon Unveils Two New Tracks and Reimagined Mixes
Herndon Explores Faith and Spirituality with Two New Tracks: "Love Me Anyway" and new single, "How You Get to Heaven"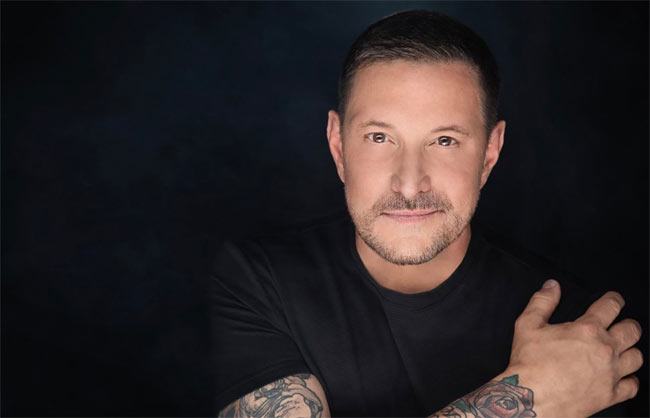 NEWS SOURCE: Aristo PR
November 17, 2023
(Nashville, Tenn. – November 17, 2023) - Grammy-nominated and Dove Award-winning country artist, Ty Herndon, has unveiled the Deluxe Edition of his critically acclaimed album, JACOB. The expanded edition, now available worldwide
here
, includes two new tracks, "Love Me Anyway" and "How You Get to Heaven," along with reimagined versions of four tracks from the original release. The two new tracks delve deeper into Herndon's exploration of spirituality and faith and were produced by Jimmy Thow.
In "How You Get to Heaven," the new single shipped to country radio this week, Herndon reflects on the values and beliefs instilled in him, emphasizing the importance of living one's faith every day, rather than confining it to Sunday worship. The song's heartfelt lyrics deliver a message of love, acceptance, and generosity, urging listeners to prioritize kindness and compassion toward others.
Herndon shared his thoughts on the song, stating, "It's not where you go on Sunday — it's what you do on Monday. The second I heard those lyrics; I knew I had to record this song. My faith is something very important to me, and with everything going on in the world right now, this song just feels so fitting. Who cares where you show up on Sunday morning if you aren't living those values every day of the week? I hope this song touches folks the way it did me and reminds us all that love and acceptance are always the right answers."
In "Love Me Anyway," Herndon delivers a soul-stirring message. He sings, 'I heard a preacher man talking 'bout love and what you have to do to make it to that place up above.' The song highlights the preacher's certainty and the town's whispers about change, emphasizing the importance of God's boundless love.
The original album, released in July 2022, paved the way for an extraordinary journey that led to the emergence of two chart-topping radio singles, the irresistible "Till You Get There" and the duet "Dents on a Chevy" with five-time CCMA Female Vocalist of the Year, Terri Clark. The latter single spent an impressive 7 weeks at the number one spot atop the CDX TRACtion chart, which tracks independently released singles at country radio. Herndon's remarkable presence on the country radio charts in 2022 and 2023, totaling 54 weeks, marked a triumphant return for the star after more than two decades.
Reflecting on the extended release, Herndon expressed, "The response from radio and the fans for 'JACOB' was extraordinary, and I felt like we had some more to add to this story before we close things out on this era. But my message remains just the same — if you're out there struggling, there is light on the other side of darkness, and we all have the power to change our own endings. Don't let anyone tell you differently. I'm living proof."
JACOB is Ty Herndon's most personal album to date, a culmination of a life filled with hard-fought struggles and hard-won triumphs. It invites listeners to embark on a journey from darkness to light, mirroring the path Herndon himself has traversed in both directions. The music vividly narrates previously unshared aspects of his life, touching on various genres, including country, rock, and gospel, all while encapsulating the pain, sorrow, and redemption that are universally relatable. The album's title draws inspiration from the Biblical Old Testament figure, Jacob, who faced severe challenges and made mistakes before rising to become a leader of his tribe.
The 17-track JACOB (Deluxe Edition) is released in partnership with Pivotal Records, a division of Pivotal Moments Media. Herndon's illustrious career began in 1995 with "What Mattered Most," his first No. 1 song, and he subsequently charted 17 singles, including three No. 1 hits and numerous top 10 hits. Herndon's decision to publicly come out as gay in 2014 marked a historic moment in the country music industry, strengthening his connection with fans and the community. He has since continued to make a profound impact through initiatives like The Concert for Love and Acceptance and the Foundation For Love & Acceptance.
In 2020, Ty Herndon soared back to the No. 1 spot on iTunes with his remake of "Orphans of God," a collaboration with Kristin Chenoweth and Paul Cardall, featured on his holiday release, Regifted. Following that success, he dedicated himself to crafting the new album, JACOB, his first album of all-new music since 2016's House On Fire. With a Grammy-nominated and Dove Award-winning career, Herndon's powerful voice has only grown stronger, and he continues to use it to make a difference.
In addition to his music career, Ty Herndon actively supports MusiCares, an organization that provided him with support during his struggles and offers services to those in the music industry. In 2022, he joined Pivotal Moments Media as a Brand Ambassador and became the first artist signed to the organization's new record label, Pivotal Records. Pivotal Moments Media works with diverse artists who share a common commitment to inspire more of us to be champions for mental health. We work with artists to find new channels for their voices to be heard and provide organizations with personal development and wellness education services.. From speaking in schools to working with brands who care, our artists stand up for something bigger than music.
For more information on Ty Herndon and to listen to JACOB (Deluxe Edition), please visit TyHerndon.com and follow him on Instagram, Facebook, TikTok, and X.

JACOB (Deluxe Edition) Track List:
"Love Me Anyway" (Ty Herndon, Jamie Floyd, Jimmy Thow)

"How You Get to Heaven" (Jamie Floyd, Ken McMeans)

"Till You Get There" (Ty Herndon, Jamie Floyd, Erik Halbig, and Jimmy Thow)

"Dents on a Chevy" duet with Terri Clark (Ty Herndon, Starner Jones, Leslie Satcher, and Will Robinson)

"God or the Gun" (Ty Herndon, Jamie Floyd, Erik Halbig, and Hector Montenegro)

"Standing in the Whiskey" (Ty Herndon, Jamie Floyd, and Erik Halbig)

"Fighting With Me" feat. Emily West (Erik Halbig and Emily West)

"Say It For You" feat. Wendy Moten (Ty Herndon, Hector Montenegro, and Khiana Noel Meyer)

"Lean In" duet with Jamie Floyd (Ty Herndon, Jamie Floyd, Erik Halbig, and Hector Montenegro)

"Sleeping With a Stranger" (Ty Herndon and Hector Montenegro)

"Landslide" duet with Shelly Fairchild (Ty Herndon, Erik Halbig, and Morgan Myles)

"Hallelujah" (Ty Herndon, Hector Montenegro, Joshua Nichols, Christina Elizabeth Tripp)

"Damn Good Feeling" (Ty Herndon, Shelly Fairchild, and Hector Montenegro)

"Till You Get There (Organic Version)"

"God or the Gun (Divine Version)" feat. Destiny Rambo Khouri

"Standing in the Whiskey (Double Shot Version)"

"Dents on a Chevy (2 Red Lights Remix)" duet with Terri Clark
###