June, 2001
---
*Monday, June 25th, 2001*
---

Jars of Clay
,
Jaci Velasquez
,
True Vibe
and many other recording artists took part in an unprecedented recording of "
America, the Beautiful
" this past week at Scene Three studios in Nashville. The star-studded recording is to be part of a 225th anniversary of the Declaration of Independence celebratory event spearheaded by television producer Norman Lear and to be held July 4 in the historical city of Philadelphia. The event is to be televised live on the ABC Television Network.
---
Ray Buchanan
, cornerback for the
Atlanta Falcons
, is releasing an album through BEC Recordings. This is entitled, namely enough, Ray Buchanan. These are 11 songs of rich vocals and top rhyming skills, produced by Blake Knight. Buchanan has performed during Super Bowl XXXIV week in Atlanta and also for two "NFL Jams" albums.
---
MxPx
is in the studio again this summer working on their next full album. Mike has written 40 songs for this record so they will be working on those and picking the best ones. If you can't wait for this new record to come out, go check out the
Renassaince EP
.
---
All Together Separate
has finished mixing for their next studio album. John Hampton produced this, he has worked with
Audio Adrenaline
and the
Gin Blossoms
.
---
Look for garage band
Superchic[k]
on the soundtrack to
Reese Witherspoon
's new movie
Legally Blonde
and
Kirstin Dunst
's new movie
Crazy/Beautiful
, and finally on this season's premiere episode of MTV's
The Real World
and
Road Rules
. Also, you may have seen them on tour at
Festival Con Dios
and
Acquire the Fire
.
---
Christian artists
Mary Mary
and
Yolanda Adams
performed on June 21's episode of the
Oprah Winfrey
show. They joined mainstream artists such as Alicia Keys, India Arie, and Jill Scott on this episode filled with performances of rising women musicians. Mary Mary performed their mega crossover hit "Shackles (Praise You)", while Yolanda Adams performed her latest single "I Believe I Can Fly" as well as her hit single "Open My Heart".
---

The Elms
are at it once again. Owen Thomas, lead singer and song writer has written an all new song called "Come To Me" which is not on their new album
The Big Surprise
. You can hear it if you check them out on tour with the
Festival Con Dios
. It is said that this is the band's favorite live song and is of a Brit rock flavor. Owen is also working on around 20 new songs including a Christmas song and one called "The Perfect Song," featuring lead vocals by Chris Thomas, Owen's brother/Elm's drummer. Their first music video is also complete. The video for "Hey Hey" is the band spending time in public places walking around oblivious to their surroundings. Celebrities are possibly in this video too. A one mister Super Dave Osborn, country music star Pam Tillis and actress Dixie Carter.
---
Steven Curtis Chapman
is making a
Declaration
on September 25th. This tenth studio album from the hit-maker will have twelve songs and take a revealing look at his own life.
---

Jars of Clay
will be featured in the October 1st book release,
The Narrow Road
, by Brother Andrew with John and Elizabeth Sherrill. Published by Fleming H. Revell, a division of Baker Book House, The Narrow Road is a special expanded version of Brother Andrew's best-selling book, God's Smuggler, and is specifically written to raise awareness among today's youth about Christian persecution worldwide.
---
Michael W. Smith
had a little help from his friends on his new record.
Amy Grant
,
Mark Schultz
,
Erin O'Donnell
,
Greg Long
,
Cindy Morgan
,
Kelly Minter
,
Phillips Craig & Dean
,
Ginny Owens
,
Chris Rice
,
Out of Eden
, and
Plus One
all helped record songs for his upcoming praise & worship album.
---
American Made
's next project will be produced by Steve Kravac. He has produced records by
Less Than Jake
,
MxPx
, and
Blink 182
. Can we say 'Hit'!
---
A
Weezer
tribute album is in the works. What does that mean to Christian music, you ask? Well, it means something when
Further Seems Forever
is involved. Dead Droid Records will release
Surf Wax America
and Further Seems Forever will cover the radio hit, "Say It Ain't So."
---
About.com had some news on the "criminals" of
Travail
. The Metro 1 Music artists recieved skateboarding tickets when they were in Nashville for the Dove Awards. They were sitting in a park when some officers decided to make an example out of them. The ticket was for "sitting on park bench with feet atop skate-board." The officers, as they were walking away, asked the band if they knew
Third Day
.
---
It's about that time again for everyone to go pick up the next installment of
Songs From The Penalty Box
on Tooth and Nail Records. This would be Volume 5 and it will come out on October 9th. It is not known which bands will be on the compilation but as always, it will have the best in T & N talent.
---
*Sunday, June 17th, 2001*
---

The latest album from celebrated Essential Records group
FFH
,
Have I Ever Told You
, will be released on August 21st following their critically and commercially acclaimed album
Found A Place
. With sales exceeding 500,000 units spanning two best-selling recordings and five top 5 radio singles, including two No. 1 hits ("One of These Days" and "I Want to Be Like You") the group's popularity continues to grow.Maintaining their heavy touring schedule of 150 - 200 shows yearly, FFH will be on the road this summer and early fall at various churches, camps and festivals. Then, beginning in late September, FFH joins Word Records' artists
Point of Grace
as special guests on the
Free To Fly Tour
. Continuing in the spring of 2002, the 60-city tour currently includes over fourteen states this fall alone and visits such major markets as Minneapolis, Atlanta, Detroit, Houston, Dallas/Ft. Worth, and Chicago, among others.
---
Word Records' 17-year-old Texas singer, songwriter, and guitar player,
Paige
, recently returned from Austin, Texas, where the annual Texas State Softball Championship was held this year. With her new critically acclaimed and self-titled debut recording set to hit retail shelves next week on June 19, Paige temporarily traded her guitar and vocal microphone for a glove and bat playing her way to the state championship as a celebrity softball player for her high school team, the
Katy Taylor Mustangs
(
photo
). Although narrowly defeated in the championship, the Mustangs took with them the second place trophy.
---
Switchfoot
recently grew by two members... well, kind of. Bassist
Tim Foreman
married a few weeks ago in California and drummer
Chad Butler
and his wife had a baby. Congratulations to the guys and their families.
---
The rumor mill has been swirling and
All Star United
is in the middle of it. Rumor has it that the band is no more. This
isn't
official (that we've heard of). Please say it ain't so guys!
---

Critically acclaimed singer/songwriter
Andrew Peterson
is currently in the studio placing the finishing touches on his highly anticipated sophomore album from Essential/Watershed Records,
Clear To Venus
, slated to release on September 11th. Produced by Glenn Rosenstein (U2, Caedmon's Call, Peterson's Carried Along)
Clear To Venus
combines a sweeping blend of acoustic guitar, hammered dulcimer and other unique musical textures to create a simple and moving sound. The project is primarily penned by Peterson, but also includes a previously unreleased song by the late Rich Mullins titled "Mary Picked The Roses."
---
On June 30, 2001, Puerto Rico will be shocked once by the return of
The Rock Summer Festival
. TRSF is the biggest annual Christian music event held in Puerto Rico and it takes place in the city of Cabo Rojo. Every year, TRSF draws around 10,000 Christian rock fans to celebrate the freedom we have in Christ while listening to some of the best Christian Rock Music there is. The Rock started back in 1997 with
Petra
as headliners. Since then it has featured bands like the former
Guardian
,
The O.C. Supertones
,
Michael Sweet
and
Sin Dizzy
. The last two acts set the stage for what was going to become the first ever
Stryper
Reunion (Mike, Tim & Oz). This year's edition brings bands
Tourniquet
and
Five Iron Frenzy
as co-headliners, some other well known local opening acts will conform the rest of the bill. The Rock is one of the few Christian music events that really draws the attention of the country's secular media due to its huge impact and it has even been featured on a hair band edition of VH1's "Where are they now?" featuring Stryper.
---

Two-time Dove Award winning rap duo,
Grits
is featured on platinum artist,
dc Talk
's Summer Solo Tour. Sharing the stage with
Toby Mac
, the Billboard Music Video Award winners will perform on the main stage at 22 festivals in front of more than 500,000 fans and the tour is expected to extend into the Fall. The success of Grits' third release,
Grammatical Revolution
, has resulted in a series of meetings with several major labels for a future US mainstream deal with Gotee Records (owned by Toby Mac and CEO Joey Elwood). Grits and Gotee Records partnered with Palm Records in a UK mainstream deal last year.
---

Out of Eden
is currently featured on bassist and former NBA player
Wayman Tisdale
's cd,
Face To Face
(Atlantic Records). Under the A&R direction of music industry veteran
Tony McAnany
, the single, "When I Opened Up My Eyes" contributed to the album's number one position for the Billboard Jazz/Contemporary chart and it received medium to heavy rotation on Urban AC and Smooth Jazz stations. The Kimmey sisters will accompany Tisdale on selected dates for some of this year's top jazz festivals. Out of Eden is in the studio working on their fourth Gotee project (
This Is Your Life
is the working title), which is scheduled to release in January 2002.
---
*Friday, June 8th, 2001*
---

FamilyChristian.com is now taking pre-orders for
PFR
's new album
Disappear
. The first 200 people who pre-order at FamilyChristian.com will receive an
autographed
copy of the new album. As if that weren't enough, there is a Special "Limited Edition" album version of
Disappear
that includes 3 Bonus live tracks on the CD. This limited edition will ONLY be available at your local
Family Christian Bookstores
and
FamilyChristian.com
! You can find all this & other PFR goodies at:
http://www.familychristian.com/shop/product.asp?ProdID=5039
---
According to a JfH visitor, on the June 6th episode of
Dawson's Creek
,
Switchfoot
's song "Love is a Movement" was featured! So if you thought the song sounded like a familiar trio, you were most likely right!
---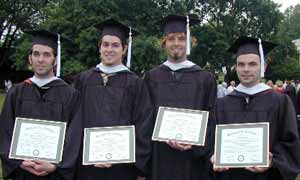 The members of multi-platinum selling group
Jars of Clay
were recently awarded honorary degrees from their alma mater,
Greenville College
. Dan Haseltine, Charlie Lowell, Steve Mason, and Matt Odmark were all recently presented with honorary Bachelor of Creative Arts degrees as part of the school's 100th commencement ceremonies. Jars of Clay was founded on the campus of Greenville College during the 1993-94 school year. However, after winning a national talent competition in Nashville, three of the original group members decided to suspend their school careers early. Shortly thereafter, along with new member Odmark, the band signed with a recording contract and began touring. Jars of Clay has since gone on to sell over 4.5 million recordings, earn an impressive 13 No. 1 songs, win two coveted GRAMMY Awards, a Billboard Music Video Award, multiple Gospel Music Association Dove Awards, and, in the process, became Greenville College's most famous alums. Way to go guys!
---

The youthful rockers known as
Relient K
will be releasing an EP this summer featuring never before released material.
The Creepy EP
will feature 2 songs ("Pressing On," "Those Words Are Not Enough") from their new record
The Anatomy of Tongue in Cheek
in stores August 28. Along with acoustic versions of "Pressing On" and "Softer to Me," a B-side ("Operation"), and a demo of a new song ("Jefferson Airplane"). This will not be available in stores,
The Creepy EP
will be available only at this summer's festivals and at
gotee.com
.
---

Jennifer Knapp
has recently gone back to the studio to record her follow-up to
Lay it Down
. Recording in New York City with renowed producer Tony McAnany (Madonna, Sinead O'Conner, Missy Elliot), Jenn has set out to record a ground-breaking album that will "raise the bar" in music. Less raw then her previous releases, manager Steve Thomas says "This wiil be a fully produced singer songwriter album." Jennifer is creating what Gotee A&R Director Mike McGlafflin calls an "epic record," Knapp and McAnany have been experimenting with drum loops, large string arrangements, as well as working with top notch musicians such as Tony Levens (bass) and Vinnie Colaiuta (drums). Jennifer's 3rd release is scheduled for a November 20, 2001 release.
---
*Tuesday, June 5th, 2001*
---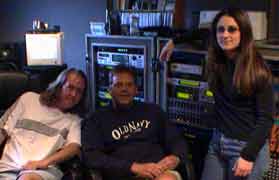 Gotee recording artist
Jennifer Knapp
recently recorded vocals on a
National Summer Radio Ad
campaign for
Coca-Cola
. It is also possible that the music will be used in National TV ads as well. The produders of the spot heard Knapp play at the
Grammy Block Party
in Nashville recently, and sent her music to Coca-Cola, along with nine other female singers from Nashville. Coca-Cola heard Jen's voice and said 'that's the one,' called management right away, and the recording was completed almost immediately! Knapp is currently in New York City recording her third project with producer Tony McAnamee (Madonna, Missy Elliott, Sineaed O'Conner). The project is scheduled to release on late November 20, 2001.
---
Rebecca St. James
is already gearing up for her fall tour, which will be called the
Wait For Me Tour
. Look for Rebecca to hit 40 cities, along with
Tree63
and
Rachael Lampa
who will be the tour's opening acts. Stay close for more information.
---
Audio Adrenaline
is getting a lot of attention on the
Festival Con Dios
tour. Look for a feature to appear in
Newsweek
this month. Also, between shows, the band is currently in the process of working on their next studio album,
Lift
, which is due out in November.
---
tobyMac
is currently in the studio working on his solo debut. Look for
Momentum
to hit stores in October.
---
Kirk Franklin
,
Donnie McClurkin
,
Mary Mary
,
Yolanda Adams
, and
Hezekiah Walker
are up for the Best Gospel Artist award at
The First Annual Black Entertainment Television Awards
. Mary Mary is also is up for the Best Female Group. The show will be on June 19th at the Paris Hotel in Las Vegas. Hosts for this event are
Steve Harvey
and
Cedric "The Entertainer"
.
---
If you were watching NBC's show
Providence
a few weeks back and thought you heard a familiar voice. You were correct. The show featured
Eli
's song "Beggars" in one scene.
---
The Kung Pao Fugitives
are here.
Jamie Rowe
, former lead singer of
Guardian
fame is heading up this group where the rest of the members will be announced later. The music will be much like that of the song "Extreme Days", which by the way, he co wrote with Toby Mac. It seems as though a major record label will pick up this band, from what we hear. For more information, go to www.jamierowe.com.
---
The unofficial "Best Indie Band of Rock,"
Radial Angel
, have finally finished the video for their hit "Down." TVU will premier it soon at
www.tvulive.com
. The band is also scheduled to get in the studio in June to finish up their praise and worship album. The band still needs a name for the album. If you have any ideas that are edgy, but worshipful, send them to
name@thinkingent.com
---

[2022]
Jan. | Feb. | March | April | May | June | July | Aug. | Sept. | Oct. | Nov. | Dec.
[2021]
Jan. | Feb. | March | April | May | June | July | Aug. | Sept. | Oct. | Nov. | Dec.
[2001 - 2022]
Visit our complete MUSIC NEWS ARCHIVE