September, 2001
---
*Thursday, September 27th, 2001*
---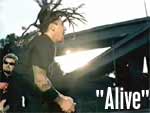 Be sure to have your television tuned to MTV tonight (a suggestion that wouldn't be made unless POD was involved), because Sonny and Wuv of San Diego boys
P.O.D.
will be guests on TRL. Also, they have rescheduled their
Tonight Show with Jay Leno
performance, and that will be on Friday, October 5th! Be sure to check out the guys on tour starting in October.
The Youth of the Nation Tour
is almost upon us and features such bands as
Blindside
opening for P.O.D. Also secular punk act, Fenix TX will be on the tour. Also, congrats to the band for their latest video, "Alive" becoming the #1 most played MTV & MTV2 video at the moment, and still holds the #1 spot on TRL! Shine bright on a dark station, guys!
---
ShineMK
and
V*enna
have both decided to break up. Shine's reason for disbanding is that they are just moving to new pastures. V*enna's reason is that Lucy recently married Linz from
The Tribe
and found that touring would be difficult. Best of luck to these artists.
---

On Thursday, September 27, during coordinated recording sessions in Miami, Los Angeles, New York, Mexico City and Puerto Rico,
Jaci Velasquez
will join artists
Ricky Martin
,
Marc Anthony
,
Gloria Estafan
, Shakira, Alejandro Fernadez, Thalia, Celia Cruz, Carlos Vives to perform "El Ultimo Adios." Emilio Estefan, along with Gian Marco and Jon Secada, wrote and will produce the song specifically as a tribute for the recent tragedy in New York city, D.C. and Pennsylvania. Univision will be filming the sessions at each location so that video footage can be made available of this landmark recording. The video company is fully committed to this project and will be donating airtime to advertise the sale of the CD single.
---

Wal Mart
is joining in the celebration of
Steven Curtis Chapman
's new album
Declaration
which released Tuesday. If you purchase the CD at Wal Mart, it will include an exclusive bonus DVD only available through this store. The DVD contains 3 music videos ("Dive," "Lord of the Dance," and "Not Home Yet") with an option for commentary by Steven himself.
---
Gener8xion Entertainment would like to thank all those who went and saw the new Christian film,
Megiddo
this past weekend!
Megiddo
was the #1 Performing Movie in the US, #1 Per Screen Average, and #13 in overall National ticket sales. If you have not seen it yet, go check it out.
Megiddo
will be moving into a few additional markets due to this past week's success.
---
David Hutchison
, drummer for
Earthsuit
, has left the band. Reason being for him to spend more time with his family. His replacement will be named soon.
---

In celebration of the first full-length studio album from
Third Day
in two years, Essential Records will launch a major presale retail campaign that includes a special bonus offer for consumers: fans who pre-purchase
Come Together
between Sept. 25 and Nov. 5 will receive
The Offerings Experience - live preview video
free as an incentive. The preview video will feature excerpts from the DVD and VHS project, including concert performances, behind the scenes interviews and outtakes, plus a sneak peek of the first LIVE performance of the title track "Come Together."
---

Gotee recording artist
Jennifer Knapp
recently performed four songs from her forthcoming CD
[the way I am]
at the recent
Southeast Region of Handleman
convention (Kmart, WalMart, etc.) in Nashville, TN. Truly connecting with attendees, Doug Truex from EMI-CMG stated, "you could hear a pin drop" in the room as virtually everyone sat mesmerized by her performance. After closing with title track "The Way I Am," Knapp left the stage to a standing ovation. Following the performance and response from the crowd, Knapp sat for an impromptu CD signing, in which scores of Handleman reps came through the line, expressing their enjoyment of the music and posing for pictures. Still to come for Knapp this fall are scheduled performances for the
Best Buy
national marketing team and at the Musicland Group's annual convention.
[the way I am]
releases worldwide on November 20, 2001.
---

Who said good looks get you nowhere? ArdentEnthusiast.com reports that
Kevin Max
was voted one of the most beautiful people in Tennessee. The Tennessean says that in
Nashville Lifestyles
magazine, Titans running back
Eddie George
is the most beautiful person and many musicians and actors are in the category. Most notable for us would surely have to be K Max. Congrats!
---

On October 9th comes a little something to tide fans over for awhile.
Delirious?
will be releasing
Deeper: The D:finitive Worship Experience
. This includes 25 songs on double discs featuring their worship classic hits. Also, a new song written by lead singer Martin Smith, "Not Forgotten," will also be on the album. Look for the release of the band's newest album,
Audio Lessonover?
to hit American shelves next spring. However, it is currently available in the UK. Look for an exclusive JfH review of the album very soon!
---
And the steamroller will be rolling into Christian music... This Christmas, Sparrow Records will have a part in history. The best selling Christmas albums artist of all time,
Mannheim Steamroller
, will make their latest Christmas CD available to Sparrow and the Chordant Distribution Group on November 6th.
Christmas Extraordinaire
was produced by Grammy winning
Chip Davis
, founder of Steamroller. There will be TV and radio campaigns for the album that will have 12 songs and the great
Johnny Mathis
as a guest on one track. This is a CD that will go down in the books.
---
*Monday, September 22nd, 2001*

---
Michael W. Smith
has now spoken out about the recent tragedies in New York, D.C., and Pennsylvania...
Dear Friends,
What a week it has been. I hope and pray that God has been your strength through this difficult time. I urge you to continue to pray for President Bush and his advisors regarding the tough decisions that they will have to make in the coming weeks and months ahead. In the wake of the tragedy that our country has experienced, I have put together a couple of things that I thought would be appropriate. May the Lord continue to draw us all closer to Him in an awesome way.
Sincerely,
Michael W.
("Freedom" w/ George Bush and Billy Graham voice over)
http://www.reunionrecords.com/radio/Freedom1.mp3
("Star Spangled Banner")
http://www.reunionrecords.com/radio/StarSpangledBanner.mp3
("Freedom" album version ((no voice over)) for production use)
http://www.reunionrecords.com/radio/freedom.mp3
---

Steven Curtis Chapman
is making his
Declaration
tomorrow with his highly anticipated new album hitting shelves. You can check out
www.WindowsMedia.com
music homepage today and Tuesday for their world premiere of Chapman's new video of "Live Out Loud" from
Declaration
. This Friday, Steven will visit on air with
Dr. James Dobson
on
Focus On The Family
's Radio Broadcast talking at length about the topic of adoption. This exclusive interview is scheduled to air on October 29th on over 2,000 Focus On The Family radio affiliates in the U.S. and Canada as well as 98 other countries. More air date information will follow. Chapman will also be a special guest at Focus On The Family's Chapel service to lead them in worship and talk about adoption. For the JfH review of
Declaration
, including sound clips, please
click here
.
---
Come Oct. 1,
Bleach
will be heading into the studio in Nashville. All are wondering "What label?" This information has yet to be released, but we will let you know when it becomes publicly known. They will be recording the first five songs for their next full-length record, then return to the studio in January to record the second half of the record and finish.
---
*Friday, September 21st, 2001*
---
Grammy-winner
CeCe Winans
will be a guest on a special live taping of "Oprah" today, Friday, September 21st (check local listings for airtimes). The show is tentatively called "Music to Heal Our Hearts" in wake of last week's horrific terrorist attack on America and will feature a number of musical guests. On this special show, CeCe will perform "Looking Back at You" from her new eponymous CD. She will also join her brother,
BeBe Winans
, for a special duet of "Bridge Over Troubled Waters."
---
50,000 reserves have been called to duty by
President George W. Bush
. That doesn't exclude rock stars either.
Rob Beckley
, lead singer of
Pillar
, could possibly be called to active duty and he is willing to do all he can for the country. He has been in the Army for more than four years.
---
More reading for you
dc Talk
fans.
Michael Tait
will be releasing
I Don't Want Your Sex For Now!
, a book in a series on abstinance. There will also be three spin off books to the
Jesus Freak
Series coming soon. Be sure to get
Kevin Max
's
Unfinished Work
, in November. Kevin will be heading to Barcelona, Spain to film a video for his song "Existence," soon.
---
Squad Five-O
is having the cover changed to their latest release,
Bombs Over Broadway
. They may never even play the song of the same title again. All future pressings of the album will feature a totally different cover. The image was that of New York City representing self-indulgence and could have been taken the wrong way. The band feels as the cover brings the bombing to mind now and wants no part of this image.
---

Congrats to
P.O.D.
for going Gold in their first week of sales of their brand new album,
Satellite
. Although only 166,000 units were sold, over 600,000 had been shipped prior to its release, certifying the album as Gold even before its release. Also, they smashed through on the Billboard Top 200 charts and landed at #6, outselling
Mariah Carey
's new album which also debuted last week. The band's really cool new video, "Alive," is also still going strong at Number 1 on MTV's TRL. In distantly related news,
Lifehouse
's
No Name Face
has gone double platinum.
---
On the heels of the summer success of the comedy
Legally Blonde
, and their soundtrack tune "One Girl Revolution,"
Superchic[k]
heads into the fall with yet another hit movie featuring their music.
The Glass House
(Columbia Pictures), starring
LeeLee Sobieski
, features the title cut off their new debut project,
Karaoke Superstars
.
---

Gotee Records
has followed in the footsteps of many artists responding to last week's terrorist attack on America. Here's what they said: "This past week has been incredibly tough for many people across the country. Our thoughts and prayers go out to all the families that lost loved ones last Tuesday. Our own office has felt the impact of this tragedy, and at times like this, working at a record label seems insignificant. But we want to assure you that Christ is the ultimate healer and provider of strength, and we should all look to Him and realize that we are blessed and that He will bring us through this tragedy. We all know that music has a way of helping us cope with pain and grief. It is the storeis of how a song impacted you that makes what we do so important. Please feel free to download these 2 songs below as we pray they will minister to your heart during this difficult time."
Click on the link to download an mp3:
Relient K
­ "For The Moments I Feel Faint (never underestimate my Jesus)"
http://www.gotee.com/audio/ForTheMoments.mp3
The Katinas
­ "You Are God-Hope remix"
http://www.thekatinas.com/youareGOD-hoperemix.mp3
---
Once again the
Grits
guys are hitting the road with
dc Talk
and
tobyMac
. This is only a taste of what coming up with Grits and Gotee. There are a few spring tours in the plans, one that includes Pax 217 and then plans for a new album in the summer of 2002.
---
Following last week's event, releasing new end-times themed Christian film
Megiddo
this weekend to theaters has had to be reconsidered. An official press release stated: "As we grieve together as a nation, we have examined the possibility of delaying the release of Megiddo. After consultation with various Christian leaders, however, we have decided to solemnly proceed with placing the movie's resounding message of unity and hope before audiences around the nation." It concludes with, "The overwhelming intent of
Megiddo
is to present a message that proclaims that through our unity, hope arises out of tribulation. It is our desire to give this movie as an offering of hope to the nation and grieving people everywhere."
Megiddo
, also known as
The Omega Code 2
opens in select theaters today.
---
*Tuesday, September 18th, 2001*
---
The video for
Relient K
's song "Pressing On" aired last night and will air today over
E! News Daily
's closing credits. The song was chosen based on it's timely message to encourage our country to "PRESS ON..." in these painful and difficult days...
E! News Daily
Airs weekdays at 7-8am and 6:30-7pm EST/Pacific.
---
*Monday, September 17th, 2001*
---
The Juliana Theory
's live recording show scheduled for tonight is cancelled. The rescheduled show will take place either Saturday 10/13 or Sunday 10/14. The Juliana Theory's postponed CMJ show will be rescheduled for 10/12 at The World in NYC. All other J Theory tour dates have also been postponed. As soon as they are re-scheduled
Toothandnail.com
will post the dates.
---
For unspecified reasons, the fall tour featuring headliners
PFR
with special guests, new UK rock band
Steve
, has been cancelled! This is the second tour featuring PFR to be cancelled in the span of a year.
---
A fan of the Hideout has given us an update on the
Shaded Red
brothers: The current lineup is made up of Jon (guitar) & Jamie (bass) Roberts and a youth pastor friend(drums) of theirs from Dallas. Their friend is not a part of the band, but he said he flys to meet them at some shows they play and will probably help record a few tracks on the upcoming album. On the album, they said they are in the process writing the material and they played about 5 new songs which were all great. They have not found a label yet. They are under review by several (some of which are secular), because they would like to reach more people in mainstream. Jamie told our friend that they want a label that will give them freedom to record what they want to. He also said there were a few songs they weren't able to put on the last album because they didn't coincide with the label's beliefs... We'll keep you posted!
---
Crystal Lewis
, one of the premier voices in Christian Music today will be releasing
More
on Oct 2, through Metro 1 Music and Word Distribution. This is not your ordinary greatest hits record. The CD contains 3 new songs ("More," "Like A Child," and "I Guess"), 2 classic songs revamped and re-recorded ("Shine Jesus Shine" and "I Now Live") and 11 of her most popular and personal favorites songs. The package also contains a DVD filled with a documentary on the recording of the new songs, live footage, Crystal's video library, as well as surround sound mixes of selected titles. Check it out!
---
In a surprising announcement this weekend, guitarist and founding member
Cliffy Huntington
is leaving
the Huntingtons
to form his own group
The Reaction
. This band also features former
Deadlines
guitar player (now on bass), Sammy. Stay tuned to
http://www.the-reaction.com
for details about the new group. The Huntingtons assure fans that the band will fill Cliffy's spot and continue on. The groups latest effort
Songs In The Key Of You
hits stores on October 23rd.
---
From
Squad Five-0
's
official site
..."We're heading into the studio the second week of September to start work on the new record, so we'll be down in Little Rock, Arkansas with Barry Poynter producing. We should be finished up by the middle of October sometime. Plans are in action for a U.S. tour during the whole month of November. Dates should be showing up on the shows page soon. We'll fully expect to see everyone there in full-force.
The Blamed
is coming along, so get ready to be rocked. The demos we did in Seattle at Tooth and Nail turned out great. We did three songs, titled "Screaming with the Sirens", "Don't Come Running," and "I Don't Want to Change the World, I Just Want to Change Your Mind." So how's that for a mouthful. They'll probably end up on our new record in new and improved forms."
---
Fine China
has given an update on their next record: "We're getting ready to start working on the new record, ten songs, to be recorded in collaboration with
Jason Martin
. The record will be recorded in October - November of 2001 in California. The tentative release date is March 2002. The record is bound to be the best yet, but who doesn't say that? We'll see. Cheers, and thanks for checking in."
---
*Friday, September 14th, 2001*
---

In response to the catastrophic events on Tuesday,
Delirious?
sent out the following message: "In light of what happened on 11 September 2001 in America, with the tragic deaths of thousands of innocent people we feel we have needed to make a response. Many of you have emailed us to ask if the song "White Ribbon Day" could also be made available as a free MP3 download, due to the poignancy of the lyrical content. The day after the atrocities we made the song America available, but feel it only right to also add this song. "White Ribbon Day" was the first ever single to be released by Delirious? back in 1997. This song captured the mood of the time and was written due to peace negotiations in Ireland. It still seems to have a potency that can relate to recent events in the US and other tragedies around the world. This is not an attempt at self-promotion, but more an offering to anyone that can find comfort in a piece of music that is so personal to us. So please download these two songs and pray for "White Ribbon Day."
Download:
"White Ribbon Day" and new song "America" (from
Audio Lessonover?
)
http://artists.mp3s.com/artists/284/delirious1.html
---
*Thursday, September 13th, 2001*
---

The city of Nashville held a memorial vigil last night supporting the survivors of the attacks on the
World Trade Center
and the
Pentagon
and mourn the people lost with the symbolic lighting of memorial candles. The ceremony was open to the public and was held at the Centennial Park Main Lawn, September 12th at 6pm. Guest speakers were currently being invited to participate at time of the press release, and RCA Recording Artist
Martina McBride
sung The National Anthem. Dr. Warren Thompson, Director of Clinical Psychology for Metro Schools spoke on how to tell your children about this tragedy. Dr. Jerry Sutton from Two River¹s Baptist Church and Bishop Edward Kmiec also spoke. Gotee recording artists
The Katinas
, along with
Leigh Nash
from
Sixpence None The Richer
,
Michael W. Smith
, and others, helped lead the gathering in the singing of "Amazing Grace." The Katinas were on the air live with radio morning show host Matt Stockman of FM 101.1 (WZTO) when the first announcement of the New York City disaster came over the newswire Tuesday morning. The group were guests on the station to promote their upcoming in-store event with Tower Records at Opry Mills and their new single "You Are." The promotional concert at Tower Records, originally scheduled to take place last night, was postponed indefinitely due to the day's tragic events. Due to the American tragedy, all of
P.O.D.
's upcoming events have also been cancelled. That means that the upcoming
Tonight Show
performance will not go on. Please continue to pray for all Americans across the country. For those who may still possibly be unaware of what took place, New York City's World Trade Center was attacked when two hijacked American airliners were driven into the towers. It wasn't long before the entire building collapsed. Thousands are missing with many of those presumed to be dead. The Pentagon was also hit with a hijacked airliner and yet another crash-landed outside Pittsburgh. Both are said to have been targets for Washington D.C. but thankfully didn't make it. Those responsible for these unbelievable acts of detestable violence are unknown. Please pray for America and the families and friends of the victims of this surreal tragedy. Thank you. (The image above is from a special September 13th
Time Magazine
issue dedicated to this disaster).
---
With all the sadness for Americans today, more keeps on coming. About.com reported yesterday that the husband of singer
Tammy Trent
,
Trent Lenderink
, drowned while vacationing in Jamaica. He went scuba diving by himself and some reports say that he was caught on something while underwater and did not get loose. Please pray for the Trent family in this most tragic time.
---
What do
Keith Green
,
Larry Norman
, and Elvis Presley have in common? ...Give up? Well, they are all being inducted into this year's
Gospel Music Hall of Fame
. Also Doris Akers, Wendy Bagwell & The Sunliters, Kurt Kaiser, The Rambos, and Albertina Walker will be inducted. The ceremony will be at the Ryman Auditorium on November 27th at 7 p.m. in Nashville. Fans will be able to buy a ticket to the event this year as proceeds will go to the Hall of Fame itself.
---

According to reports from our friends at
dcTalk.net
,
Toby McKeehan
has been working hardcore on finishing his new solo album,
Momentum
. Apparently he said he had 22 tracks for the album, and is narrowing it down to 12. He said he will be working hard right up to the start of the
Solo
tour this fall, and he should be finishing up the production a day or two before the tour starts. He said he was "99 percent" sure the record would be out as schedueled on November 6th. dcTalk.net also reported on the latest for the band
dc Talk
as a whole. Toby also informed dcTalk.net that their current plans are to continue to promote the solo records next spring (individual solo tours, press, etc.) and then hopefully take a short break next summer. He stated that it would probably be the Fall of 2002 before they would be able to start writing/recording/working on a new album as a group, but he said coming up with some great songs would be a breeze because they were all on a "creative high." Toby also said that the way he sees it, it will probably be 2 years when the next album comes out as a group.
---
Chris Thomas
, drummer of
The Elms
, somewhat recently did an interview with
Guideposts for Teens
. The interview was about his drumming, life, and weight loss of 100 pounds!
---
This holiday season, something infinitely better than jolly old St. Nick is coming to town. Combining the wildly popular alt-rock pop sounds of
Bleach
with passionate emo rockers
Denison Marrs
(fresh off tour with Stavesacre) and the up-and-coming punk sounds of
Hangnail
,
The Happy Christmas Tour
(
www.happychristmastour.com
) launches its 15-city holiday extravaganza on Wednesday, November 28th. Guaranteed to leave fans rockin' the Yule Tide, the tour also will support for a great holiday cause,
Toys For Tots
Be on the look out for the tour coming your way soon!
---
Inpop recording artists
Phil Joel
and
Superchic[k]
are joining forces with
Kamp Kanakuk's Joe White
and
Teen Mania
respectively for tours this fall. Phil Joel will be a Special Guest on the
Afterdark
college tour, organized by Kamp Kanakuk's president Joe White. Hitting 20 to 30 mainstream college campuses this fall, Joel will perform previous to White's energetic presentation each evening.
Get Up 2001 with Superchic[k] and Acquire the Fire (ATF)
will hit 30 cities with an evening of music, ministry, and mission. The evening will feature a full concert with Superchic[k], live praise and worship, an inspirational message from Teen Mania/Acquire the Fire speaker Michael Collins, break-out sessions with ATF staff, and the coolest multi-media stuff imaginable. The three-hour evening is designed specifically to help teens develop a heart for God. The tour will begin October 5th and conclude December 9th 2001.
---
According to a fan of the Hideout,
Delirious
' debut album
The Cutting Edge
has now been certified gold by the RIAA as of August 28th, 2001. The album was released on February 12, 1998. It is the band's first gold album.
---
Jennifer Knapp
has left
Alabaster Arts
. This is interesting seeing as she helped to start the company. More details to come.
---
Dan Haseltine
, of
Jars of Clay
, is producing the soundtrack for
Hometown Legend
. This is the debut film from Jenkins Entertainment. It will feature two songs from Jars's latest album,
If I Left the Zoo
.
---
*Thursday, September 6th, 2001*
---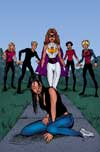 Ardent Records' top rock band
Skillet
claims No. 1 on SoundScan's Rock sales chart with its critically acclaimed fifth studio recording,
Alien Youth
. Released August 28, more than 10,000 units of the album sold in its debut week at retail. Fans' response to the project also landed
Alien Youth
at #4 on the coveted Billboard's Heatseekers Album Chart. Furthermore, the album set an all time record on FamilyChristian.com for Internet pre-orders for a CD. The band is certainly going places, but they aren't out of surprises, that's for sure! If you like Skillet, but more specifically comic books, you might be surprised when the unexpected happens, and the two meet! Now you can have your Skillet and read it too. The band is in the process of being in their first comic book. Information is slim as of yet but here is a picture, and yes, that's Skillet in the background. The characters in the front are unknown. (Click on the image for a bigger version)
---
If you were watching MTV yesterday, September 5th, you may have actually caught
something
worth watching on that station!
P.O.D.
performed a free concert in Battery Park in New York. MTV and TRL broadcasted the event live! Finally! Good music on TV!
---

The Congressional Coalition on Adoption Institute (CCAI) will honor
Rosie O'Donnell
,
Steven Curtis Chapman
, and
Wendy's
founder
Dave Thomas
at the annual
Angels In Adoption
awards banquet on September 11th at the Ronald Reagan Building and International Trade Center, it was announced today. The recipients are selected by Members of the Congress for their outstanding commitment to promoting adoption and making a difference in the lives of children and families. Four-time Grammy winner, Steven Curtis Chapman and his wife Mary Beth who adopted their daughter Shaohannah from China are being recognized for their strong personal commitment to adoption. The couple created a foundation called Shaohannah's Hope, which according to Chapman, "was created to help aid families who want to adopt and have a place at their table and a place in their heart, but don¹t have a place in their bank account for it." Included in Chapman's new album,
Declaration
, is a song written about adoption entitled "When Love Takes You In." The touching video for the song will have its World Premiere at the event. The album hits shelves September 25th.
---

Do you stay up all hours to watch the many odd items on QVC sold to cure your insomnia? I didn't think so, but tonight
QVC
isn't just selling something good, they're going to entertain you as well! Be sure to tap into your cable tonight, Thursday, Sept. 6th, to see
Avalon
live on QVC at 8-9 pm EST as they perform three of their hits from their latest album,
Oxygen
. Avalon will also join QVC during this hour to help promote Christian products such as music, videos, books and more!
---

Essential Records' pop group
True Vibe
has teamed with top teen brands
Cover Girl
and
Alloy.com
to perform at major shopping malls in conjunction with
The CoverGirl Model Experience Contest
. Among the upcoming mall concerts, tagged "CoverGirl Rocks The House!" are True Vibe performances in Atlanta at Lenox Square (10/27) and Tampa/St. Petersburg, FL, at Tyrone Center (11/10).
---

Relient K
also experienced a nice debut last week with their new release,
The Anatomy of the Tongue in Cheek
. 8,696 albums were sold in total, with the album debuting at #5 on the Top Christian Albums chart and #8 on the Billboard Heatseekers chart. The album was also #1 on the Virgin Megastore Columbus coveted Top 30 wall at this store (#2 was Aaliyah , #3 Alicia Keys)! 1,821 copies were scanned in the general market (21% of total) as well. Relient played the
Chameleon Club
in Lancaster, PA over the weekend and sold 530+ units in one night! In addition, Relient K has been chosen as the featured recording in the Tower Records Developing Artist Program for the Washington D.C. region from Oct 25 - Nov 29, which will include mandatory in-store play, listening stations, and more in 12 Tower Records locations including Washington D.C., Annapolis, MD., Philadelphia, Richmond, VA., Cherry Hill, NJ. and Fairfax, VA. Way to go, guys!
---
Five-time Grammy Award winner,
Russ Taff
, is joining one of gospel music's premier groups, the
Gaither Vocal Band
, according to
Bill Gaither
, founder and leader of the group. Taff has enjoyed a successful career as a solo recording artist, songwriter, and lead vocalist for the Imperials, an award-winning group of the late `70s and early `80s. Leaving the Imperials to pursue a solo career, Taff recorded eight solo gospel albums, yielding such a number of Grammy nominated singles. He headlined worldwide tours and garnered three solo Grammy awards and nine Gospel Music Association Dove Awards. Signing with Warner Bros. Records' country division in the mid `90s, he enjoyed widespread critical acclaim as well as a Top 20 single. Taff will join the Vocal Band for the taping of a Homecoming special in Red Rocks, Colorado next week, and will be traveling and recording with the group soon afterwards. Current Vocal Band member
Mark Lowry
is expected to depart the group by the end of the year.
---