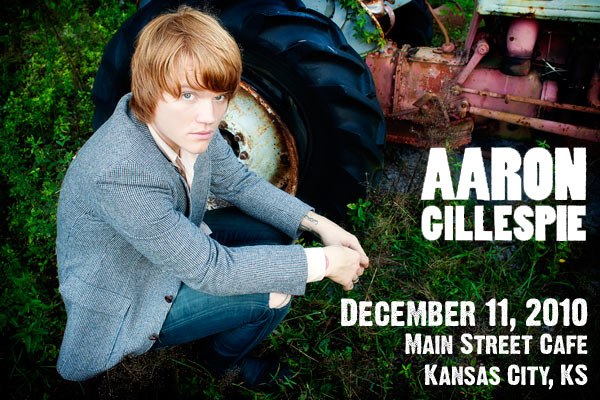 Aaron Gillespie
12/11/10, at Main Street Cafe in Kansas City, KS
Fresh off a tour with his pop punk band The Almost, frontman Aaron Gillespie scheduled a few random shows in between that tour and his up-and-coming tour in early 2011. With a new worship album from his new solo project (with a completely different band) hitting shelves and online stores in March, Gillespie took a friend from the band on the road to begin support for the album, stopping at Kansas City's Main Street Cafe on December 11, 2010.
To get things started, a local worship leader named Jared Scholz took the stage with his friend Eva. Accompanied by Jared's acoustic guitar and a Mac, they played a very short, but very good, three-song set. I didn't catch song titles (for any of the acts of the night, really), but the first Scholz song was a comforting one about how the family of God has no orphans. Beautiful lyrically, it was also very well-written musically. I really liked his energy level - it was very appropriate for the setting, but he wasn't just standing there strumming his guitar. He followed it up with a worship song, and then he talked about Christmas music. He told the crowd that he hates Christmas music (who could possibly celebrate Christmas but hate Christmas music?), but he decided to make a Christmas EP of songs that he didn't hate. He ended his set with one of them, a combination of "God Rest Ye Merry Gentlemen" and "Hark The Herald Angels Sing" from his Christmas EP, Hushed. He had Eva hit play on the Mac, and it played a gorgeous, slow electronic beat while he played the acoustic over it. I wish he had played at least a couple more songs, but what we got from Scholz was a wonderful performance of thoughtful tunes.
Next up was an acoustic rock group called Honest Cowboy. They also only played three songs, only the last of which really caught my attention. The first two songs just seemed okay. It seemed that they hadn't been playing together long, or they just lacked a good deal of chemistry. Part of why their performance wasn't great may have also been because they weren't a full band that night. The lead singer mentioned how they were "part of Honest Cowboy." So I can't really blame them, as having only part of the band would certainly make me a little nervous if I was in their shoes. But like I said, the last song was really good. Everybody in the band played with a lot of intensity, especially the lead singer/guitarist, who was going nuts on his guitar. I think the weak point of the band may have been the drums. They just didn't seem very creative, and the drummer may need to brush up a little. To be fair though, I think they would put on a better show if they were in full force.
Aaron Gillespie's set up was rather interesting and got the crowd excited. There was one keyboard, an acoustic guitar with several pedals attached, and a standing drum set with a snare, a kick and one cymbal with a microphone right next to it. It was clear we'd get a good show from Gillespie. He started with a couple upbeat songs, including "Souls on Ten" from The Almost's album Monster Monster. It transitioned from an acoustic rock concert to a worship set soon thereafter. Much to my dismay, Gillespie played a couple Hillsong United songs, including "Freedom Is Here," but also did play two tracks from his upcoming worship album, Anthem Songs. "We Were Made For You" and "Washed Away" also felt similar to Hillsong style worship, but they were well-written and full of praise. He threw in another song from The Almost, this time from their debut Southern Weather, the very worshipful "Dirty and Left Out," to which the crowd cheered at first, then worshipped to next. I was pleased to hear a cover of U2's "Where The Streets Have No Name" next. It was a very heartfelt rendition, with Gillespie's voice sounding very powerful. With it being December, Gillespie did mention playing some Christmas music, saying "we also kinda have to," and then pointing at Jared, said "I also hate Christmas music." (What is wrong with people?!) When he did play his Christmas song, I first expected his "Little Drummer Boy," since it had been released not only on The Almost's No Gift To Bring but also on 2008's X Christmas. If not "Little Drummer Boy," I at least expected something else from No Gift To Bring. Instead, he played my favorite Christmas carol, "O Holy Night." This was one of several songs where he started on the acoustic guitar, then recorded a guitar loop with his pedal, and switched over to the drums. His skills with the drumming and singing at the same time is very impressive. His set ended with another Hillsong United song, and the worship led us out, as Gillespie signaled the end of the set with a hard slam on the snare drum, and promptly left the stage so as to leave all the cheering and glory for Jesus.
Though I'm not much for Hillsong - or most mainstream worship bands in general - the worship experience at Main Street on December 11 was really good. There were more people in that room than I can remember ever seeing there before, and each person there was in the midst of worshipping their Savior. Gillespie puts on a good live show, and I imagine that seeing him in a non-acoustic setting would be even better. He's embarking on a national tour next year, as well as hitting some other continents with The Almost, so be sure to check out a show that comes nearby. And look out for Anthem Song, March 8, 2011. It's sounding pretty promising.
--
Scott Fryberger
, 12/13/10