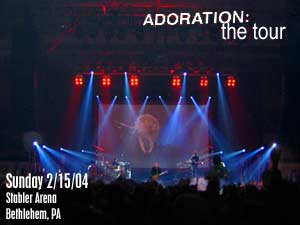 Newsboys, Rebecca St. James, Jeremy Camp
2/15/04, Stabler Arena, Bethlehem, PA
It's always a treat when a tour is so thoughtfully planned to feature some pretty well matched talent. Since the rise of modern worship, seasoned CCM artists who have made a name for themselves with their own brand of original positive pop music have left a lasting impression with their take on worship favorites. Artists like Third Day, Rebecca St. James, and more recently the Newsboys have all raised the bar for what listeners should come to expect from a worship recording. So it's to the concert-goers utmost delight that the 2004 Spring Adoration Tour should feature the pairings of Newsboys and Rebecca St. James with special guest Jeremy Camp.
You can bet we were pleased to learn The Adoration Tour was making a stop not more than 20 minutes from our HQ this month -- a far cry from our usual several-hour trips to see a show. Arriving with time to spare is a rarity for us but we successfully pulled it off this time around by the grace of God! And to add to our surprise, the evening's event began quite promptly at 6 PM when Jeremy Camp and his band kicked off the worship service with his original "Understand". Camp had just released his debut worship project Carried Me earlier that week, but worship wasn't anything new for him either. His debut project Stay was very worship-minded and centered around God's mercy and faithfulness. Carried Me took all this to the next level focusing on adoration and servitude. Camp, aided by his new bride Adrienne (formerly of the late Benjamin Gate), was a good warm-up act for the night but was surprisingly short as his set lasted a mere 5 songs. Highlights of his performance included a brief testimony about his first wife who died of cancer and the introduction of Adrienne that lead into his heartfelt "I Still Believe" as well as his rocking "Take My Life".
A swift set change wasted little time before the first of the two Australian-bred headliners assumed the stage. Rebecca St. James opened modestly with an a cappella version of Tim Hughes's "Here I Am To Worship", setting the mood before proceeding into her upbeat original "Lamb Of God". A full band, along with one of her younger brothers and solo artist Charmaine on backup vocals, served as her accompaniment while she utilized a massive screen behind her as a display for lyrics for the crowd to sing along to. Covers of popular worship songs like "Let My Words Be Few", "Power Of Your Love", and "Breathe" were mixed in with some of her original favorites like "Song Of Love", "You" and "Omega". Rebecca debuted a new cut from her pending live worship project called "I Adore You" that fit in well with the other more well-known choices. A surprise inclusion to her worship setlist was her purity anthem "Wait For Me", which she prefaced with a message of encouragement to the audience to remain pure and abstinent before marriage. St. James also took a moment to encourage the audience to support Mel Gibson's new Jesus film The Passion Of The Christ before the band pulled up a few stools for a brief acoustic set that included "Breathe" and "Here I Am To Worship" to close out her show. Before intermission broke, Rebecca and Jeremy Camp took some time to urge the crowd to sponsor a child through Compassion International.
After a brief intermission, the Newsboys began shortly after 8 PM as the evening's main attraction, igniting the crowd through the opening resonating notes of their song "Joy". The stage had been reorganized to place the drums and keyboards on risers on opposite sides of the stage, framing the gigantic screen which the Newsboys now used to broadcast live feed of the band and occasional accompanied images. Fans may have also noticed a significant lineup change in the band as well, as their longtime guitarist Jody Davis was absent, replaced by Casting Pearl's guitarist Bryan Oleson. Considering Davis had been a part of the Newsboys team for over a decade, it seemed odd not to see him among his bandmates. Oleson did his best to fill Jody's roomy shoes and did a fine job doing so. However, it wasn't made clear about Davis's whereabouts until after the show when we asked Oleson who informed us that Jody wasn't returning.
From the set opener of "Joy", the band moved into the less familiar "Name Above All Names", an odd choice for a second song as it is one that has never made it to a Newsboys recording. But the crowd-pleasing pop gem "Million Pieces" followed, complete with dual funnels jutting from the stage blasting red, white, and blue confetti into the audience. Keeping the crowd's excitement running high, they moved into the classic "Entertaining Angels" with bassist Phil Joel assuming lead vocals. But the evening highlight came next as Peter invited Rebecca St. James back out on stage to perform "Blessed Be Your Name" with the Newsboys. It was a treat for the audience and an opportunity we're glad they took advantage of. The song was given a wonderful finishing touch as frontman Peter Furler closed it out with a soft ode to "Beautiful Sound" from LoveLibertyDisco. The guintet returned to their regular worship set with "You Are My King (Amazing Love)" and an extended version of their hit original "He Reigns". Furler then took a substantial amount of time to share his heart with the crowd before closing with the everlasting hit "Shine". And as if we'd actually believe it was over, the guys momentarily exited the stage only to return a minute later for "It Is You" and then finally leave the audience as they sing the worshipful chorus powerfully with a drum loop as their only accompaniment. The Newsboys offered a well-rounded set that surprisingly didn't include very many cuts from their Adoration album, forsaking such wonders as "Father Blessed Father", "Hallelujah", and "Lord (I Don't Know)".
The end result for the evening was a tightly woven evening of worship, praise, and adoration for our Savior. The presentation and performances were top-notch, easily securing this as the must-see tour of Spring 2004. If you like any of the artists in the lineup or are looking for a different kind of modern worship tour, we just can't recommend The Adoration Tour enough.
--
John
, 2/18/04
Jeremy Camp Set List

01. Understand
02. Beautiful One
03. I Still Believe
04. Empty Me
05. Take My Life


Rebecca St. James Set List

01. Here I Am To Worship / Lamb Of God
02. Let My Words Be Few
03. Song of Love
04. Power Of Your Love
05. Wait For Me
06. You
Interlude: Charmaine -- "Escape"
07. Omega
08. I Adore You
09. Breathe
10. Here I Am To Worship

Newsboys Set List

01. Joy
02. Name Above All Names
03. Million Pieces
04. Entertaining Angels
05. Blessed Be Your Name / Beautiful Sound
06. You Are My King (Amazing Love)
07. He Reigns
08. Shine
Encore:
09. It Is You

The Adoration Tour 2004 Photo Gallery
click on an image for a bigger size
Jeremy Camp
Rebecca St. James
| | | |
| --- | --- | --- |
| | | |