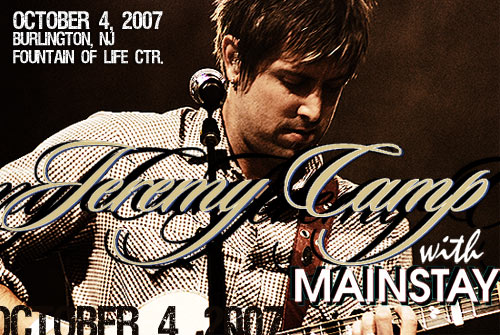 An Evening with Jeremy Camp and Band Live Unplugged, with special guest Mainstay
10/04/07, at Fountain of Life Church, Burlington, NJ
Unplugged tours and shows can be a real treat for music fans. Teaming Jeremy Camp with fellow BEC Recordings artists Mainstay seems like an inpired matching for an unplugged show, and the end result is indeed the case. Only two acts are on the bill for the "An Evening with Jeremy Camp and Band Live Unplugged" tour - just Camp and Mainstay - which gives the bands longer sets, but also brings a little less musical variety to the night.
This particular spot, the first official date on the Unplugged tour, was arranged by the Creation Concert folks in Burlington, NJ for a well-orchestrated evening. Minnesota pop/rock band Mainstay started off the evening a bit delayed due to a late flight with the boys' arrival, but it didn't set the evening back all too far. It had been scheduled to begin around 6:30pm, so when things were pushed back about an hour, the show was still starting before 8:00pm. Surprisingly, though, Camp and band were planning on a two-hour set, a duration that is not only surprisingly long, but surprisingly long for a weeknight show. This meant it was nearly 11:00pm by the time his set concluded.
Mainstay launched the night with the title track from their newest album, "Become Who You Are." With their new material having a greater focus on worship, their set complimented the one that would follow from Camp quite beautifully. While you wouldn't really expect an especially vibrant rock show from Mainstay, their set was noticeably more subdued. Each member was seated on a stool with moderately dim lighting on stage as the stripped down performance offered a very laidback feel. The standout single from the band's debut Well Meaning Fiction, "Take Away," followed, and frontman Justin Anderson issued an apology for the show's late start due to his delayed flight. The album closer from Become Who You Are, "Hang On," was next, with "You're Not Alone" and "Believe" close behind. Before their final song, the band paused for a cover of Chris Tomlin's "How Great Is Our God," before their finale, the worshipful original "Stars Are Singing."
Although for an opening act they still were allowed seven songs, their set seemed sorely too short - especially for how long the headlining act would play. Before Jeremy and his band came out, a music video of a brand new Jeremy Camp song played, with footage mixed in from the forthcoming animated film, The Ten Commandments. Before long, Jeremy and his band emerged, with a large white sheet backdrop behind them, considerably brighter stage lighting, and a surprisingly spread-out stage set up. The drums and bass were pushed far behind Camp, with his guitar and keyboard accompaniment to either side of him, also at a considerable distance. Some candles were lit to add to the relaxed feel, but it just seemed almost disjointed. Camp and his accompanying musicians opened with "Understand" from his debut, Stay. Jeremy's set had a very intimate feel, and his frequent conversing between songs made it feel even more "homey" and personal. "Nothing Else I Need" from Restored followed, with "Take You Back" close behind. At this point, it was the first time in the show some accompanied video shown behind the band against the large sheet backdrop during one of the songs. "Right Here" was next, complete with a standout piano solo, and it was at this point where Jeremy deemed it necessary to find an audience member who wasn't singing along to the song to force up front and have lead the crowd in a sing-a-long.
Before the title track from Beyond Measure, Jeremy paused to share, tearfully, about his kids and how they're learning about Jesus, then shared a message about how temporary the things of the world is, as well as an encouraging word about God's daily renewal of our spirit. A powerful medley of "I Still Believe" and "Walk By Faith" followed, with a series of "Hallelujah" choruses preceding a heartbreaking story about Jeremy's first wife Melissa who had died from cancer within six months of their wedding and praised the Lord til her last breath. A question and answer period was next, with the band's guitarist Randy Williams (also formerly of Big Tent Revival), picking questions from the audience for Jeremy to answer. It added to the intimacy of the evening, but it may have been nicer to trade some of the Q&A time for, perhaps, a longer opening set from Mainstay. Camp also took this time to introduce the band, and after the Q&A, handed the mic over to Randy again to share about Compassion International before an intermission.
By the time the intermission had concluded, it felt like quite a bit of time had passed since music had been played. The sound seemed to be amped up a notch than in the previous half, and the band re-opened with "Beautiful One." Following a prayer of dedication, Jeremy performed "Give You Glory" and then a rousing set highlight of a bluesy rendition of "Jesus Loves Me," bringing the audience to their feet. It was a little bittersweet to sit back down for the remainder of the set as the rocker became a bit of a tease. "Let It Fade," "Stay," and "This Man" all followed, before Jeremy announced what would be his final medley of songs along with another message about Compassion International and his personal experiences with the organization. "My Desire" and "Give Me Jesus" concluded the night, with Jeremy sharing the salvation message and then finishing with a few more verses of "Give Me Jesus" and exiting the stage. Both bands signed autographs and stuck around to meet the fans afterwards, and it seemed like the perfect way to conclude such an evening of intimate, unplugged music.
With it being just the first night of the tour, some changes may still come for the setup and delivery of the night, but the overall experience was a great show of unplugged pop/rock with a focus on worship. Both bands performed solid sets, and the unplugged packaging serves as a unique concert experience that differs from your usual show. Although in some cases going more unplugged - to strictly all acoustics in an even more stripped down appearance, or ramping it up - a bit for a bit more of a rock element - is a tempting wish, what the acts delivered still made for a wonderful evening of music.
--
John DiBiase
, 10/6/07
An Evening with Jeremy Camp and Band Live Unplugged Photo Gallery
click on an image for a bigger size
Mainstay
Jeremy Camp
*all photos by
John DiBiase
and are the property of
Jesusfreakhideout.com