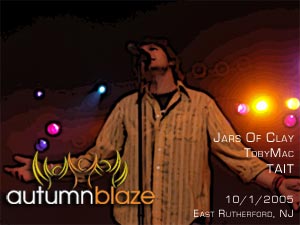 Jars Of Clay, TobyMac, TAIT
10/1/05, at Continental Airlines Arena in East Rutherford, NJ
On Saturday, John and I travelled to East Rutherford, NJ for our first Autumn Blaze festival experience. The night would be a once in a lifetime event that would make memories for years to come. That event was to see two-thirds of dc Talk, Tait and TobyMac play together, as well as their respective bands. Also playing was a personal favorite, Jars of Clay, fresh off of their acoustic tour.
John and I arrived around 2:30 and after getting our tickets, proceeded to walk around the venue, checking out the local bands. Fast forward to when the doors to the main event opened at 5:00 when Easton, PA natives, Kurios, winners of the Scotch Plains Battle of the Bands, opened up the night with their short set. A nice reward for the events to follow.
At 7:00 Tait, whose frontman is Michael Tait took the stage. It had been a few years since I'd seen Tait play and was looking forward to hearing some of the newer tracks off of Lose This Life. They opened up their set with "Electric Avenue," making an understatement, to say the least about what would occur within the next half hour. "Numb," "Lose This Life," and "All I Got" followed, as well as Michael's story of how his father and his influence on his life had contributed to the band's name. "Loss For Words" came soon after, continuing to show how Tait definitely knows how to rock. One thing that Michael, Toby and Kevin Max do (collectively and individually) are completely surround themselves with excellent musicians. Tait consists of some of the best musicians in the industry as evidenced by the member introduction that followed. With influences like Led Zeppelin, The Kinks, Red Hot Chili Peppers and AC/DC, they played the catchy Mission:Impossible theme intro to "Spy" and finished with a bang, but not before the first of two long awaited moments. When the first few bars of "Jesus Freak" and Michael's vocal's rang out, you could feel the magic in the air and see the lens caps come off the cameras nearby as Toby came out to sing along. After playing together twice last weekend and once as all three members of dc Talk in Washington state, you could definitely see the energy, excitement and chemistry between the two. It looked like they had never gone solo and dc Talk had never taken a break. It all looked so natural. It was appropriate to play "Jesus Freak" in Tait's set, as the band definitely gave it a harder edge comparable to its own sound. It was definitely a treat to see the two of them play together again. Overall, it would have been nice to see Tait play longer since it was only half an hour, but certainly a good half hour at that.
Shortly after Tait finished, TobyMac took the stage with his crew. This was the second time in two weeks we've seen them. While this was a shorter set, there was more energy on stage and in the air, perhaps due to what was just seen and what would be seen again before too long. Their set was about the same as the previous week, save a few songs. They opened with "Get This Party Started," "Where My Freaks At," "Somebody's Watching," and "Diverse City." "Gone," an emotional yet fun song about women taking a stand for purity in a relationship, was followed by "Hey Now," the opening track on Welcome to Diverse City. "J Train," "Irene," "Yours," and a favorite of mine, "Slam," the song inspired by The Passion of the Christ movie, also followed. Toby and company slowed the set down a bit for "Love Is In The House" and "Atmosphere." But we all knew that Michael Tait was backstage, and we weren't sure when he would might come back onstage and start singing. "My Will," a dc Talk song from a few years back was performed, but yet no sight of Michael. Once Toby read from I John 1:5-7 and the first few bars of "In The Light" rang out, you knew what was coming next, and Michael came out to sing with Toby once more. The energy was certainly in the air as the second of two anticipated events played itself out on stage. You could still see the camaraderie between Michael and Toby that people have been longing to see and have missed for over the past three years. The one thing that seemed to be missing was Kevin's signature vocal style. Michael left and Toby went old school on the crowd as he introduced a little of his roots via Sister Sledge, Chic, Ohio Players, KC And The Sunshine Band, and Wild Cherry to the crowd gathered in Continental Airlines Arena. After a short break, Toby's entourage came back out to play "Catchafire" and finally, "Extreme Days."
After about an hour break that involved an event speaker sharing the Gospel message with the audience, Jars Of Clay took the stage. I always look forward to seeing Jars play live, having followed them since their self titled debut album, and having been a big fan of their hymns and Southern spiritual remakes. Jars opened with "Show You Love" from Who We Are Instead and "I Need You" from The Eleventh Hour , one of only two songs off that album to be played. They then proceeded with their own run of old school Jars tunes, playing "Faith Like A Child" and "Love Song For A Savior," with a new ending that incorporated a portion of "Faith Enough." Jars has always had a great live sound, improving and evolving their set over the years. This was the fourth time I'd seen Jars live and they've always brought a smile to my face. Next, they played "The Valley Song" from Furthermore and "Waiting for the World to Fall," a new song off the Chronicles of Narnia soundtrack . This was my first time hearing the song and it sounded great live. They then got acoustic again, losing the bass and drums, for a great rendition of "Liquid," "Hiding Place" from Redemption Songs and the famous ad-lib segment of "Worlds Apart." This would be the first of two surprises tonight. "Flood" was the second surprise of the night, which was played after the powerful "God Will Lift Up Your Head," a great worship song dating back to the 1700's. The surprise was that those two songs would be played so early on in their set, leaving me to wonder what would be played during an encore. "Nothing But The Blood" and "It Is Well With My Soul," a sad story to an encouraging hymn that puts life in perspective, finished up their set for the evening. Jars has always had a gift for reinventing themselves and doing the unexpected from a musical standpoint. Tonight was no exception as they dashed some rock into traditional hymns. Unfortunately, there was no encore performance as the house lights came on. All in all their set was great, but seemed short and rushed. Nothing was mentioned about their ministry for Africa, Bloodwater Mission, and some favorites like "I'll Fly Away," "This Road," and "On Jordan's Stormy Banks I Stand" were overlooked. Having a catalog of ten years of music gives you opportunity to play a lot, but due to time restraints, it was kept short but sweet.
After Jars played, John and I said our hello goodbye's and left, but not without catching another glimpse of Giant Stadium. The day had been long, but a treat nonetheless. It was a night to remember because, well, time is tickin' away and who knows when we'll get to see Toby and Michael play together again, let alone dc Talk. My first Autumn Blaze experience was a success. I hope the rosters for the following years are good, but I don't think they'll compare to this year's.
--
Kevin Chamberlin
, 10/2/05
Autumnblaze 2005 Photo Gallery
click on an image for a bigger size
TAIT: Arena Stage
TobyMac: Arena Stage
Jars Of Clay: Arena Stage
*all photos by
John DiBiase
or
Amy DiBiase
, and are the property of
Jesusfreakhideout.com