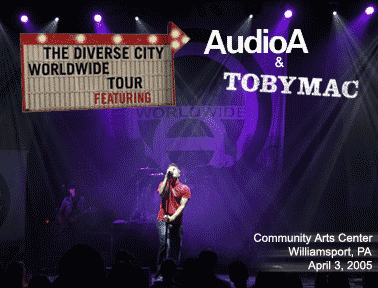 Audio Adrenaline, TobyMac, Kutless, Hawk Nelson
4/3/05, Community Arts Center, Williamsport, PA
When travelling to see a show from any distance, there are several things to keep in mind before you leave your home. For one, make sure you have good directions to the show's venue. If you get on the turnpike and are headed in the wrong direction, you most likely won't be able to just get off and right back on in the right direction without having to drive awhile to the next exit and having to pay a toll. Then make sure you don't do that on the way home either. Secondly, if you know ahead of time that your distance is a good two hours and more, you should really double check the evening's start time well in advance. Finally, leave plenty of time to get there, with a cushion, leaving room for error.
Well, if you haven't picked up on it yet from the opening paragraph, we hit quite a few snags on the way to the April 3rd date of the Spring Diverse City Worldwide Tour. Wrong turns and getting a late start resulted in our arrival an hour after the show began. When we got there, Kutless had just finished playing (sorry guys!) and some Community Arts Center staff informed us that Hawk Nelson never even made it to the show due to their van breaking down. We made our way through the old-fashioned theater of the Community Arts Center and found our seats before the evening's next set.
We'd gotten there just in time for TobyMac and his expansive entourage to grace the stage. The aptly chosen opening "Let's Get This Party Started" seemed to just be the fuse to light the explosive set that unfolded. A quick refrain of "Where My Freaks At?" lead into "Somebody's Watching Me" and kept the set moving swiftly with "Diverse City." Nirva Dorsaint compliments McKeehan nicely with her beautiful vocals while DJ Maj offers his deejay talents and a full live band including dancers and background vocalists round out the posse quite well. And a TobyMac show is about as far removed from the label "boring" as you can probably possibly get. There's usually so much happening on stage it's nearly overwhelming. Toby's hit pop/rock single "Gone" was an evening highlight that lead to "Hey Now," and "J Train." The heavy guitar-driven "Yours" was slowed down considerably for a more worship-friendly format before picking up to its normal pace. The song climaxes when Tim faces off with Nirva in a guitar vs. vocals match. "Yours" was followed-up by the Passion Of The Christ-inspired "Slam," the groovy "Love Is In The House," and "Atmosphere." Toby surprised the audience by even tossing in the dc Talk original "My Will" from the Exodus worship project and dc T's cover of Charlie Peacock's "In The Light." And what TobyMac show would be complete without his montage of classic covers? An old school medley including "Play That Funky Music," "Rollercoaster," and "We Are Family" preceded the raucous "Catchafire (Whoopsi Daisy)," which featured unique lighting effects that similuated fires lit across the stage. The band finished their extensive set with "Extreme Days."
After seeing a TobyMac show, you know it's a tough act to follow. However, after seeing Audio Adrenaline live a number of times over the past decade, I know if any act can, it's definitely them. When intermission ended and the stage lights flickered on, a large white sheet appeared in front of the stage. Three enormous shadows filled the covering as the Audio boys cranked up their opening song "Clap Your Hands" from their pending Summer release Until My Heart Caves In. A real crowd pleaser, the song was a great way to kick off the evening. With the sheet sucked up above the stage, the band was revealed to finish "Clap Your Hands" and quickly move into "Mighty Good Leader." Much of Audio's set felt somewhat more rushed than usual, as the guys quickly jumped right into "Big House," which lead frontman Mark Stuart to wade through the audience and encourage participation. "Worldwide One" which was the band's opening number throughout the 2003 and 2004 tours followed, as well as the fun "Dirty" and the inspirational "Hands & Feet." The set's highlight, however, was indeed the classic Audio Adrenaline rocker "We're A Band" that featured an appearance by TobyMac and his gang, aiding AudioA in performing the track (and even had Toby singing verses from the dc Talk favorite "Jesus Freak"). After the more delicate songs "Leaving 99" and "Ocean Floor," which were prefaced by an irregularly brief word from bassist Will McGinniss, the band invited audience members on stage to express their utmost silliness on "Beautiful." Finally, the rock quartet closed their eleven-song set with "Get Down" from their 1999 release Underdog and left the stage, prompting Stuart to inform the crowd they've run out of time.
Despite our belated entrance and unfortunate experience of only seeing half of the show, I witnessed enough to realize this is easily one of the hottest tours put together this year. TobyMac and Audio Adrenaline are fine performers with their hearts set strongly in the right places. And with youth-oriented rock acts like Hawk Nelson and Kutless, there really is no excuse for missing this tour. Catch the Diverse City Worldwide Tour this Spring if you get the chance to!
--
John DiBiase
, 4/3/05
TobyMac Set List
01. Let's Get This Party Started
02. Where My Freaks At?
03. Somebody's Watching Me
04. Diverse City
05. Gone
06. Hey Now
07. J Train
08. Irene
09. Yours
10. The Slam
11. Love Is In The House
12. Atmosphere
13. It's My Will
14. In The Light
15. Old School Medley
16. Catchafire (Whoopsi Daisy)
17. Extreme Days / Na Na Na Na Goodbye


Audio Adrenaline Set List
01. Clap Your Hands
03. Mighty Good Leader
03. Big House
04. Worldwide One
05. Dirty
06. Hands & Feet
07. We're A Band (w/ TobyMac)
08. Leaving 99
09. Ocean Floor
10. Beautiful
11. Get Down


Diverse City Worldwide Tour 2005 Photo Gallery
click on an image for a bigger size
TobyMac
Audio Adrenaline
*all photos by
John DiBiase
and are the property of the photographer and
Jesusfreakhideout.com