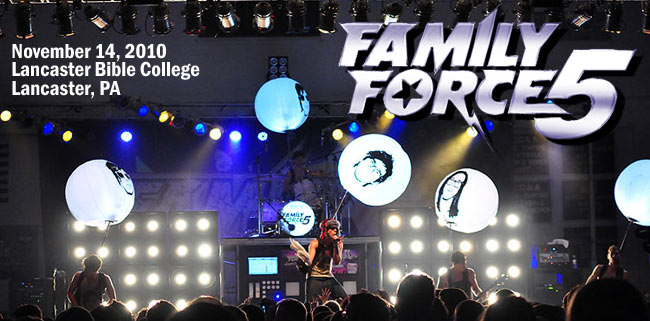 Family Force 5
11/14/10, at Lancaster Bible College in Lancaster, PA
Going to a concert when you're feeling under the weather probably isn't the wisest thing to do. But in some cases, knowing what you'll miss would only make you feel worse. This was the case for me when it came to deciding whether or not I was feeling up to attending - or missing - Family Force 5's live show at Lancaster Bible College in Lancaster, PA. The date wasn't part of a tour, which is a condition I've seen them live before in and it's usually better than a tour because they're more free to do whatever they want than stick to a structured set time. Obviously, I decided the leftover symptoms from a bout with strep throat weren't enough to keep me away, and I set out for Lancaster Bible College to see the show. Local Harrisburg, PA act Farewell Flight opened the evening, but I ended up unfortunately missing their set.
Family Force 5's stage setup and overall delivery of their show was actually relatively similar to their late summer performance at Purple Door Festival, however, this time the five guys all wore jersey style gray shirts with caricatures of their own faces printed on the front with a large number 5 on the back. Also, as I had assumed it would be, their set was beefed up, with almost twenty songs being played over the course of the night. They opened with "Dance Or Die," with frontman Solomon Olds sporting a rather goofy winter hat and boots, and they proceeded to play a really strong mix of fan favorites and career highlights spanning all four of their full-length projects and even an additional EP. Solomon took a few moments between songs to either briefly talk about the band or their purpose being to "party for Jesus" or even to mention that they were in the thick of working on a fourth studio album (that is, if you include the Christmas record as their third). "Keep The Party Alive" was one of the newer songs played, a rare track that was released on an EP at Target in the Fall of 2009. And Solomon also broke out the signature Hulk gloves for "Love Addict," while drummer Jacob Olds, who was perched quite high on a platform, did his standing dance during "Earthquake." It was another high energy set from FF5, and one well worth attending.
After playing fifteen songs and exiting the stage, the band returned for an encore with the glowing-orb backpacks strapped to their backs as they performed "Ghostride The Whip." I found out that this was probably the final show they were using this outrageous stage gimmick, but it's certainly a fun and appropriate wardrobe feature for the Atlanta based group. The dance anthem "Fever" was next, and then Soli talked briefly about their second annual Christmas Pageant tour starting up the following week and the band surprisingly broke into not one but two Christmas songs from their 2009 Christmas record, starting with "Carol Of The Bells" and then closing with their own original, "The Baby." The guys left the stage, and despite performing an exhausting nineteen songs, the audience chanted for one more song, but understandably, the show was officially over for the night.
I still stand by the claim that Family Force 5 offers one of the best and most entertaining live shows you'll find today. It's silly, party fun, but the guys are a tight band of musicians who excel at performance. I'm eager to see what 2011 holds for these guys.
--
John DiBiase
, 12/15/10
Family Force 5 Set List
01. Dance or Die
02. Kountry Gentlemen
03. Replace Me
04. DIE 4 YOU
05. Party Foul
06. Lose URself
07. Never Let Me Go
08. Drama Queen
09. Keep The Party Alive
10. Love Addict
11. Put UR Hands Up
12. Supersonic
13. Radiator
14. Get Your Back Off The Wall
15. Earthquake
Encore
16. Ghostride The Whip
17. Fever
18. Carol of the Bells
19. The Baby
Family Force 5 - November, 2010
click on an image for a bigger size
**vertical images cropped for thumbnails**
Family Force 5:
*all photos by
John DiBiase
and are the property of
Jesusfreakhideout.com