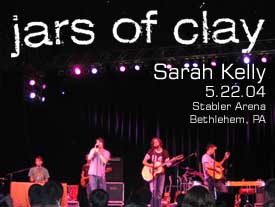 Jars Of Clay, Sarah Kelly, Steven Delopoulos, Buster Soaries
5/22/04, Stabler Arena, Bethlehem, PA
In celebration of The Word FM's 10 year anniversary, the local radio station brought in Jars Of Clay on their current tour for an evening of pop/rock and worship. Getting started later than scheduled, the night opened with former Burlap To Cashmere lead vocalist Steven Delopoulos, appearing with his cousin for a two-man acoustic set. Coming off more like a poor man's Burlap show than a solo performance, the guys seemed like they were trying too hard to compensate for their lack of a band by letting flat jokes fly in between the Spanish-influenced acoustic numbers. Their short set was, quite frankly, not short enough in anticipation for the far more superior performance that would follow.
Gotee Records newcomer Sarah Kelly took center stage with a full band backing her up. Surprisingly, she opened with "Please Forgive Me", immediately taking a seat behind a keyboard. Her powerful vocals were even more commanding in person than on her recent debut recording. Sarah wore her heart on her sleeve, excited to share her it with the audience any chance she got. She encouraged the audience that God can and will use us in ways bigger than we can imagine. The passionate delivery of her vocals was infectious as I found it difficult not to get into the music and share in her love for God's mercy and blessing. Although she only played a short five-song set, they were well-selected and made for a great intimate and worshipful setting.
Following Sarah's performance, New Jersey pastor and renowned speaker Buster Soaries came out to give a special message to the young people in the audience. Buster used engaging stories and humor to effectively get his point across. His message on 'why do smart people do dumb things?' sought to get to the bottom of why the children of today seem to lose sight of their dreams and make poor life decisions.
After Soaries' in-depth message and an extensive intermission, Jars Of Clay emerged and wasted little time getting things started, breaking into the bluegrass-influenced "Trouble Is". The foursome just aren't the same timid folk quartet that struggled through the attention in the spotlight during their beginning days some nine years ago. They're pop/rock veterans now and rather unrecognizable as the band they were. Following another new cut ("Sunny Days"), they offered up the crowd-pleasing oldie (but very goodie), "Love Song For a Savior" with enthusiastic results. Frontman Dan Haseltine is as energetic on stage as ever, moving about from one end to the other encouraging crowd participation. The band also mixed dry humor with a tastefully melodramatic delivery successfully when addressing the crowd. Stories of Haseltine's childhood and experiences with bluegrass at a young age served as an entertaining prologue to the wonderful "Amazing Grace".
As someone who has followed the band since their days before the release of their debut when they opened for Minnesota pop geniuses PFR, I have a hard time swallowing some of the more modern, showy approaches the band takes on old favorites. Due to the runaway success and wide appeal of their 1995 hit "Flood", it probably isn't a wonder that Jars plays to the crowd by using lights and sing-a-long moments to get the crowd going. But for JoC purists like myself, it just doesn't really feel right. With that being the only complaint, I was delighted when Jars mixed up the setlist diversely to include the title track from their popular indie release, Frail as well as their cover of U2's "All I Want" from the In The Name Of Love project released earlier this year.
Surprisingly, Jars ended the night with the more upbeat and unusual crowd pleasers, "I'm Alright" and "Revolution". And after a lengthy break before their encore (leaving the audience cheering for what seemed like minutes), the band came back to perform "Bound For the Promised Land" (a song made popular by Johnny Cash), and the worshipful "This Road" which Jars offered as a benediction to the audience. When all was said and done, the evening left a lasting impression. The artists' music paired with Soaries' message made it a memorable event. And while the maturation that Jars Of Clay has undergone in the past decade may be a bit difficult for older fans to adjust to, the quartet still puts on a great show that shouldn't be missed.
--
John DiBiase
, 5/24/04
Sarah Kelly Set List

01. Please Forgive Me
02. Matter Of Time
03. Take Me Away
04. Living Hallelujah
05. Life Is

Jars Of Clay Set List

01. Trouble Is
02. Sunny Days
03. Love Song For a Savior
04. I Need You
05. Amazing Grace
06. Jealous Kind
07. Fly
08. Show You Love
09. Flood
10. Frail
11. All I Want
12. I'm Alright
13. Revolution
Encore:
14. Bound For The Promised Land
15. This Road

Jars Of Clay Spring Tour 2004 Photo Gallery
click on an image for a bigger size
Steven Delopoulos
Sarah Kelly
Buster Soaries
Jars Of Clay
*all photos by
John
, and are the property of
Jesusfreakhideout.com