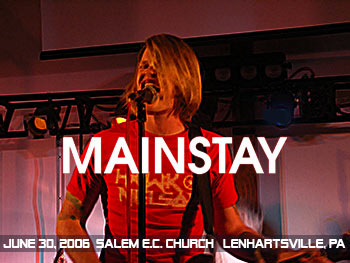 Mainstay
6/30/06, at Salem E.C. Church, Lenhartsville, PA
It's difficult when you have a plan already laid out for making a trip that is abruptly cancelled by forces beyond your control. We'd been gearing up for Creation North East for months when two days before it began, an announcement was made about its cancellation (or "postponement," as they like to call it). And while it disappointed tens of thousands of Creation-goers, there is just very little a festival can do to control large amounts of water falling from the sky to flood out their campgrounds.
Thankfully the entire week wasn't a complete waste when the fine folks at Salem E.C. Church in Lenhartsville contacted a booking agency to see if they had any bands left over from Creation's cancellation that they could bring in for a last minute show. The name of a fairly new little band from Minneapolis came up and the deal was made on Tuesday for a show to host just three days later on Friday evening. The end result brought an impressive turnout that was even better than many small act shows can churn up with months of promotion.
Despite a modest turn out, Mainstay clearly showed up to put on the best show they could, and the result reflected nothing else. The band opened with their catchy single "This Could Be," with their excitement for their music radiating to the audience. Singer/songwriter Justin Anderson made it a point to converse with the audience between songs to make the show a little more personal, which added to their performance's intimate feel. Their next song was edgier than anything on their debut Well Meaning Fiction, as it was one of the band's retooled older songs, entitled "Gunshy." "Down Silver Lake" and "Yesterday" exhibited the band's more pensive material, before pumping up the energy a bit more with their album opener "These Pages."
Justin paused to share his heart about the Gospel and the meaning behind the title of their record, Well Meaning Fiction, before performing the song. Anderson then told the story of how God took away his voice a few years ago to help him get more serious about his relationship with Christ before giving it back to him, leading into their hit song "Take Away." Finally, the band ended their short set with the upbeat and memorable "Mirrors."
A one-band concert is no comparison to the grand scale that Creation festival is, but Mainstay made this Friday night meaningful and fun. Although their set seemed to run a little short, this young up and coming alternative rock band put on a great show, and gave plenty the audience could take home with them afterwards. And hopefully next June, we'll all be treated to the band's first set at Creation 2007...
--
John DiBiase
, 7/1/06
Mainstay Set List
01. This Could Be
02. Gunshy
03. Down Silver Lake
04. Yesterday
05. These Pages
06. Well Meaning Fiction
07. Take Away
08. Mirrors

Mainstay Photo Gallery
click on an image for a bigger size
Mainstay
*all photos by
John DiBiase
and are the property of
Jesusfreakhideout.com