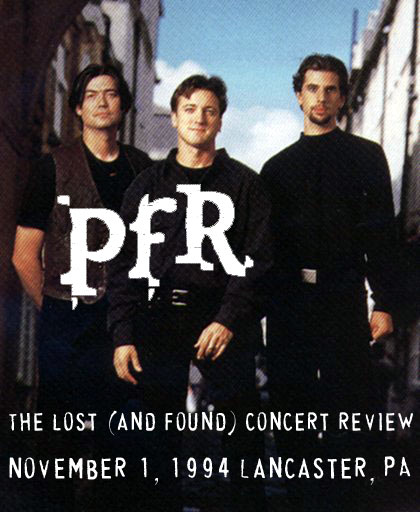 PFR, Brent Bourgeois
11/1/94, at Lancaster YFC in Lancaster, PA
When I recently discovered my gleeful recallings of concerts I had experienced as a then-14-year-old, I found what I believe were my first two ever concert experiences -- Audio Adrenaline and PFR. I distinctly remember it being quite an unusual and memorable experience-- one I'm glad I put on paper in some form. Below is a greatly edited and rewritten version of my account, in which I'll also do my best to retain the spirit in which I had originally written it as a young teen...
In the summer of 1994, I sent a fan letter to one of my favorite bands, PFR, asking if there was a way to purchase their merchandise. [See, this is before the web and online stores, folks!] After a few months with no response, I received an autographed 8x10 of the band in the mail along with a letter mentioning the band would be coming to our area (well, within a 2-hour drive). We immediately got on the phone and secured tickets for our family of four.
On Tuesday, November 1st, 1994, after school (and our Tuesday Bible club meeting, "Teens For Christ") that day, we braved the rainy weather and set out on the road for Lancaster. However, we hit an unusual snag on the way to the venue... in which, we couldn't find it! The concert began at 7:30pm with two opening acts, but it was already 7:15 and we couldn't find the highway we needed to get onto. At around 7:35pm, we found a guy walking in the Park City Mall parking lot and asked him for directions to the Youth for Christ Center. He started trying to explain directions and then just offered to hop in his car and lead us there. [It was such a crazy experienced because, after he led us to the venue, he walked over to our car and said something to my dad like "Don't forget to give back!" and it seemed as though he had vanished by the time we looked back to see his car only a moment later.] Around 7:45, we arrived inside, having already missed one of the opening acts.
The weather had be really terrible that day, but we were still surprised to walk in and find no more than 50 to 70 people sitting in what looked like a very sparse audience. Brent Bourgeois was performing solo behind a keyboard set up on stage, while I was shocked to see two of the members of PFR just chilling in the audience seats around us. Before Brent finished his set, PFR vocalist Joel Hanson joined him on stage to perform a song together (with Joel on acoustic guitar), and then there was a 15-minute intermission.
After I purchased a PFR tee and changed into it, I was ready for the show! Around 8:15, the PFR trio rocked onto stage with their song, "Walk Away From Love." The humble Lancaster crowd gathered in front of the stage to get closer to the action, and I was beside myself to be so incredibly close. They played various songs from their two albums, including songs from their upcoming new album, Great Lengths! Songs they played included "By Myself," "Mercy Man," "Let Go," "Pray for Rain," "Stay" and a few others [Maybe "Great Lengths" and "Merry Go Round"? I wouldn't have known the song titles of the new songs at the time I wrote this]. Unfortunately, Joel was struggling with laryngitis, but he still sounded great, despite a few occasional squeaks in his voice. The funniest moment of the set came when Joel went to take a throat drop and they broke into a spontaneous instrumental song they called "Sucrets." After Joel shared a message on Christ's crucifixion and led us in prayer, they fumbled around with Pez dispensers they had just been given (which they had trouble getting to work), and ended their set with "Spinnin' Around," from their album, Goldie's Last Day, and didn't come back for an encore.
Despite Joel's illness, the band still came out to sign autographs afterwards, which was a real highlight of the night for me. It was an amazing evening of music and getting to meet the band, and I couldn't wait for the next concert trip--which looked to be Steven Curtis Chapman and the Newsboys in a couple weeks!
--
John DiBiase
, 11/2/94. Revised and adapted on 4/14/19.