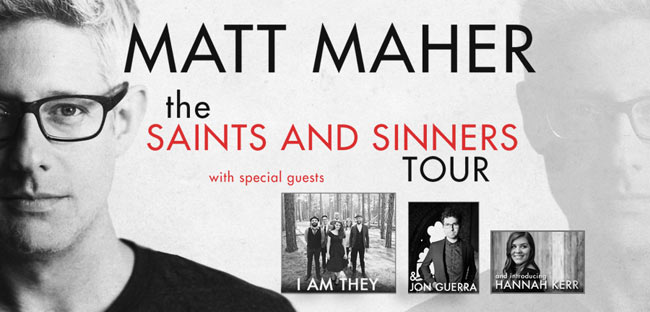 Saints and Sinners Tour
10/15/15, at Amplify Church, Pittsburgh PA
Matt Maher, in support of his latest album which dropped earlier this year, rounded up some of his Rock & Roadshow cohorts and hit the road for the Fall leg of the Saints & Sinners Tour.
Up first was newcomer Hannah Kerr, in her first ever touring appearance. While her set was brief, she showcased a beautiful voice and some catchy, ready-for-radio CCM tunes. She reminds me a lot of Moriah Peters, and I think she has a bright future ahead of her. Her debut EP I Stand Here is now available on iTunes.
Next up was Jon Guerra, who was one of the more pleasantly surprising acts at The Roadshow earlier this year. Accompanied by his wife on violin, Guerra beautifully sang a few songs from his newest album, Little Songs, with a Dylan-esque vulnerability that makes him so easy to enjoy. Perhaps the standout was his song "Stained Glass" and explanation of how, much like a stained glass window, made up of broken pieces, God puts us together to make something wholly unique and beautiful.
I was privileged to get to photograph I Am They for the third time this year at this show as well. However, this is my first time seeing the show with new lead singer Abbie Parker at the helm. Her voice is definitely different from her predecessor's, but it still meshes well with the folksy rhythm of the rest of the band and she is a welcome addition to the lineup. I Am They went through their usual breakout hits, full of fire and fervent foot stomping, clapping, and tamborining energy. They are always a joy to witness live and there are some powerful testimonies within the group.
After a short intermission, the man of the hour, Matt Maher took the stage. Maher worked through most of his huge hits, but the set was rightfully skewed towards the tour's namesake album. Threaded throughout the set were moments where Maher explained the meaning and inspiration behind the songs, many of which were grounded in Catholicism. For a non-Catholic, and someone who isn't well studied on certain Saints and lore, I appreciated the information and it allowed me to connect further with Maher's material. Matt Maher has a lot of songs that personally resonate with me, but on this night, the one that stands out the brightest is his song "Instrument." Based off of St. Francis of Assissi's prayer, this song and the preceding monologue was the highlight of the night. Such a beautiful prayer and song to cap off a wonderful night of worship.
--
BJ Smith
, 10/23/15
Saints and Sinners Tour 2015 Photo Gallery
click on an image for a bigger size
**vertical images cropped for thumbnails**
Hannah Kerr
Jon Guerra
I Am They
Matt Maher
*all photos by B.J. Smith and are the property of the photographer and Jesusfreakhideout.com