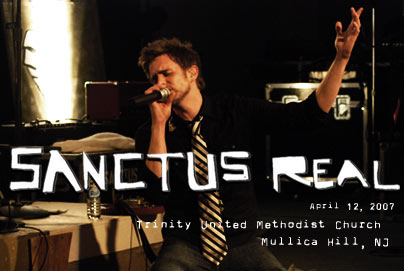 Sanctus Real
4/12/07, at Trinity United Methodist Church, Mullica Hill, NJ
With the launch of their Spring Face Of Love Tour with needtobreathe and newcomers This Beautiful Republic less than two weeks away, Sanctus Real made a stop at Trinity United Methodist Church in Mullica Hill, NJ. Despite Sanctus being the only name on the night's billing, the modest church sanctuary was packed with eager youth and local Sanctus Real enthusiasts. A little acoustic folk group from the area opened for the Ohio rock band, serving as a strange choice to open a professional act like Sanctus. The local band played mostly covers, like U2 and The Beatles for example, before playing only one or two of their own material. The band seemed out of place sharing the stage that evening, but the church audience gave them a warm reception nonetheless.
Sometime around 8:30pm, the Toledo-based quintet hit the stage with great energy, with the audience being immediately responsive, rushing towards the stage to fill the standing room up front. The guys opened with "Possibilities," which was followed by vocalist Matt Hammitt sharing a story about their show at the same church the previous year. Matt mentioned some mishaps that had occured the last time they were there and that he had just continued the blunders this time around by knocking over a mic stand as they emerged on stage and then accidentally smacking himself in the lip with his guitar. Hammitt wanted to make it clear that the mistakes would end before the show would progress any further. "The Fight Song" continued a succession of pop/rock anthems, then moved into the title cut from their debut Say It Loud, the more recent "We're Trying," and a live rarity, another selection from their debut, "Captain's Chair." After dedicating it to a fan in the audience, Sanctus performed "Alone" from their sophomore record Fight The Tide, and appropriately followed it with "I'm Not Alright" from their latest effort, The Face Of Love. The next couple offerings were also from that album, including the anti-divorce themed "Don't Give Up," the passionate "Eloquent" and the emotional worshipful title cut "The Face Of Love," which featured Hammitt sharing from the heart about the band's love for Christ and mission to spread His message. At the close of the song, Sanctus Real left the stage.
The crowd kept roaring for their return and the pause before the encore remained brief as the guys quickly returned to launch into the pop/rocker "Closer" and ended on a worshipful note with "Everything About You" (both from Fight The Tide). After the show, the guys stuck around to spend some time with the fans before hitting the road again. Each time I see this band live, they get better and better. And with them teaming up with the talented Needtobreathe and This Beautiful Republic, it should be one great Spring 2007 Tour!
--
John DiBiase
, 4/14/07
Concert Photo Gallery
click on an image for a bigger size
Sanctus Real
*all photos by
John DiBiase
and are the property of
Jesusfreakhideout.com