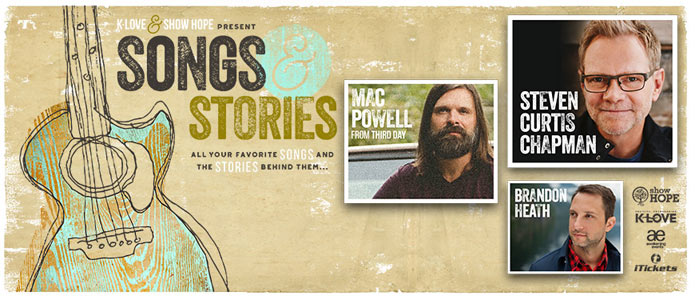 Songs & Stories Tour
Steven Curtis Chapman, Mac Powell and Brandon Heath
9/15/16, at Christian Life Center in Bensalem, PA
Hot off the collaborative SCC3D Tour -- which was awesome -- Steven Curtis Chapman is back on the road again, reprising his Songs & Stories Tour that he has headlined several times over the years. This time around, he has his recent "bandmate" and Third Day frontman Mac Powell in tow, along with labelmate Brandon Heath. We attended the very first night of the tour at a church near Philadelphia, PA, and it was quite a show.
The first night of a tour is unique--much like the last night of a tour. The first night sees the artists and crew trying things out on stage for the first time and working out any kinks, but usually the audience sees it as just a regular night of the tour. So, as you read this and look at the photos, please keep in mind that the stage setup and song choices are bound to change after this inaugural night.
After some announcements from evening sponsor K-LOVE Radio out of Philly, the show kicked off with all three artists on stage together with a full band to support them. While this was similar to the SCC3D setup, there was a more acoustic-driven presentation this time around. I wasn't sure how much of the show might be similar to the Steven Curtis / Third Day mash-up, but it was definitely a treat to hear a very different batch of songs live. The trio opened with the familiar "This Is My Story," before it merged into Steven's "Love Take Me Over." They then all performed "Do Everything" together and the City On A Hill hit, "God of Wonders." At this point, the spotlight was given to Brandon Heath to talk about the Mother Theresa-inspired "Jesus In Disguise," which he performed with SCC while Mac left the stage momentarily. Steven then left as Brandon shared about how a plane trip led to the birth of his hit song, "Give Me Your Eyes." SCC came back to introduce the next song, and all three of them performed Third Day's "I've Always Loved You," with Mac taking the lead. This kind of back-and-forth happened all night, which is a fun and unique way to experience these songs--and artists--live. After Third Day's "Revelation," all three bantered a bit about Nashville songwriters and how they tend to share stories in a similar fashion amongst themselves, which led to Brandon sharing about his grandad and the song he wrote about him, "Paul Brown Petty." Afterwards, Mac actually answered a cell phone call (much to the amusement of those on and off stage) and then shared a rocking solo song he wrote for his wife, "Run Outta Love," which is on his 2014 album, Southpaw.
Steven took the time that followed to share about his kids, and talked briefly about his upcoming autobiographical book, Between Heaven and the Real World, that's due out in March. He then performed a brief piece of a song he wrote for his boys, called "Proud," before performing "Fingerprints of God," a song he'd written for his daughter Emily. Mac returned to share about his personal experiences with adopting children with his wife, and then passed the mic to Steven who talked about Show Hope and the work they're doing in China. He performed "What Now" from his album All Things New, and then remained alone on stage to talk more about Show Hope and show the audience a video about a girl named Astrid who had given a large amount of her own money to Show Hope to support the orphans. Steven followed it with an invitation to become a monthly sponsor before a 20-minute intermission commenced.
Fans mingled in the lobby to check out the merch (where Mac Powell is exclusively selling hard-to-find CD copies of his two solo albums) and hit the restrooms before the event's second half. When the set resumed, Brandon, Steven and Mac kicked things off with SCC's hit and fan favorite, "Dive." Steven remained with only his band as Mac and Brandon stepped out for "Long Way Home," for which Steven used a ukele for the peppy song. He then talked about writing that song and followed it with "I Will Be Here" and "More To This Life." Brandon and Mac returned to the stage for all three of them to share their personal testimony stories and play songs related to it. Brandon performed "I'm Not Who I Was," a song he wrote for his stepmom; Mac invited Trevor Morgan to sing "By His Wounds" and "Nothing But The Blood" with him, and then handed the mic over to Trevor to sing "Psalm 23" from Glory Revealed II. Steven shared his testimony next and performed "My Redeemer Is Faithful and True," before sharing more about his daughters and performing "Cinderella." Steven then just shared a small piece of "The Glorious Unfolding" before offering up a prayer, and turning it over to Brandon to perform "No Turning Back." The night then drew to a close with Third Day's "Soul On Fire," featuring SCC playing the banjo, and band introductions leading into the night's closer, "Live Out Loud."
Again, the tour is bound to go through a kind of metamorphosis before it rolls into your neck of the woods, but when a show is already as good as it was the first night, featuring memorable songs, stories and talent, you know it's one you just won't want to miss!
--
John DiBiase
, 9/25/16
Songs & Stories 2016 Set List
This is My Story / Love Take Me Over
Do Everything
God of Wonders
Jesus in Disguise
Give Me Your Eyes
I've Always Loved You
Revelation
Paul Brown Petty
Run Outta Love
Proud
Fingerprints of God
What Now
Intermission

Dive
Long Way Home
I Will Be Here
More to This Life
I'm Not Who I Was
By His Wounds / Nothing But the Blood
Psalm 23
My Redeemer is Faithful and True
Cinderella
The Glorious Unfolding
No Turning Back
Soul on Fire
Live Out Loud
Songs & Stories Tour 2016 Photo Gallery
click on an image for a bigger size
**vertical images cropped for thumbnails**
Steven Curtis Chapman, Mac Powell, Brandon Heath
*all photos by John DiBiase and are the property of the photographer and Jesusfreakhideout.com