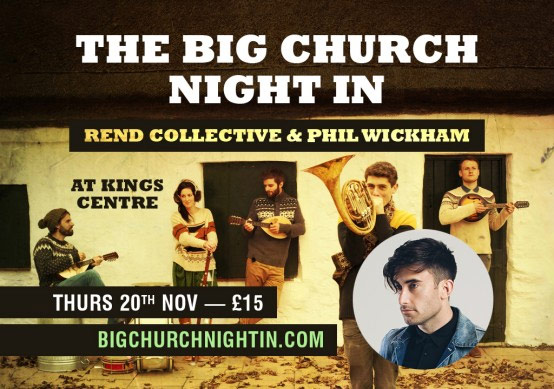 The Big Church Night In Tour / The Art of Celebration Tour
Rend Collective, Phil Wickham
11/20/14, at Kings Church Eastbourne in East Sussex, UK
Americans would be forgiven for wondering if Rend Collective's Art of Celebration Tour is ever going to end. The Collective have been constantly touring the US since their third studio album was released in March. But sadly, us Brits haven't seen too much of them.
All that changed when The Art of Celebration Tour teamed up with the Big Church Night In Tour and Phil Wickham and Rend played 10 cities across the UK.
While organisers are celebrating the sell-out tour, one person also admitted they'd 'hit the ceiling'. The feeling is you can't grow a tour like this beyond 10 dates (with each venue holding around 1000 people). The market for Christian music is small in the UK.
The Big Church Night In tour exists to do 3 things. Firstly, it provides an opportunity for each town/city to come together in unity and praise God. Secondly, it encourages concertgoers to sponsor a child with Compassion. And thirdly, Big Church Night In promotes the UK's premier Christian music festival, held in May every year: Big Church Day Out (BCDO).
There was a time when Brits who loved Christian music would have to seriously consider jumping on a plane and visiting Creation Fest (or other similar US events) if they were to ever see their favorite bands play live all in one place. The Big Church Day Out changed that.
The brainchild of Delirious keyboard player Tim Jupp, The Big Church Day Out has played host to bands and artists including Delirious, TobyMac, Switchfoot, Matt Redman, Chris Tomlin, Newsboys and Matt Maher. Both Israel Houghton and Phil Wickham cite it as their favorite festival in the world. That's quite an endorsement from two very well travelled songwriters. In 2015, NeedToBreathe and Lecrae will make their debut performances at the event, which promises to be the biggest and best yet. But before all that, there's 'Night In'...
We caught up with the tour when it stopped off in Eastbourne - a town that is often described as the UK version of Nashville (many of the major Christian music labels and distributors are based there). The evening opened with an acoustic 'Singalong' set with Phil Wickham. Opening tunes "The Ascension" and "Heaven Fall Down" weren't known to most in the room, but Phil's undeniable passion and drive carried the song through regardless.
Next up was his co-write with Tim Hughes, "At Your Name (Yahweh Yahweh)." "When My Heart Is Torn Asunder" followed, and the lyrics "My body might be dying but I'll always be alive" were poignant, considering less than 6 months ago, Phil was having major surgery on his vocal chords. The result was a "roller coaster of fears, hopes and unknowns," but he's come through the other side with what he says is a "new depth of gratitude." His vocal performance throughout the evening was stunning.
Those familiar with Singalong 2 will be well aware of Phil's powerful falsetto in "Heaven's Song," and needless to say, it was even more remarkable than on the recording to hear performed live. An interesting production decision was to not show the lyrics for "Heaven's Song" on the screens. On a practical level, it's impossible for most to keep up with Phil's first class vocal performance, but on a deeper level, there's something special about hearing those lyrics sung to you; "My soul is getting restless for the place where I belong / I can't wait to join the angels and sing / My heaven's song."
Crowd favorite "You're Beautiful" was next, before a quick rendition of Hillsong's "The Stand" and finale, "This Is Amazing Grace." Then, in that typically quiet, understated and unremarkable way, Phil thanked his audience for singing along and strolled off stage. Rapturous applause broke out and many turned to one another with mouths opened, remarking on Phil's incredible voice and energy. In moments like, this the boundary line between 'worship' and 'gig' is blurred. But no one seemed to mind.
Patrick from Rend Collective gave a sensitive but striking pitch encouraging those gathered to sponsor a child with Compassion International before Rend Collective burst into life with the opening words of "Joy," "We're choosing celebration." Gareth would later highlight this lyric and say that celebration is both an art and a choice. The message was that it doesn't always come naturally, but it's good and right for us to celebrate what God has done.
Fan favorites "You Are My Vision," "Build Your Kingdom Here" and "My Lighthouse" were played early on, while the latter half of the set saw the Collective take us on a journey through Romans 8. "More Than Conquerors" and the bridge of "Boldly I Approach (The Art of Celebration)"--"This is the art of celebration: Knowing we're free from condemnation"--are both clearly inspired by the chapter.
In true celebratory style, multi-coloured confetti and bubbles were released, bright lights shone and the people danced. "Praise Like Fireworks" was the ideal finale, and as the band exited, the cheering continued. Within 30 seconds, Rend were back on stage for their encore.
Stripping everything back, lead singer Chris explained how, as well as up-tempo celebratory songs, there's also a place for coming to God in simplicity and quiet. "My heart will sing / How I love you," the people sang as the band played quietly. It was fitting that this rendition of "Simplicity" led into the chorus of Matt Redman's "The Heart of Worship," and also the classic lyrics of: "I love you lord / And I lift my voice / To worship you / Oh my soul rejoice / Take joy my king in what you hear / Let it be a sweet, sweet sound in your ear."
As I said before, there was a time when UK Christians were forced to seriously consider flying to the US if they were to ever hear the Christian bands and artists they love play live. I know, because I was one of those people. But now with Big Church Day Out (and the Night In) growing in strength, it may be time for the Americans to listen to Phil Wickham and Israel Houghton's advice, and fly over to experience the world's greatest festival, in the beautiful English countryside.
For more information about the Big Church Day Out visit bigchurchdayout.com
--
Sam Hailes
, 11/21/14
The Art of Celebration Tour UK 2014 Photo Gallery
click on an image for a bigger size
**vertical images cropped for thumbnails**
Phil Wickham
Rend Collective
*all photos by and are the property of Kings Church Eastbourne and are used by permission for Jesusfreakhideout.com