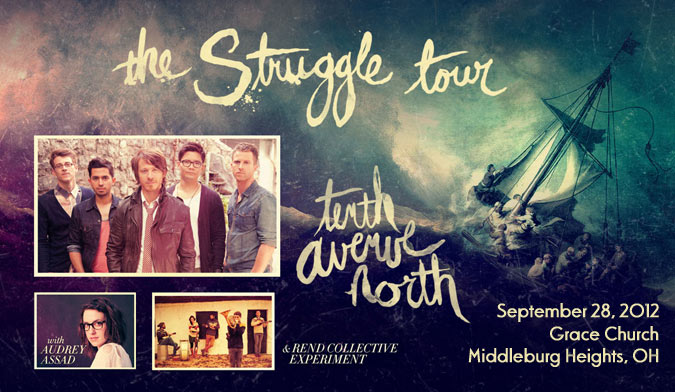 Tenth Avenue North, Audrey Assad, and Rend Collective Experiment
9/28/12, at Grace Church in Middleburg Heights, OH
Hot off the release of The Struggle, which had a fantastic debut at #9 on the Billboard Charts, the Florida boys in Tenth Avenue North have headed out on tour in support of the new record, aptly titled The Struggle Tour. Once hearing about the tour and seeing who was on the bill, I knew it was going to be one of the highlight tours for Fall 2012. I've had the pleasure of seeing Tenth Avenue North a few times prior to this show, but never as the headliner, and I was definitely curious to see what they were going to do on this tour. I was fortunate to be able to attend the show in Middleburg Heights, Ohio, and while I didn't know what to expect production-wise, I knew I was heading to a great night of worship.
The night kicked off with a bang as Ireland-based folk/worship band, Rend Collective Experiment, came out on stage and exploded through about five songs, most of which were off of their newest album they released in January, Homemade Worship By Handmade People. They're one of the most engaging live bands I've seen come up on the horizon lately; they have two drummers, they incorporate accordions, trash cans, xylophones, and they also have more traditional instruments like guitars, banjos, and a drum set. They were a great way to start the show, and I'm looking forward to seeing what these guys are going to do in the future.
While changing things around for the next performer, Audrey Assad, Jason from Tenth Ave came out on stage and talked a little bit about the college that he and Mike Donehey attended in Florida, and then followed his talk with a video about the college. By the time the video was over, things were set up for Audrey to start the next portion of the show.
Audrey Assad slowed things down a bit; she started off with just her keyboard and performed "The Way You Move" from her latest album, Heart. She then invited two of the members of Rend Collective Experiment to accompany her on the drums and bass guitar. Audrey paused about midway though her set to talk a little about her life, how she was newly married, and her husband was diagnosed with cancer about six months ago. She also explained how she had tried to write a "fun and quirky" song, based of a conversation she had with her husband, and how the best one she could come up with was one about how she couldn't write a song like that. She performed said song, "Until You Came Along," and said that it was off of a benefit EP, The Cancer Year. As her portion of the show came to a close, Audrey wrapped things up with her hit, "Sparrow," and left the audience with a smile and a 'thank you.'
While they were setting the stage up for Tenth Ave, Mike Donehey, lead vocalist for Tenth Avenue North, came on stage and began to engage the crowd with his humor and personality while informing the audience about Compassion International. He even interviewed a woman from the audience who has been sponsoring a child through Compassion. After he finished speaking, they showed a video from their time spent working with Compassion, and how it changed their lives. Once the video was finished, Mike had the ushers come down with packets from Compassion, and said that people could check them out during the intermission. He then prayed over the audience and the crew started to set up for TAN's set.
After about a 15-minute break, Tenth Avenue North burst out onto the stage with their song "Shadows," off of their album, The Struggle. They continued to keep things moving with their hit, "Strong Enough," and the song, "All The Pretty Things," both off of their album, The Light Meets The Dark. They played a nice collection of songs from all three of their albums, and Mike also took time to banter with the other band members as well as the crowd. Towards the end of their set, Mike ran up and down the isles of the venue, and he also made his way up to the top left balcony. Giving the other Tenth Ave members a quick break, Mike took an acoustic guitar and went on the right side of the stairs leading up to the balcony and played a medley of some of their slower songs. They ended the night with a crowd favorite, "You Are More," but were soon cheered back for an encore, which consisted of three more songs. Their very last song was "Where Life Never Dies," which is off of "The Struggle," and was an excellent way to end their set.
Tenth Avenue North's The Struggle Tour was one of the most satisfying shows I've been to this year, and its one show you don't want to miss if it's coming to your area. Come and expect an evening full of great music, laughter, fellowship, and worship.
--
Cortney Warner
, 10/1/12
The Struggle Tour
click on an image for a bigger size
**vertical images cropped for thumbnails**
Rend Collective Experiment:
Tenth Avenue North:
*all photos by Cortney Warner and are the property of the photographer and Jesusfreakhideout.com