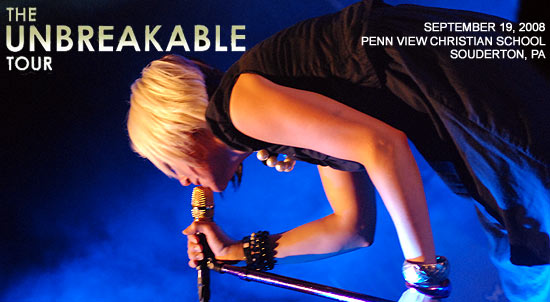 Fireflight, Nevertheless, Me In Motion
9/19/08, at Penn View Christian School in Souderton, PA
Not every band can make the transition to the headlining role smoothly. However, with The Unbreakable Tour, Orlando, FL rock band Fireflight do it with ease. Joining the Flicker Records quintet for the ride are none other than pop rock labelmates Nevertheless and Word Records newcomers Me In Motion.
For this particular spot on The Unbreakable Tour, local concert promoters 1 Way Concerts (www.1wayconcerts.org) sponsored the event as an entirely free outreach show. We'd arrived at the Penn View Christian School in the early afternoon so we could speak to Nevertheless for a JFH interview, which unfortunately ended up cutting into the night's opening act Me In Motion, resulting in us missing most of their set. However, the tour was set to make a stop at Vertical Fest the following day, so we got a chance to catch all of their set there. It was the first time I'd heard this Ashville, Ohio act in any form. Their show was relatively strong for a new pop/rock act, but there wasn't a great deal about them that really stood out from other bands in the genre, musically. However, there still seemed to be something about Me In Motion that made them fun to watch and listen to regardless. Seth David serves as an engaging enough front man to pull in even the more casual listener. After offering songs like "Tears," "Welcome To Your Life," and "You Don't Care" - which the band made certain their audience knew could be heard on MySpace page - they ended their kickoff set.
Chattanooga, Tennessee's own Nevertheless opened their performance, soaking in often dimly shone blues and greens, with a brand new song, "Cross My Heart," from their recently released sophomore album, In The Making. Right off the bat, I could tell the band has grown a lot just by their stage performance. It was a lot easier to get into their set, and it was nice hearing a mix between their two records. Due to the energetic, mostly young audience before them, the band kept things upbeat and energetic, even changing their usual set to drop a slow song or two out and keep things more lively. The band moved right into the most fun and upbeat song on their latest album, "Longshot," before breaking out an old favorite, "Losing Innocence." From there, the guys proceeded with the inspiring "It's True" and the slower classic "Lover" before lead vocalist Joshua Pearson paused to share about insecurities. Such a topic, which Pearson used to encourage their audience to rise above said insecurities, was the perfect subject matter for the age group at this show and served as an appropriate lead-in to the band's current single, "Sleeping In." From there, Nevertheless kept to their more well-known material, closing their set with three cuts from their debut: "Patience and Devotion," the title track "Live Like We're Alive," and what may be their most recognizable song, "The Real."
The swift-moving night soon arrived with the lights dimmed again and the headliners from Orlando, Fireflight, stepped out to the tune of "The Hunger" from the band's sophomore release Unbreakable. The fivesome were all dressed in black, with vocalist Dawn Richardson leading the way. "The Hunger" was a nice way to start the set, and with guitarist Justin Cox adding some screaming vocal accents to that song and a later one, it definitely gave the band's set even more of an edge than before. But Fireflight proceeded to perform almost exactly half and half of cuts from their two albums, mixing it up pretty well throughout the night, playing mostly new ones in the first half of the show. "Serenity" followed the opener, with "Stand Up," "So Help Me God," and "Brand New Day" close behind. Sadly, the audience seemed way too distracted to even be all that receptive to crowd interaction from Fireflight, but regardless, Richardson took a moment to share something that was on her heart. She read a portion from the Message Bible about the story of the shepherd who left the ninety nine sheep to go find just one who was lost. With the story, Dawn encouraged her listeners to not segregate themselves from nonbelievers so much as to not be able to minister to them. With that, the band launched into "Forever," including a deliciously extended instrumental outro. The second half of Fireflight's set consisted mostly of older songs, with "It's You," their radio hit "You Decide," and the anthemic "Action" before tossing in "You Gave Me A Promise" and concluding with the aggressive "Liar" (which thematically seemed sorely out of place) and "Attitude." And as if there was some unspoken encore, Fireflight threw their fists in the air and performed the tour's titular anthem, "Unbreakable," before walking off the stage to end the night.
Although the show seemed short compared to bigger Fall tours (the epic Music Builds Tour does come to mind), there was a much more intimate feel to having a rock show in a small, 500-seat chapel in a Christian school than, say, a large amphitheater or stadium. A great show for the teens especially, it's unfortunate The Unbreakable Tour has come to an end, but if you happen to get the opportunity to see any of these artists on their own on a separate tour, you'll be in for a great evening of rock music with a message.
--
John DiBiase
, 9/26/08
The Unbreakable Tour 2008 Photo Gallery
click on an image for a bigger size
**vertical images cropped for thumbnails**
Me In Motion
Nevertheless
Fireflight
*all photos by
John DiBiase
and are the property of
Jesusfreakhideout.com