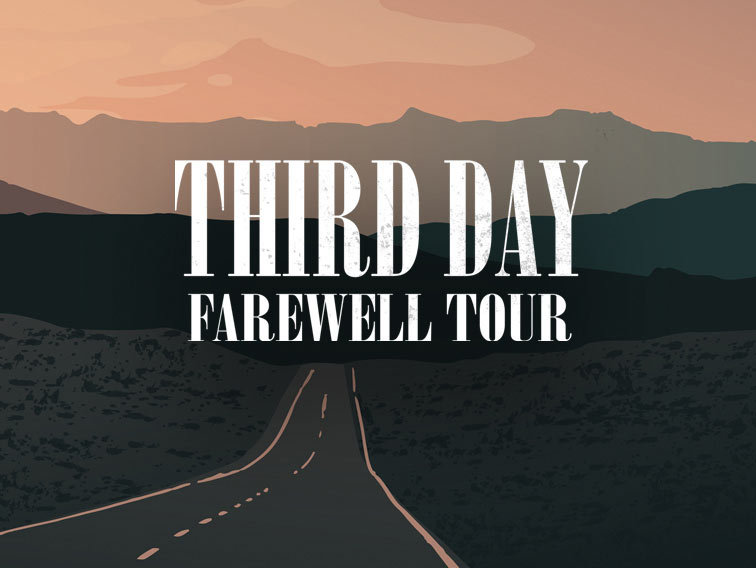 Third Day Farewell Tour
Third Day, Mac Powell & The Family Reunion, Mark Lee, Zach Williams
6/10/18, at Beacon Theatre in New York City, NY
To quote one of my favorite characters in one of my favorite television shows: "Goodbyes stink." During Michael Scott's own farewell episode on The Office, he broke up an emotional moment to reach into his drawer, pull out a mini tape recorder and take down the sentiment as a t-shirt idea, but it's two words that immediately come to mind in a circumstance like this one.
Everyone's story with a band or musician they love is different. For me, my story with Third Day began in 1996 when I saw them headline a little festival in Hatfield, PA, back when they were touring with Seven Day Jesus and Ian Eskelin's new band All Star United. Little did I know going into it that I would leave that show a Third Day fan and later become just as enthusiastic about both Seven Day and All Star. At the time of my introduction to Third Day, they still only had their self-titled label debut under their belts (not counting any previously indie releases), and my fandom would reach greater heights when they released their underrated sophomore album, Conspiracy No. 5.
But all good things must come to an end. I could go on and on about Third Day's own history and discography that has spanned over two decades, their member changes, and my own personal experiences with the band, but being that this is a review of their final tour, I'll try to limit this review to mainly just covering a stop on the band's final run of live dates: The Third Day Farewell Tour.
Actually, as I write this, the band is playing their final show as a band (in Colorado), which is a hard pill to swallow when I think about it. But, many times, bands break up without much fanfare, and fans are left without closure and a final bow. Thankfully, when the decision was made last year during their sabbatical, the band decided to retire right -- with one, last, big hurrah.
Third Day's Farewell tour was a celebration. It honored their roots and their fans, while also highlighting their musical futures as individual members. What some fans might not realize -- at least, going into the tour -- is that original drummer David Carr officially stepped down last year to pursue his photography work full-time. This means that the only remaining original members are vocalist Mac Powell and guitarist Mark Lee (which is reminiscent of when Audio Adrenaline did their final tour with just original vocalist Mark Stuart and bassist Will McGuinness). So, for this last run of dates, both Mac and Mark performed solo sets before the band's headlining show. The only non-Third Day performance came in the form of rising star Zach Williams, who has been winning award after award, celebrating accolades for his song "Chain Breaker," and even earning sincere endorsement from Hollywood superstar Chris Pratt.
Williams opened the night around 7:30 with selections from his debut album, including "Fear Is A Liar" and capping off his set with the mega hit, "Chain Breaker." His music fit wonderfully with the rest of the night's southern rock styling. It was nice to hear his voice and music without the production sheen that makes his music primed for Christian radio, too.
Next up was guitarist Mark Lee's solo set. Until news of his first solo EP dropped earlier this year, I'd never imagined Lee would pursue music on his own and as a frontman. (He's just always seemed like a support guy and not a front-and-center kinda guy.) Even more surprising is how much of a southern drawl he has when he speaks, but you can't hear it while he sings. His music is much more straight pop rock than southern. He opened with the Common Children-esque "Glorious One" from his debut EP, Unshakable Heart, and then spent some time talking before moving into "Hurt Road," which is also the title of a memoir he released last year. Following some more storytelling, Lee closed with his cover of Third Day's "When The Rain Comes" from their 2001 release, Come Together.
Mac Powell & The Family Reunion followed, the official name Mac has started using for his solo pursuits. Unfortunately, I'd missed the opening song, but the second song the band played was Hank Williams' "I Saw The Light," before guitarist Jason Hoard sung a portion of Johnny Cash's "Folsom Prison Blues" and vocalist/guitarist Trevor Morgan sang "Amazing Grace." Mac then took a moment to talk about his wife Amy, who was also in attendance that night, and said the next song was for her. He then jokingly started singing "Hard Headed Woman" from his 2016 release, Southpaw, and then started playing the far sweeter "Run Outta Love." He closed his short but sweet set with a brand new song from his Mac Powell & The Family Reunion album (which was released early just for the tour), the aptly titled "Back Again."
Before an intermission followed, Food for the Hungry shared about their ministry from the stage, encouraging new sponsors. Then, at around 9:20, Third Day took the stage for the final time that New York may ever see and hear the band perform live together.
To honor their 20+ year history, Third Day started at the beginning of their career and began playing a song (or two) from each of their studio albums, starting with their debut, opening with their first hit, "Consuming Fire." Behind the band was a screen displaying imagery and lyrics throughout the night, but with each song played, the album cover, title and release date displayed behind the band, tying this trip through the band's history together like a greatest hits project. "My Hope Is You," "Sky Falls Down," "I've Always Loved You," and "King of Glory" all followed, bringing with it crowd enthusiasm and a mix of emotions. Mac took a break to talk to the audience about their career and proceeded to perform "Thief," also from their debut. "Show Me Your Glory" was next, then "Sing A Song," "I Got A Feeling" (which was also when Mac announced that the evening was being recorded live!), "Tunnel," and "Cry Out To Jesus."
Powell took a break again to talk about the band's break-up and giving back to the fans. "Revelation" was then a wonderful addition to the set list, followed by the rocking "Other Side." Powell then talked about the band's experience with sponsoring children over the years and moved into "Children of God," "Miracle," and their most recent smash hit, "Soul On Fire." Last year, the band released their final studio album, Revival, which they never toured officially, and had already been completed before they collectively took a break. It was truly bittersweet to hear the title cut, "Revival," played live as I also knew it was the one and only time I'd ever hear it live in person (as well as no other songs from that album). After playing it, the band left the stage, leaving the audience hoping that wasn't all she wrote... just yet.
When they returned to the stage for the encore, they opened with "Blackbird." It's a cut from their debut that not only hasn't been played much in recent years, but just really captures the overall feel of their debut musically for me. My inner 16-year-old self was transported back to that tented venue in Hatfield where I first heard them live and I started to really feel the emotional weight of this being my last time seeing this band live. Ever so appropriately, "Gone" from their album Move was next and it seemed like the perfect "moving on" goodbye song. But before leaving the stage, Mac and Mark expressed their gratitude to the fans once more and performed "God of Wonders" from the City On a Hill collaboration album, mixing it with another cut from 20 years ago, "Agnus Dei" from the Exodus compilation. It was a wonderful and worshipful way to leave their fans, especially with songs that longtime fans would especially know and love. After they took their final bow (in front of a screen that read "Bye Y'all!"), the house music came on, playing "Thank You All" from their Chronology project, and it was just perfect.
I've seen a few farewell tours in my day, and even a couple final shows (like Bleach, for instance, or Solomon Olds' final show officially performing with Family Force 5 as lead vocalist), and this Third Day Farewell Tour was something really special. I can't imagine what tonight's final show in Colorado at the Red Rocks Amphitheater is like, but I can imagine it'll be epic and emotional. I'm eternally grateful for Third Day, their songs, and their legacy. They've left a significant impact on the world of Christian music and even me and this website, as I first became a fan of them mere weeks before starting Jesus Freak Hideout. (It's crazy how time zips by...)
So, thank YOU, Third Day. You may be gone, but your songs and impact will not be soon forgotten.

-- John DiBiase, 6/27/18
Third Day Set List

01. Consuming Fire
02. My Hope is You
03. Sky Falls Down
04. I've Always Loved You
05. King of Glory
06. Thief
07. Show Me Your Glory
08. Sing a Song for You
09. I Got a Feeling
10. Tunnel
11. Cry Out to Jesus
12. Revelation
13. Other Side
14. Children of God
15. Miracle
16. Soul on Fire
17. Revival

Encore
18. Blackbird / Gone
19. God of Wonders / Agnus Dei
Third Day Farewell Tour Photo Gallery
click on an image for a bigger size
**vertical images cropped for thumbnails**
**
NOTE:
The Beacon Theatre wouldn't allow real cameras (or video recording from the tour's own videographer!), so the only shots I got were with my phone.**
Mac Powell & The Family Reunion
Third Day
*all photos by John DiBiase and are the property of the photographer and Jesusfreakhideout.com