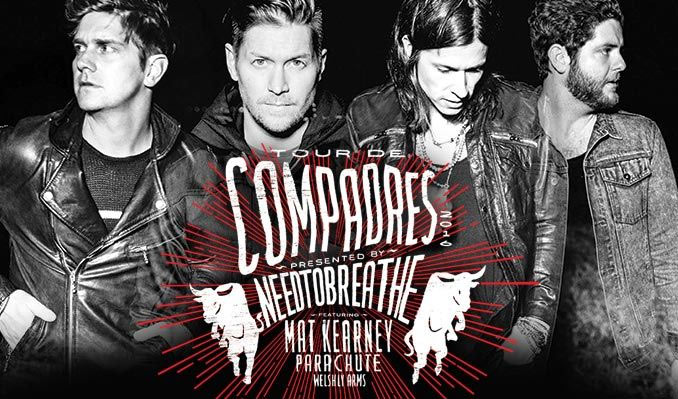 Tour De Compadres
NEEDTOBREATHE, Mat Kearney, Parachute, Welshly Arms
11/5/16, at The Electric Factory in Philadelphia, PA
It's difficult not to make comparisons from tour to tour, especially when they bear the same name as a previous one. Last year's Tour de Compadres, the headlining venture of southern pop rock band NEEDTOBREATHE, boasted such talents as Switchfoot, Drew Holcomb & the Neighbors, and rising stars Colony House (which features Steven Curtis Chapman's two sons). It was an impressive run, and we were lucky enough to catch the tour's stop in Asbury Park, NJ at The Stone Pony (and it's hard to beat a concert that is practically on a beach). This year, the tour is back again, and right on the heels of the release of a brand new album from NEEDTOBREATHE. This time around, NTB brings crossover sensation Mat Kearney in tow, along with the lesser known acts of Parachute (not to be confused with the Auckland, New Zealand worship act, Parachute Band) and Welshly Arms. The experience is certainly a much different Tour de Compadres.
And it's not surprising that the feel of this year's tour would be so different. NEEDTOBREATHE's new studio album, H A R D L O V E, all but sidelines the southern rock flair they've been showcasing since 2007's The Heat, and focuses on a decidedly more pop and symphonic-glazed sound. Welshly Arms bares a similar marriage of sounds, while Parachute and Kearney are more pop in nature (with Kearney always having mixed in a little hip hop for good measure). Switchfoot has long been sort of a classic pop/rock act, while Drew Holcomb's folk/Americana sound was right in line with NEEDTOBREATHE's South Carolina roots. And then Colony House was more of a parallel to Switchfoot, creating a varied and staggered approach to the lineup's sound that complemented each other nicely. Tour de Compadres 2016, admittedly, almost feels like a completely different tour with a completely different headliner (that's not to say, however, that it needs to be exactly the same). Having seen NEEDTOBREATHE many times since they opened for Jars of Clay on tour in 2007, this is the first time a NEEDTOBREATHE show didn't really feel like a NEEDTOBREATHE show.
My first time seeing the band live was actually at The Electric Factory, so it was really cool getting to see them headline there now. Their stripped-down southern rock show completely won me over 9 years ago. I was unimpressed with their debut Daylight, and this concert preceded the release of The Heat. Their re-adoption of the their southern roots (as they were more southern in sound as an indie band before their first mainstream release with Daylight) just seemed so much more fitting for this band... and to be honest, while I have grown to really like H A R D L O V E, I think that feeling remains true.
Sadly, I got caught in traffic on the way to Philly, and I didn't make it inside the doors of The Electric Factory until after Welshly Arms had played. I really like this venue, but it's been some years now since I was last there (could it have really been since David Crowder*Band's The 7 Tour in 2011?!), and I was taken back by some significant changes the venue has made. For starters, on the lower level, the open space against the wall under the balcony was filled in with a row of bars. This also added an age-check stop which causes a bottleneck of people trying to just get closer to the stage while remaining off to the side under the balcony. That area was always a wallflower's sanctum, so it's kind of sad to see it gone. (And with the bars there, there's less space for the audience, so this sold-out show was CRAMPED.) Needless to say, I made my way over there to watch Parachute. They're a decent little pop outfit, but their songs didn't stand out from the many other artists who already bear the same sound. When they finished, I felt as though they brought nothing exciting to the table and just served as a forgettable opening act (which is sad, too, because I heard Welshly Arms was quite good).
After about a 15 to 20-minute set change, Mat Kearney took the spotlight. Last time I saw him live, the band Leagues was his backup band (since Leagues formed FROM his backup band), but former Audio Adrenaline guitarist, Tyler Burkum, remains Kearney's guitarist to this day (having since left Leagues), and it was fun to see him up on stage playing guitar still (That Audio A lineup is still sorely missed. My first Electric Factory show was actually Audio A's "Underdog Tour" in 2000, which Tyler performed at). Mat and his band opened with "Air I Breathe," a bonus track from the deluxe edition of last year's Just Kids release. It's an odd concert opener--not exactly a thrilling one--but Kearney recovered nicely with his hit single, "Hey Momma." Several catchy songs followed, including "You Can Count on Me," "Fire and Rain" and hit "Nothing Left To Lose," before he encouraged some sing-along to "One Black Sheep." Surprisingly, Kearney then covered Twenty One Pilots' "Ride" and followed it with "Runaway," his contribution to the Soul Surfer soundtrack, in which he hopped down from the stage to wade through the audience. He ended the song by returning to the stage to hold a disco ball in his hand and shine a light on it, refracting the light across the stage. "Heartbeat" was next, complete with Kearney dancing on stage with his band's bass player for a portion of the song. The oddball title track, "Just Kids," followed, and then after band member introductions, Kearney and his team closed with possibly my favorite track of his, "Ships In The Night." Their performance was good, but the song selection was odd. I tend to love deep cuts, but Kearney's best songs have always arguably been the more popular, catchy ones. When he toured his Young Love album in Fall 2011, it was a really strong headlining set. This one was a little disappointing.
After a longer set change, the stage setup was unveiled for NEEDTOBREATHE. I was surprised to see a gigantic vertical screen behind the band that would alternate been live footage from the show and recorded videos from various sources (like music videos or other shows). The stage was also tiered with two levels so the drums, piano and occasional background singers were raised up behind the main trio of Bear, Bo and Seth. They opened, aptly so, with "Great Night," a catchy song from H A R D L O V E that set the tone for the night. "Feet Don't Fail Me Now" was a nice surprise from Rivers In The Wasteland, and then the ballad "Difference Maker," which Bear surprisingly referred to as an "old one" when talking about playing new songs and old songs, was next, followed by the big sound of "Money and Fame." After band member introductions--which got really weird, with Bear screaming their names at the top of his lungs, and saying things like their bassist Seth is "so good looking, it p*sses me off!" (after some really left field stuff about their drummer)--they played "Happiness" and fan favorite "Keep Your Eyes Open." "Testify," "Washed by the Water" and "Don't Bring That Trouble" all followed. Bear then started playing "Let's Stay Home Tonight," but stopped to react to some crowd response that I didn't quite hear. He said something to the effect of "You don't like that one? Well, we do." and immediately shifted into "Oh, Carolina." I couldn't tell if the fake-out was on purpose or spontaneous. The romantic closer from H A R D L O V E, "Clear," was next, but the production was fuller and bigger than on the album. I think the more intimate and personal feel of the album version plays out a bit better, but it was still nice to hear the song live. "Devil's Been Talkin'," "Multiplied," "Moutain, Pt. 1," "Hard Love" and "Drive All Night" all followed. They then left the stage, leaving the crowd cheering for more. When they came back, Bear sat at the piano for a medley of fan favorites, starting with "Be Here Long," mixing it into "Daylight" from their debut. He talked a little about how "Tyrant Kings" represents high school life and played that song, which then flowed into "We Could Run Away" from The Heat. The set then drew to a close with "Something Beautiful" and their runaway hit, "Brother," in which all of the members of all of the preceding acts came out on stage in white sweatshirts, glowing under a black light, before singing along with the NEEDTOBREATHE boys.
I have to admit that, while Bear said from the stage that this was their favorite tour so far, it was certainly not your usual NEEDTOBREATHE show or tour. All nitpicks and criticisms aside, I really did enjoy the show. I can't really say the bigger production fits NEEDTOBREATHE like a glove, but it's common to see artists mature and evolve over time, especially with growing popularity. (For example, Jars of Clay started out smaller and more intimate, then their shows got bigger for arena venues and stadiums, and then they scaled it back again for a more intimate performance. The more personal performances always seemed more fitting for them.) That night at The Stone Pony actually stands out better from this set (and that even had the band following one of my all-time favorite bands, Switchfoot). But it still remains that NEEDTOBREATHE is an incredible band--and one that must be experienced in a live setting.
-- John DiBiase, 11/9/16
Mat Kearney Set List

01. Air I Breathe
02. Hey Momma
03. You Can Count On Me
04. Fire and Rain
05. Nothing Left To Lose
06. One Black Sheep
07. Ride (Twenty One Pilots cover)
08. Runaway
09. Heartbeat
10. Just Kids
11. Ships In The Night
NEEDTOBREATHE Set List

01. Great Night
02. Feet Don't Fail Me Now
03. Difference Maker
04. Money and Fame
05. Happiness
06. Keep Your Eyes Open
07. Testify
08. Washed By The Water
09. Don't Bring That Trouble
10. Let's Stay Home Tonight / Oh, Carolina
11. Clear
12. Devil's Been Talkin'
13. Multiplied
14. Mountain, Pt. 1
15. Hard Love
16. Drive All Night
Encore
17. Be Here Long / Daylight
18. Tyrant Kings / We Could Run Away 19. Something Beautiful 20. Brother
Tour De Compadres Photo Gallery
click on an image for a bigger size
**vertical images cropped for thumbnails**
Mat Kearney
NEEDTOBREATHE
*all photos by John DiBiase and are the property of Jesusfreakhideout.com