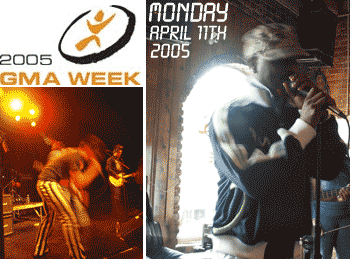 Monday was our busiest day. It didn't take long to pass out from exhaustion when we got back to our room on Sunday night, but our Monday was set to start bright and early with an interview with Fervent Records sister trio BarlowGirl at 9AM. We walked to the Renaissance Hotel and, upon instruction, took the elevator to the 23rd floor where we were escorted to the 24th floor for the interview. I'd woken up that morning not feeling the best, so I let Amy do all the talking with the Barlows. The girls were a real pleasure to talk to and were real sweet kids (click here to read the interview). At about 10:30AM, we had made our way downtown a couple more blocks to the Hilton Hotel to the Flicker Suite for an interview with hard rock band Staple. The unique thing about GMA Week is the random artists in CCM you will see walking around at different times each day. While making our way to the sixth floor where we the Flicker Suite was, Kids In The Way were just lounging in the lobby. After the interview with the guys, we saw Third Day's Mac Powell and Mark Lee walk by a few times, Casting Crown's Mark Hall, Peter Furler, Sanctus Real, and, on my way out, I literally bumped into T-Bone!
Right after having a great talk with the Staple boys, we got a call that our 12:30 with Mat Kearney wasn't going to happen due to scheduling conflicts. Disappointed, we realized we didn't have another interview until 1:30PM, and decided to head back to our hotel. As we passed by the Renaissance entrance, we were handed a flier for a free Noon luncheon with one of our favorite new bands, 4th Avenue Jones. And following a brief stop at the hotel room to pick up my ridiculously heavy laptop, we began the long walk down to Jack's Bar-B-Que on, ironically, 4th Avenue for the show. We grabbed some barbecue lunch buffet style and sat down for the band's short unplugged set. 4th Avenue Jones opened with their song "Unhappy Birthday" and literally had the bar's floor shaking. For an unplugged show, it was an incredible set, and the room full of GMA reps were left in enthusiastic applause when the band finished with "Stereo."
At around 1:15, we'd headed to the 3rd floor coffee shop/deli in the Renaissance for our interview with Kendall Payne. We sat at a table in the busy cafe area for a nice personal discussion with Kendall. It was after two in the afternoon when we'd finished talking to her, and we made our way upstairs to the 24th floor for another interview. It was at this point we'd learned just why Fervent had told us to meet them on the 23rd floor to be escorted to the 24th... the 24th floor is locked to the general public and is accessible by key card access only. While getting stuck in transit, we decided to try taking the elevator to the 23rd floor and attempt to get onto the 24th through the starewell. It was then we found ourselves banging on the door to the 24th floor and yelling for someone to answer for several minutes. Finally, someone, not realizing we were even there, let us in when they had exited, and we made it just in time to our 2:30 interview with Sarah Kelly. It's always a treat to talk to Sarah, Christian music's real sweetheart, and this time was no exception.
As soon as our interview ended, we ran across the street to the McKendrie Center to catch the remaining moments of a "Pressroom:live" conference with Audio Adrenaline frontman Mark Stuart. It was here, in an informal setting that featured Stuart sitting alone on a couch answering questions from the press, that Mark spoke about the band's upcoming release Until My Heart Caves In, a new tour to support the record, and their ministry efforts in Haiti. Immediately following that, we needed to hightail it back to the Hilton for an interview with Flicker rock band Subseven. Following the interview, we met up with our friend Trey Pearson who heads up rock band Everyday Sunday and spent some time catching up before parting ways for the evening.
Our evening showcases began with the Gotee New Artist Showcase at 9PM at the Exit/In. Amy and I grabbed a quick dinner next door at the Fiesta Azteka before the show. The evening showcase began with a quick intro from Gotee president Toby McKeehan before new artist Ayiesha Woods performed her worship set while on vocals and keys, and accompanied by her brother on drums. With a strong, soulful voice, Ayiesha was a nice start to the musically diverse evening. Jeff Anderson, who is best known for playing guitar in John Rueben's (who was in attendance) live band, performed his new solo material from his debut Seamless next. With the same song choices as the night before, starting off with "Open My Eyes," then "I Don't Belong Here" and ending with "Paralyzed," Anderson performed an even stronger set. With the sound mixed much better at Exit/In than at Graham Central, reverb had distorted his vocals too much, and this time around were much cleaner and more pure.
New to most everyone, was a new salsa/hip-hop/rap conglomeration from artist Liquid. Sporting a New York Yankees cap pulled down low over his eyes, Liquid got the crowd on their feet and encouraged their movement closer to the stage. After an energetic set, rock trio House Of Heroes tore up the stage, opening with "Serial Sleepers." Their impressive set flowed briskly with such driving songs like "Friday Night," "Fast Enough" and "Mercedes Baby." To completely change gears stylistically, new act Family Force 5 stepped up to the plate. The wildly dressed quintet performed their quirky blend of electronic-tinged rock-rap, ala Kid Rock meets Rage Against The Machine with a dash of Steve Taylor's lyrical flare, while dancing about the stage in a way that would probably even impress the Falling Up boys. While their sound may draw too much comparison to the secular sound-a-likes, their delivery was especially unique, and a highlight of the evening. Following each of the evening's sets, a large screen displayed in the back of the Exit/In would highlight one new Gotee Records music video. First, Relient K's new "Be My Escape" played, followed by the debut of John Reuben's hilarious "Nuisance," then 4th Avenue Jones' "Stereo," and finally Family Force 5's clever 80's-inspired "Kountry Gentlemen."
One of the most exciting groups to newly grace the Christian music industry this year is the hiprocksoul act 4th Avenue Jones. While the band played an unplugged set at lunchtime, they closed the Gotee New Artist Showcase out with a fierce display. Opening once again with "Unhappy Birthday," the band bounced across the stage, having little trouble moving the crowd. Throwing delectable musical treats at the crowd like "Take Me Away," "Who's Watching Me," "Sorry," and "Fabulous Dramatics," 4th Avenue also included brief solo interludes from their violinist Gailybird, and a jaw-dropping guitar solo from the incredible Timmy Shakes. The band ran out of time to perform their popular single, "Stereo," but defiantly squeezed it in nontheless, along with a reworked Offspring cover. They were the perfect act to close out what was easily the best showcase of the week. After briefly mingling with a couple folks, we called it a night...
On to
Tuesday
... --
John DiBiase
, 4/18/05
GMA Week: Monday Photo Gallery
click on an image for a bigger size
[random images]
4th Avenue Jones
-- Lunch @ Jack's Bar-B-Que
Ayiesha Woods -- "Gotee New Artist Showcase" @ Exit/In
Jeff Anderson -- "Gotee New Artist Showcase" @ Exit/In
Liquid -- "Gotee New Artist Showcase" @ Exit/In
House Of Heroes -- "Gotee New Artist Showcase" @ Exit/In
Family Force 5 -- "Gotee New Artist Showcase" @ Exit/In
4th Avenue Jones -- "Gotee New Artist Showcase" @ Exit/In
*all photos by John DiBiase or Amy DiBiase, and are the property of Jesusfreakhideout.com
GMA Week 2005 Review: Sunday | Monday | Tuesday | Wednesday