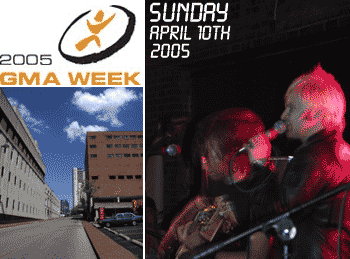 For those not familiar with Gospel Music Association Week, aka GMA Week, it's an annual event that brings the Christian music industry together to promote and educate. Centered in downtown Nashville, Tennessee, the week-long conference showcases new talent, old favorites, and exciting new happenings in Christian music. Although Jesusfreakhideout.com is in its ninth year on the web, it wasn't until this year, that it was feasible for us to join in the festivities. And with so much to do and see during GMA week, our account is just a sliver and a hint of what really goes on.
We flew into Nashville on Friday, April 8th and checked into the Holiday Inn Express in downtown Nashville. The headquarters for GMA Week was stationed in the Renaissance Hotel and the adjacent Nashville Convention Center three blocks away from where we were staying, but the Holiday Inn presented itself as the more affordable choice for accommodations. On Saturday, we checked in to the Renaissance as media for the event and had the pleasure of running into a few familiar faces (and, in the process, learned the hardway not to play with capuccino cups while in conversation...). On Saturday evening, we accepted the invitation to a screening of the latest Jim Caviezel film, Madison, at the Franklin Cinema in Franklin, Tennessee. We found it to be a real treat, considering the film wasn't set to hit theaters until April 22nd (and I've been an avid Caviezel fan since 2000's Frequency). But while Caviezel wasn't in attendance at the screening, unfortunately, one of the real people who was portrayed in the film based on true events was present, as well as one of the film's more lesser-known actors.
Sunday was really our first experience with the start of the GMA events. We hadn't any appointments until later in the afternoon, so there wasn't much keeping us from sleeping in to get some extra, much-needed rest. In the early afternoon, we walked down to the Renaissance Hotel, and proceeded through the lobby entrance. Beyond it, approaching the ballroom, was a flurry of activity. New to this whole GMA thing, and admittedly so, we followed the flow and found ourselves in the midst of hundreds of people buzzing around the Renaissance Ballroom. Before long, we realized we'd wandered into the Artist Welcoming Reception. Artists and record labels had small tables set up around the room with fellow media and radio and assorted GMA folks making the rounds from artist to artist. The room's activity was indeed overwhelming to say the least but was at the same time a great way to meet people we've worked with but have never met in person, as well as new people. Each artist had piles of 8 x 10 photos for signing and made themselves available for a brief meet & greet. From there, we met up with the artist for our first interview of the week, Kevin Max. It was a pleasure meeting with Kevin, as we were able to talk with him in his room at the Renaissance briefly about his latest solo endeavors.
Now, the evenings during GMA Week can be considerably busier than the rest of the day. Each night, a label or organization hosts several artist showcases that help promote new music to the media and radio representatives. On Sunday night, the annual Sunday Night Worship Service took place at the same time as the "Adrenaline Circus" showcase at Nashville's Graham Central Station on 2nd Avenue, and two more showcases at Rcktwn. Famished, we searched around town and found the Wildhorse Saloon to partake in some quick dinner before heading over to Graham Central Station. When we arrived, the function was in the midst of a set change, preparing for Apostrophe Records artist Michael Cook to assume center stage. With a handful of people making up the audience in a small, dark bar in downtown Nashville, most of the artists merely played a few songs before giving up the mic for the next one. New Gotee recording artist Jeff Anderson played a few songs, including "Open My Eyes," "Paralyzed," and the heartbreaking "I Don't Belong Here," which Anderson had prefaced with a moving story about a recent loss of a child through a miscarriage.
By the end of Anderson's set, despite several artists still on the roster for "Adrenaline Circus," it was time for us to move on to Rcktwn for a Word Of Mouth / Flicker Records showcase running upstairs simultaneously as a See Spot Rock Tour showcase downstairs. The aggressive sound of Fall Into Place filled the upper level of Rcktwn upon our arrival, as the band offered up their take on the popular emocore genre. Their set was followed up by the talented rockers Subseven from Flicker Records, as well as several other acts throughout the night. We made our way downstairs for the See Spot Rock Tour showcase moments before Rambler Records' new rock band The Wedding opened the set. Leading off with "Morning Air," the young band gave it their all, stirring the modest crowd up quite well, progressing forward with "Wake the Regiment," "Move This City," and finishing with the impressive "Water Under The Bridge." Word/Curb Records' Stellar Kart's brand of pop-punk followed. BEC's famed KJ-52, supported by a live backup band and DJ, sported a series of new tunes from his recent project Behind The Musik, while his hard-rocking labelmates Falling Up headlined. Comprised of fairly young guys who need no instructions on how to put on a passionate and entertaining rock show, Falling Up thrashed about almost violently on stage as if frantically trying to rid themselves of a horde of bees. But this is all part of Falling Up's charm, as there is never a dull moment during the course of their show.
Following their set, we went back upstairs to catch the tail end of Kids In The Way's raucous set. Poor Man's Riches assumed the poorly-lit stage, performing their somewhat belated style of grunge-influenced modern rock. The real treat of the evening, however, followed -- an acoustic set from Kevin Max. Accompanied only by Luna Halo guitarist Cary Barlowe, Max opened with his solo original "Seek," before rousing the crowd with his own cover of Charlie Peacock's "In The Light," which had been made popular nearly ten years ago by Max's band dc Talk. The crowd was delighted by Max's presence, and he had their undivided attention the entire set. While there was much commotion amongst the audience during most other sets that evening, an attentive hush seized everyone while Kevin sang. He closed with another original, "Stranded 72.5," and left the stage, leaving us all wanting more. But as Max drew a crowd of eager fans waiting to meet him off stage, Ardent Records rock band Jonah33 assumed the stage as the last act of the night. As they set up, frontman Vince Lichlyter excitedly announced, "Boy that's a tough act to follow! Actually, we can look at it like Kevin Max just opened for Jonah33!!" Due to an exhaustingly long day, we cut out before their set began and retired to our hotel room for the evening...
On to
Monday
... --
John DiBiase
, 4/17/05
GMA Week: Sunday Photo Gallery
click on an image for a bigger size
[random images]
Michael Cook
-- "Adrenaline Circus" @ Graham Central Station
Jeff Anderson -- "Adrenaline Circus" @ Graham Central Station
Fall Into Place -- Rcktwn
Subseven -- Rcktwn
The Wedding -- "See Spot Rock Tour" @ Rcktwn
Stellar Kart -- "See Spot Rock Tour" @ Rcktwn
KJ-52 -- "See Spot Rock Tour" @ Rcktwn
Falling Up -- "See Spot Rock Tour" @ Rcktwn
Kids In The Way -- Rcktwn
Poor Man's Riches -- Rcktwn
Kevin Max -- Rcktwn
*all photos by
John DiBiase
, and are the property of
Jesusfreakhideout.com
GMA Week 2005 Review: Sunday | Monday | Tuesday | Wednesday