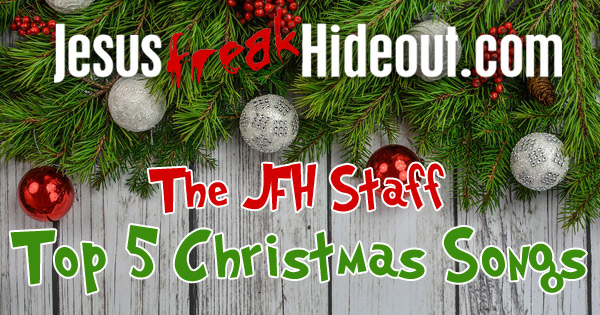 Top 5 Christmas Songs: JFH Staff Individual Lists
The JFH staff have selected their top five favorite Christmas songs and we are posting them here to share with all of you! Special shout out to
Downhere
's "How Many Kings,"
Switchfoot
's "Evergreen,"
Emery
's "(Ho Ho Hey) A Way for Santa's Sleigh," and
Relient K
's "I Celebrate The Day" for appearing on multiple lists!
Are there any Christmas songs here that you love? Other songs you would include in your list? Let us know in the comments below!
John DiBiase

"Little Drummer Boy," Audio Adrenaline
"Wonderful Christmastime," Jars of Clay
"Evergreen," Switchfoot
"Carol of the Bells," Family Force 5
"Sleigh Ride," Relient K

Josh Balogh

"How Many Kings," Downhere
"Oh Holy Night," Kevin Max
"Little Drummer Boy," Jars of Clay
"Christmastime," Michael W. Smith
"God Rest Ye Merry Gentlemen," MercyMe
Christoper Smith

"His Favorite Christmas Story," Capital Lights
"Carol of the Bells," August Burns Red
"The First Noel," Phil Wickham
"Christmas In Our Hearts," Downhere
"All I Want For Christmas," Theocracy

David Craft

"Baby King," Tim Be Told
"Song in the Air," Falling Up
"Welcome to Our World," Chris Rice
"This Christmas," Adam Watts
"Little Drummer Boy," Jae Jin (feat. Tim Ouyang)
Alex "Tincan" Caldwell

"May You Find A Light," Josh Garrels
"Riu Riu Chiu," Sixpence None The Richer
"Evergreen," Switchfoot
"Passover Us," Andrew Peterson
"How Many Kings," Downhere

Michael Weaver

"O Holy Night," Seven Day Jesus
"Evergreen," Switchfoot
"Christmas Night of the Living Dead," MxPx
"Smells Like Rudolph," Jars of Clay
"I Hate Christmas Parties," Relient K
Timothy Stephen Estabrooks

"What Child is This," Future of Forestry
"Carol of the Bells," Falling Up
"Midwinter," Audrey Assad
"O Come O Come Emmanuel," August Burns Red
"Light of the World," Lauren Daigle

John Underdown

"Christmas for Cowboys," Jars of Clay
"Go Tell it on a Mountain," Seabird
"Zat You Santa Claus?," Neon Horse
"My Troubles," Andrew Greer
"Snow," Sleeping at Last
Chase Tremaine

"Gloria," Michael W. Smith
"This is War," The Modern Post
"I Celebrate the Day," Relient K
"(Ho Ho Hey) A Way for Santa's Sleigh," Emery
"Christmas Card," Steven Curtis Chapman

Bert Gangl

"Carol of the Bells," Steven Curtis Chapman
"Have Yourself a Merry Little Christmas," Russ Taff
"God Rest Ye Merry Gentlemen," Jars of Clay
"Bring a Torch Jeannette, Isabella," Jenny Gullen and Derri Daugherty
"Manger Throne," Third Day with Julie Miller
Andie Hardee

"Of Two Bearded Men," Number One Gun
"Carol of the Bells," BarlowGirl
"(Ho Ho Hey) A Way for Santa's Sleigh," Emery
"The Night Before Christas," Brandon Heath
"Mistletoe (The Christmas Sweater Song)," Tenth Avenue North

Ryan Barbee

"Evening in December," First Call
"Christmas for You & Me," Russ Taff
"God Rest Ye Merry Gentlemen," Drew Holcomb & The Neighbors
"A Christmas to Remember," Amy Grant
"Christmas is Here," JJ Heller
Wayne Myatt
"Baby, Please Come Home," Anberlin
"O, Little Town Of Bethlehem," Jars of Clay
"Mary Did You Know," Michael English
"Breath of Heaven," Amy Grant
"I Celebrate the Day," Relient K