terce.
is a family band playing what they call "cine-mericana" music, or Cinematic-styled Americana. The group consists of mother Risa and her two daughters, Lilly and Aggie. Their debut album,
Seal Upon My Heart
, is piano driven and revolves around psalmist and worship themes. While the piano is the key instrument here, Americana elements from strings and other instruments are also interspersed. Musically, it's a unique concept and I can't say that I've heard anything quite like it previously. On top of a different sound, the album also boasts two different songs that made it as semi-finalists in songwriting contests.
Musically and vocally, Seal Upon My Heart is beautiful. Lilly's piano playing and writing on the instrument is the centerpiece. One of my favorite sections comes in the song "Living Dust." The piano is dissonant, and the strings build tension in a section that almost sounds like it was played incorrectly, but works so well in the piece. From there, the song just builds, and the soft and low vocals turn into powerhouse by the end. While a song like this may not be for everyone, other songs like "Belong to Me" are perfect for listeners of modern CCM or worship music. The music is still Americana-influenced, but it's more straight forward in composition. In this number, the Kopp's sing, "You were rejected by men, yet willingly died for our sin. You paid our dues now we belong to You. Nothing can take this love away," about the love Jesus has towards us despite how we've treated Him. However, the most "mainstream" sounding song present could be "Face Like Flint" -- which happens to feature some lovely harmonies. The sound throughout the album is emotive and moving, and the vocals are gorgeous. The leads, the harmonies, and backgrounds are all very well done from what is obviously a very talented family. It's also lyrically worshipful without being overly cliché and overdone.
From the very cinematic sounding opener, "Light of the World," to the moody and minor-keyed closer, "Come," there is a lot to like about the debut album from terce. The are some absolutely beautiful moments on this album from all aspects. There are also some riskier elements attempted here that really pay off as well. The only minor nitpick is the length. The twelve songs on the album clock in at a whopping 67 minutes, with the songs coming in at 4 to 7 minutes long each. It's a lot to sit down and take in all at once, but if you're willing to do so, the reward is worth it. A unique soundscape and approach lead to a fantastic experience. The best part about terce. is that mother and daughters are all about fulfilling the Great Commission and spreading purposeful messages of Christ and His love. This album is worth your time and attention, and I personally can't wait to see what these ladies do next.
- Review date: 3/10/23, written by
Michael Weaver
of Jesusfreakhideout.com
JFH Staff's Second Opinion
Families making music together isn't all that uncommon, especially in the Christian market. But there's something about the mother/daughter trio of
Terce.
that feels unique. With their debut album,
Seal Upon My Heart
, mother Risa Kopp and her daughters, Lilly and Aggie, bring a devotional offering set to a contemplative sound. Largely piano-based, other acoustic elements are added in, like guitar and fiddle, to give the record more of a folk feel. In many ways, it's reminiscent of a Jason Upton album, though leaning more into the Americana. Each track is well-composed, but the tempo is consistently in the mid-low range. Given that every song is four or more minutes long, the length of the album is felt long before the final note.
The contemplative music is matched by the lyrics. Whether it's focusing on the divine attributes of Jesus ("Light of the World", "Ancient of Days"), or pining for a closer relationship with the Savior ("Run With the Lion", "Spirit I Need You"), the words the Kopp's sing are rich and sincere. There may not be much by way of colorful metaphor or anything that really catches the listener's attention lyrically, but it's clear the Kopp's are steeped in God's Word, and that this has affected their writing. Terce.'s debut isn't flashy, but it is a work that feels lovingly knit together.
Seal Upon My Heart
is a good album to have on to set the mood before church or a Bible study or if one needs a calming soundtrack for the day. With Lent and Easter around the corner, this record is worth having on standby. - Review date: 2/21/23, written by
John Underdown
of Jesusfreakhideout.com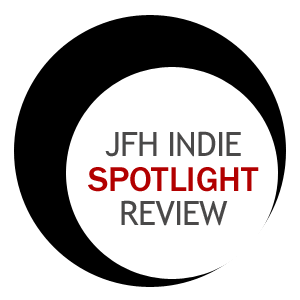 Record Label:
None

Album length:
12 tracks: 67 minutes

Street Date:
January 6, 2023

Buy It:
iTunes
Light of the World (4:17)
Melt Like Wax (7:04)
Living Dust (5:41)
Greater Love (4:25)
Belong to You (5:12)
Run With the Lion (5:34)
Face Like Flint (4:01)
My Heart To You (5:24)
Spirit I Need You (7:00)
Seal Upon My Heart (6:19)
Ancient of Days (7:30)
Come (5:06)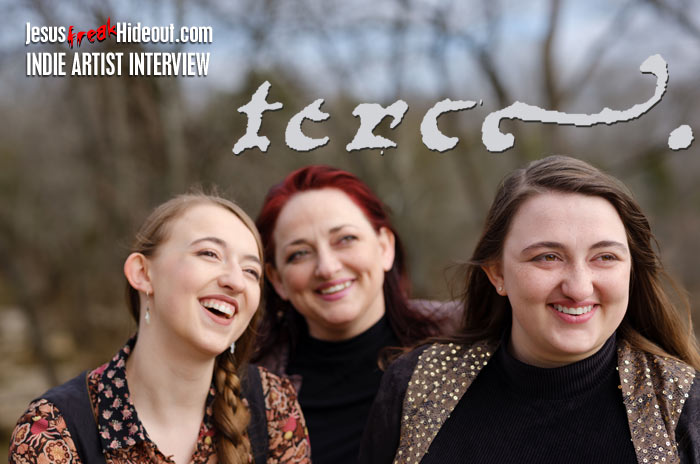 Jesus Freak Hideout (Michael Weaver): terce. is a unique name. Would you mind giving some background on the name and why you decided to use that moniker to release music?
Risa Kopp: Terce is the third hour of liturgical prayer. It is also the hour that the Holy Spirit fell on people in the Upper Room in Acts 2. I had been praying about a name and this one seemed to click when I was searching on the internet for inspiration.
JFH (Michael): Where did the idea come from to do "Cine-mericana" music? It's a unique concept.
Lilly: It was a genre that happened as opposed to a genre we came up with.
Aggie: We all have different tastes in music and when that is combined it creates something unique.
Risa: Plus, Aggie loves puns.
JFH (Michael): This is an enormous album at 67 minutes for 12 songs. How long have you been working on writing and completing these songs?
Risa: One of the songs is 17 years old or so. Another one is 10 years old. The rest were within the past few years before the recording started. Some were written by me, some by Lilly, and some by two of us or all three of us.
Lilly: From the first recording session to us receiving the end product, it took 16 months.
JFH (Michael): Your bio mentions that Lilly plays piano and Risa plays guitar. I'm curious where you gathered the other musicians necessary to pull this album off? Were these studio players, other friends and family members, or a combination?
Lilly: Many of the musicians were session musicians brought in by Brent Hendrich. He has a good working relationship with them and knew they'd be good for the project.
Risa: Lilly plays piano, keys, and pads on all of the songs. I reluctantly played guitar on one track. One of the auxiliary players is a family friend.
JFH (Michael): There are several great songs here, but I'm absolutely enamored with "Living Dust." The music and vocal melody here are phenomenal and I cannot stop listening to the instrumental that starts just before the 2-minute mark. The dissonance here almost makes you feel uncomfortable, but those final handful of notes are incredible. It's the best 15 seconds of music on the album -- or anywhere I've heard recently. Please talk about the background for this song as well as the musical composition.
Risa: I had been struck previous to co-writing this song with Lilly, with the utter "humanness" of my humanity. Psalm 103 is the core Scripture that we used to pull from in order to talk about that. I wanted to break whatever songwriting rules we needed to in order to make a "love letter" of sorts to the Lord. And as 1 John 4:19 says, "we love Him because He first loved us." This living dust loves Him and we only can because of His own love and mercy. He is the Source of that Love.
Lilly: The purpose of the dissonance in the instrumental section is to highlight the spiritual struggle of a soul apart from God and reconciling the heart back to Him. This section was meant to be uncomfortable.
Risa: We wanted that struggle before the breath that comes after submitting our pride to Him.
JFH (Michael): What would you say is the overall heart and goal of Seal Upon My Heart?
Aggie: It's to tell the story of redemption and to shed light on who God is and His love for us. These songs have different ways to worship God, some are to worship and the others are to trust in Him.
JFH (Michael): Could you share a favorite verse or psalm from the bible, or perhaps one that was a big influence in the writing of this album?
Aggie: Revelation 12:11 - And they overcame him by the blood of the Lamb and by the word of their testimony, and they did not love their lives to the death.
Lilly: 2 Corinthians 4:16 - Therefore we do not lose heart. Even though our outward man is perishing, yet the inward man is being renewed day by day.
Risa: Hebrews 12:29 - For our God is a consuming fire.