Based out of multiple areas of Kentucky, alternative metal band
Ascend The Soul
is looking to "rise" to the attention of a national audience with their soon-to-be-released sophomore album titled,
The Art of Faith
due in May of 2021. Taking a giant leap forward from the very DIY 2020 debut, advance single, "Leap of Faith" shows a band musically coming into its own. The guitar work is first-rate with a strong rhythm section complementing for an overall tight sound. Lyrically, there is some cliche, and repetitiveness, but nothing distracting. The biggest area of improvement from the debut would be the vocals of Matthew Konradt. The growls here are more convincing and he sounds most confident utilizing that style. Also, while better, they still need some tweaking on the tuning of his clean singing, with Matthew floating off-key from time to time. All in all though, the production quality on "Leap of Faith" is certainly something to build upon and bodes well for the upcoming album. - Review date: 3/12/21, written by
Josh Balogh
of Jesusfreakhideout.com

Record Label:
None

Album length:
1 track: 3 minutes, 51 seconds

Street Date:
February 15, 2021

Buy It:
iTunes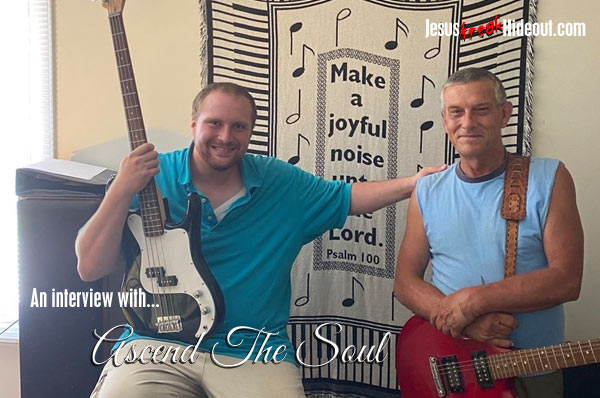 Jesus freak Hideout (Josh Balogh): What's the story behind the formation of the band?
Matthew Konradt: The band formed when I (Matthew Konradt) met James Cain (or "Alan," as I call him) at a hospital in Mount Vernon KY. We were both Janitors, actually! We both had similar interests in music and were both Christians, so I guess it started there.
JFH (Josh): Where (venue wise) would you play a show for free just to say you had?
Matthew: Most likely a church.
JFH (Josh): What songs/albums have been the biggest encouragement to you in the last year?
Matthew: For me, personally, that is a hard question to answer. I have had a ton of songs and musical inspirations I go by. To name a few: Anberlin's "Retrace," Breaking Benjamin's "Ashes of Eden," Jeremy Camp's "Restored" (song and album), etc...
JFH (Josh): Who have been your biggest inspirations musically?
Matthew: Red, Demon Hunter, Skillet, Breaking Benjamin, Anberlin, Killswitch Engage, Evan's Blue, and Michael Combs.
JFH (Josh): What would be your top three dream musical collaborators to work with and why?
Matthew: Zahna because she has an inspiring story and she is a talented artist and singer. Ex-Killswitch Engage vocalist Howard Jones because he has always been one of my favorite singers in the heavy metal genre. And Red because they were my favorite band and leading inspiration for a long time and are still up there in my favorite's list.
JFH (Josh): What's been the hardest thing about being a band in the midst of a pandemic?
Matthew: Probably finding a drummer, an additional guitarist, and another bass player so we can start live gigs. Plus keeping our sanity together as a lot of people have been struggling with.
JFH (Josh): Was there any specific story or moment that inspired your new single, "Leap of Faith?"
Matthew: For "Leap Of Faith," I was inspired by the Bible's book of Matthew where Peter walked toward Jesus but he lost his focus on Him and began to sink. He had to regain his focus and faith right then and there to rise back to the surface. The lyrics for the song just hit me like a sledge hammer.
JFH (Josh): How is the new album coming together?
Matthew: The album is almost completed and will be released May 31st of 2021. I am working with Alan and another gifted guitarist named Breno Machado who I met online from Brazil to help with the production and guitars.
JFH (Josh): What is your biggest hope for your music and ministry going forward?
Matthew: I am hoping one day that, as a band, we make a name for ourselves but most importantly we never lose our faith and always persevere. I am hoping one day soon we will be able to start touring as well.
JFH (Josh): Any last things you would want our JFH listeners to know about you or your ministry?
Matthew: We are an independently produced band who writes songs about faith, spiritual struggles, and doubts. We ultimately try to have that message of redemption as well in most of our songs, however, not everything has a happy ending. We are very excited to let people hear our upcoming album, The Art Of Faith, on May 31st. Thank you and God bless!