Led by singer/songwriter Dave Whitcroft, the musical collective called
KDMusic
released their debut album,
Sunshine For Rainy Days
, back in November of 2019. Mastered by Pete Maher, who has worked with artists like U2 and The Rolling Stones,
Sunshine For Rainy Days
is a terrific sounding album that weaves its way through acoustic pop music with a Rend Collective-esque mix of Celtic folk and modern CCM. This is what much of the album is built on, but KDMusic experiments with different styles as well, such as in "Jacob's Ladder," which hearkens back to the swing revival of the early 2000s, and "Upside Down" is a smooth, jazzy number with a fluctuating tempo. The most surprising track is "Pentecost," which fully dives into the world of Latin salsa music. While I tend to appreciate experimentation in music, I'm not sure that these out-of-left-field stylistic choices work well with the rest of the tracklist. There is a lot of consistency in the lyrics, however, with almost every song existing to proclaim the good news of Jesus in one way or another (of course, "Christmas on the Beach, (Half the World)" is a bit of an outlier). "Freedom's Slave" opens with the story of Jesus' death (an event that left His disciples shocked) and His resurrection and defeat of death. It flows nicely into "Still Only One Way," which says, "
There's a path that keeps our soul safe / but the broad road that leads to destruction, so easy to take / for the man without faith lacks direction, just like a ship tossed around by the winds / there is still only one way / there is still only one truth / there is still only one life
." "Upside Down" takes the point of view of Zacchaeus, "Sun & Rain" blends together Matthew 5:45 and Psalm 136 ("
Life can be all pain and no gain / But Your love lasts forever ... Just as the sun shines on the bad and good / Your promise to make us new is for all man / and just as the rain blesses the right and wrong / Your love is for everyone day upon day
"), and "Come Lord Come" ends the album with a desire for the impending return of Jesus Christ. KDMusic's debut is a strong one, with some songs I could imagine getting some serious airplay.
Sunshine For Rainy Days
is easily recommended for fans of pop/CCM bands like Rend Collective and MercyMe and is available now! - Review date: 3/28/21, written by
Scott Fryberger
of Jesusfreakhideout.com

Record Label:
None

Album length:
10 tracks

Street Date:
November 22, 2019

Buy It:
iTunes
Freedom's Slave (4:22)
Still Only One Way (4:45)
Sun & Rain (4:22)
Jacob's Ladder (2:58)
Laughing & Crying (2:35)
Upside Down (3:18)
Christmas On The Beach (Half The World) (3:45)
Pentecost (3:18)
We Will See (2:49)
Come Lord Come (6:16)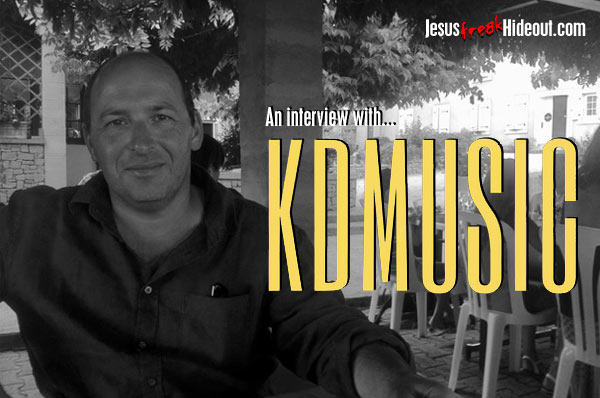 Jesus freak Hideout (Scott Fryberger): How long have you been writing your own music, and when did you decide to start recording it?
Dave Whitcroft: I became a Christian in the wake of my parents suffering brain injuries when I was 15. Coming to faith led to an early explosion of creativity. I discovered God, guitars and girls all at the same time (and in that order) and it was great! From the ages of 15-25, I played in lots of Christian bands in our small local scene in Northern Ireland, and writing my own expression of faith and experience was always integral to that. Although there was the potential to focus more on music as part of my career early on, I've had the responsibility for my parents' care for about 35 years until they both passed away. I've been raising my family and of course got stuck into a full church life. So it's only been in recent years, as I've been asked to play at regional events, that musical friends have suggested recording the dozens of songs I've written in response to life events, church needs and my reflections on the faith. So, it's all pouring out now! Hopefully the rich experiences behind the lyrics and the wide range of musical interests catch people's attention, and offer something refreshingly different!
JFH (Scott): Sunshine For Rainy Days is very musically diverse. Where do you draw your musical influences from?
Dave: I grew up listening to and playing folk music in pubs on Achill Island off the west coast of Ireland, singing in our Presbyterian kids choir at church in County Down just south of the Mourne Mountains (CS Lewis territory), and local music festivals. Early listening was Larry Norman, the Christian Singer, for songwriting and finger picking, Iona, the Christian Celtic rock band, playing blues soul and jazz standards in a post university gigging band, covering Santana, Brian Setzer, Van Morrison and pop standards in wedding bands, and of course local and global worship songs in church. Everything!
JFH (Scott): One of my favorite tracks is "Sun & Rain." What songs seem to be getting the best feedback?
Dave: That's interesting Scott! "Sun & Rain" is my most playlisted song. It's very simple, with lots of space and it's just a direct quote from Jesus in the sermon on the mount from Matthew 5:45 "Be like your father in heaven who cause the sun to shine and the rain to rain on both the righteous and the unrighteous" - it's about the common or universal grace that everyone Christina and non-Christian experiences in life.

Although that's the most accessible little worship song for Christian playlists, The most shared song is the lyrically dense Getty style hymn "Freedom's Slave," which tells the story of the crucifixion from the perspective of the devastated disciples, as they journey from lost hope to dawning realisation. This was written when I was a 'peace line' youth worker in North Belfast during our mini slow motion civil war 'The Troubles' - people worshipping in personal adversity find it comforting.

The most saved song is "Still Only One Way," a starkly simple acoustic protest song in dropped D. Each verse focuses on Jesus as the Way, the Truth and the Life and protests that He is still all of those things despite the attempts of militant secularism to marginalise Him from the public square. I think people save it so much because they find that assertion strongly relevant for our cultural moment.
JFH (Scott): "Christmas on the Beach (Half the World)" stuck out to me as a bit of an outlier. Can you give us the backstory on how that song came to be?
Dave: Very observant! Yeah, this one was just for fun! I love chilled 'Jack Johnson style' music with a groove. This one was written after my Zambian cousin's wedding at Victoria Falls on the Zambezi. Their seasons are of course upside down, and like half the world, Christmas is a summer beach experience for them. They were complaining that Christmas songs are all about snow but they spend it in the sunshine, and that, of course, the songs all celebrate materialism and Northern traditions instead of the biblical universals of love, peace and joy. After the wedding, my Irish cousin and his American wife cycled 5,000 Km through 7 countries Zambia, Malawi, Mozambique, Zimbabwe, Botswana, Namibia & South Africa for four months in time for 'Christmas on the beach' in Cape Town. So the song is 1/3 Christmas pop, 1/3 Light Christian, and 1/3 a celebration of their big achievement! Here's the song with their adventure as the music video.
JFH (Scott): What was the overall message you wanted to convey with Sunshine For Rainy Days?
Dave: I saw that graffiti on a wall in Glasgow one wet miserable summer. Some smart aleck had written 'sunshine for rainy days' in chalk in the hope it would brighten the place up! And I thought, "what a perfect album title, that's been my experience as a Christian - If I ever get share my songs I hope they'll be 'Sunshine for people's rainy days'"

My own testimony is that, although life can and does throw major disasters at us, it is afterall a fallen world, that our lives are still full of God's general blessing and, as Christians, His specific intervention. I have really felt His hand on my shoulder through some very testing times, and genuinely feel blessed to be part of a church family, and to know the love of my wife and kids. As for music - singing just fills me with joy! Surely there's no greater privilege than playing with great musicians and friends, or singing worship as part of a church family!
JFH (Scott): With approximately a year and a half since the album's release (and a lot of time at home for the whole world since then), are you currently working on new material?
Dave: Yes, an excellent question! I wouldn't want people to think this was some sort of one-off memento album. Since then, I've been asked by boutique New York Label, Rhodium Publishing to release an album of instrumental guitar tracks entitled "Holy Mountain." It's a musical study on solitude and spirituality ranging from weird 'Indo-European' sounding tracks Like "Kathmandu" through to Appalachian style versions of old favourites like "Amazing Grace" and "Jesus Loves Me."

I'm about to start releasing a series of acoustic singer songwriter singles themed Truth & Beauty, and that'll be a track every 6 weeks for a year, including a Christmas EP, with some very different (slightly dark and intense) reinterpretations of ancient folk carols - I like dark stuff as well as fun upbeat stuff!

And I just today got the master back from a modern hymn co-write sponsored by the Arts Council of Northern Ireland, co-written with my pianist friend Ian Hannah who has written as part of the Getty Music stable. I'm really excited about that one, I think it'll be very useful and accessible for churches.

So a big goal this year is to get free sheet music (and really inexpensive stems) for the songs that are good for church, kids and choirs out to churches. If you're reading this and would like some sheet music or stems just send me a message and we'll get some to you. "Upside Down" for kids, "Pentecost" for choirs and churches and "Freedom's Slave" for church are all ready to go and should be on a refreshed website very very soon.
JFH (Scott): Where can people find you and your music online?
Dave: I'm most active on Instagram (and by extension facebook), and am building a library of Lyric and music videos on Youtube with links through to the sheet music and stems. Twitter, I'm there a bit. Music is on all the usual streaming sites, my website is getting there, and there's a presence on Bandcamp as well. CD's are available via the website.
JFH (Scott): Do you have anything additional to share?
Dave: I'd just love to hear from the 2,000 people who have saved the songs on Spotify in the first year. Clearly you like the music, I'd just love to hear what it is you like or if anything has really moved or encouraged you - drop me a note! Also, thank you JFH and Scott for asking such helpful questions, it's been an honour to chat with you. Thanks!