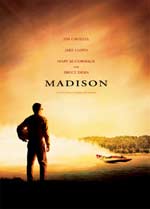 Madison


- for some mild language and sports peril.
Director:
William Bindley
Starring:
Jim Caviezel, Jake Lloyd, Mary McCormack
Running Time:
1 hour, 34 minutes
Theatrical Release Date:
April 22, 2005
Official Site
Plot Summary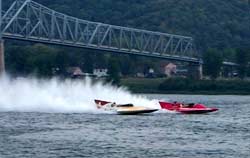 The independent feature film Madison is a father-son action/drama based on the inspiring true story of the tiny, dying town of Madison, Indiana and its legendary come-from-behind win in the 1971 race for the Gold Cup of hydroplane boat racing. In addition to the thrills of 180-mph flat-bottomed boat racing, the picture captures the spirit of small town America and its turbulent struggle to transition from the 60's to the 70's... (from MadisonTheMovie.com)
Film Review
I recently attended an advance screening of the film Madison while in Nashville for GMA Week 2005. Although Madison is a new film to be released, the film was actually made back in 1999 but never found a distributor and never saw the light of day (except for a few screenings and appearing that the Sundance Film Festival). Since the rising popularity of independent film actor Jim Caviezel, Madison has been given a chance to finally make it to the big screen nationwide.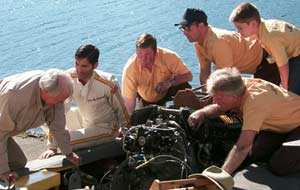 Based on true events that have been somewhat altered for a theatrical format, Madison focuses on the life of boat racer Jim McCormick, played by Caviezel, and his struggle to revive his dying hometown through the success of their modest racing team. Caviezel did a fine job, as usual, as McCormick. Sharing many scenes with Mary McCormack, who played his wife Bonnie, and Jake Lloyd, who played his son Mike, Caviezel made the McCormick family believable and at the same time easy to relate to. While McCormick was portrayed as rather desperate in his struggles to succeed in boat racing, it caused considerable family tension which brought about some of the more heavy and sensitive moments in the film. Madison felt more like the good old classic films of yesteryear, much like The Majestic. It's a shame films like this are so rare and even more of a shame for this film to take so long to get to the theaters.
Content was especially mild with just a handful of mild swearing. While unnecessary to include any of that, it didn't detract from the film. Community, selflessness, committment, and family are central themes in Madison -- all important life values. It is indeed the type of feel-good film that makes the film somewhat predictable at times, but the core of the film is founded by an actual historical event. And it always hits a little close to home to experience a film about the struggles, the failures, and the triumphs of the underdog. So while some moments may be a little too Mighty Ducks for some with the competitive and ruthless natures of the favored opponents, there's just something about the way Madison is presented that places it in a class of its own. And the low budget given for the film's production helps lend to the cozy and small-scale vibe of the small town of Madison, Indiana.
Madison may not be the best film of 2005 or the best family flick you'll ever see, but it's still a solid movie with some much-needed moral values that are scarce to find in entertainment today. Madison is well worth a look and well worth your support for positive family entertainment.
-
John DiBiase
,
(reviewed: 4/10/05)
Parental Guide: Content Summary

Sex/Nudity
: We see some women briefly in bikinis.

Vulgarity/Language
: 2 "J-sus," 8 "d*mn," 8 "h*ll," 3 "G-d," 1 possible "S.O.B"

Alcohol/Drugs
: Some people drink beer and alcohol at parties and the races.

Blood/Gore
: None.

Violence
: A boat blows up, but no one is hurt; We hear about and later see a flashback of a boating accident that killed one person and severely injured another; A boat explodes and kills a man
Disclaimer: All reviews are based solely on the opinions of the reviewer. Most reviews are rated on how the reviewer enjoyed the film overall, not exclusively on content. However, if the content really affects the reviewer's opinion and experience of the film, it will definitely affect the reviewer's overall rating.
To find out why we don't typically review R-rated movies,
click here