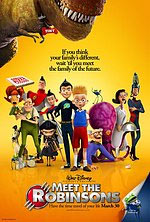 Meet The Robinsons


- for not containing material to warrant a higher rating.
Director:
Stephen J. Anderson
Starring:
voices of Angela Bassett, Tom Selleck, Harland Williams, Adam West
Running Time:
1 hour, 42 minutes
Theatrical Release Date:
March 30, 2007
Official Site
Plot Summary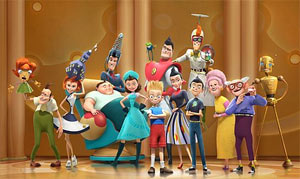 Lewis is an orphan who dreams of finding a family. His journey takes an unexpected turn when a mysterious stranger named Wilbur Robinson whisks him away to a world where anything is possible ... THE FUTURE. There, he meets an incredible assortment of characters and a family beyond his wildest imagination, The Robinsons, who help lead him on an amazing and hilarious adventure with heartfelt results. Based upon the book "A Day with Wilbur Robinson" by William Joyce. (from MovieWeb.com)
Film Review
Cartoons and me. Two things that shouldn't go together, but for reasons unknown they do. After watching this movie, I spoke about the film to my friend who commented by saying something about the fact that I was "the cartoon man"- the college-aged male who still had a knack for watching animated films. Call it my inner kid (see my TMNT review), but for some reason I still flock to the theater when a newly laced animated film hits the box office. Enjoying the recent success of TMNT, I bought a $5 ticket and enjoyed a soon-to-be hit Meet the Robinsons.
Does anyone remember the movie Shrek 2? If you recall in the preview it looked to be just another continuation of Shrek's adventures filled with some crazy and animated charisma. However, what they didn't tell you was the twist that came in the middle of the movie: when Shrek transformed into a human. I thought this little plot turn actually enhanced the movie and its entertainment. Best of all, I never saw it coming. A similar element rests in the movie Meet the Robinsons; a cleverly hidden twist-turn that reminded me of Back to the Future and Deja Vu, but best of all, it wasn't covered in the preview. I came expecting to see an average film about the future and the past, but what turned out was instead a real treat.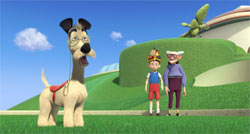 Disney really has their hands in this project. From the opening sequence, which is actually an old classic Mickey Mouse cartoon before the feature film starts rolling, to the end which closes with an inspiring quote from Walt Disney himself; this movie preaches the Disney dream of imagination and the importance of moving forward. For those of you, like myself, who like Disney you'll certainly appreciate Walt's shadow throughout this film. In one scene, we see Lewis and Wilbur driving past a building in the future that looks remarkably like Space Mountain with a sign displaying the words 'TODAY LAND;' an obvious ploy from Disney to represent how they see their current theme park area 'TOMMAROW LAND' coming to life for mankind in the future. Some, however, may find the message(s) too preachy at times and view the film as more of a child enhanced propaganda than an entertaining film with good morals. My advice to you would be that you shouldn't take it too seriously.
This doesn't have to be a kids-only movie. I watched it, by myself, and still found it enjoyable. I think you limit yourself when you decide not to see animated movies simply because you see them as kids flicks. The content is harmless, resulting in very minor references to adult-related material and mild comic mischief. These minor offenses warranted the film its deserved 'G' rating. Go on and take yourself or your kids (or younger friends) to this one, I recommend it.
If you have any questions or comments about the film, knock yourself out and go ahead and e-mail me.
Till the next film,
Zachary Anderson
(reviewed: 3/31/07)
Parental Guide: Content Summary

Sex/Nudity
: We briefly see Grandpa in his boxers

Vulgarity/Language
: None.

Alcohol/Drugs
: Frogs appear to have drinks at a mini-bar, one comments on getting a buzz from eating a fly

Blood/Gore
: We see Goob with a black eye; We see a bruise on Wilbur's mother's head

Violence
: Minor cartoon violence.
Disclaimer: All reviews are based solely on the opinions of the reviewer. Most reviews are rated on how the reviewer enjoyed the film overall, not exclusively on content. However, if the content really affects the reviewer's opinion and experience of the film, it will definitely affect the reviewer's overall rating.
To find out why we don't typically review R-rated movies,
click here