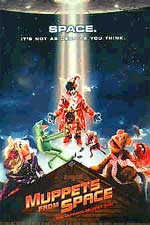 Muppets From Space


- for not containing material to warrant a higher rating.
Director:
Tim Hill
Starring:
Gonzo, Rizzo, Kermit the Frog
Running Time:
1 hour, 27 minutes
Plot Summary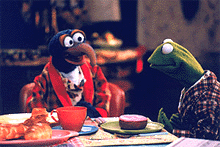 Gonzo spends his days watching others and realizing everyone knows who they are and have families. However, he is unaware of who or what he is and he feels so lonely. While he cries out for an answer, he starts seeing signs that his relatives may be trying to reach him from space. Little does he know it, an alien-obsessed government agent, K. Edgar Singer (Jeffrey Tambor), is looking for life on another planet, and finds out that Gonzo may be an alien from another planet. After Gonzo is taken captive, it's up to his pals Rizzo, Kermit, Miss Piggy, Fozzy, and the gang to rescue him and help him find his alien family.
Film Review
Muppets From Space certainly is a weird concept, but it's also a shockingly funny, entertaining and wholesome movie. When I was little, I liked The Muppet Show and saw all the movies, but until recently, I had pretty much forgotten about them due to the lack of attention and appearances they've made. When this movie showed up, the words "corny" and "stupid" entered my mind initially and I didn't think too much else about it.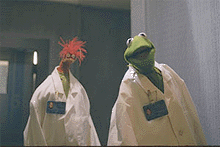 However, with me being the hopeless movie buff that I am, after seeing previews and it nearing its release date, I made up my mind that I wanted to see it. And not expecting much, I was given a good hour and a half of crazy fun... and you know what? You can't say this about many movies out there right now, but it's fun for the whole family.
One of the highlights of the film had to be its soundtrack: it's chock-full of groove-laced disco songs that make you want to move while watching the movie. It sets the mood and adds to the comedy. Although the critics have been disagreeing, I've found their choice of Gonzo and Rizzo as the main characters of the film to be a plus and a successful idea to carry the film. Although the plot is overtly silly and implausible, that mere fact makes it funnier as the muppets carry out the plot in a way only the muppets can, making
Muppets from Space
one of the best of their series.
Language, sex/nudity, and blood/gore were pretty much nonexistent with the exception of some violence that is cartoon-like and for the most part benign. The only concern about the film is its occasional dark tone when Ed is on the screen and reacting negatively to things. Other than that, the movie is a good time for the whole family.
Overall, I thought Muppets From Space was great and way better than I'd expected. I laughed through the whole thing. It won't be the best movie you'll see all year, but it's a charming, silly and fun time at the movies.
-
John DiBiase
(reviewed: 7/17/99)
Parental Guide: Content Summary

Sex/Nudity
: None.

Vulgarity/Language
: 1 "Good L-rd"

Alcohol/Drugs
: None.

Blood/Gore
: None.

Violence
: Mainly slapstick: Miss Piggy hitting and fighting people, things blowing up, etc...
Disclaimer: All reviews are based solely on the opinions of the reviewer. Most reviews are rated on how the reviewer enjoyed the film overall, not exclusively on content. However, if the content really affects the reviewer's opinion and experience of the film, it will definitely affect the reviewer's overall rating.
To find out why we don't typically review R-rated movies,
click here