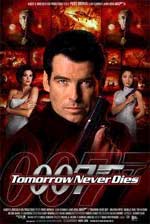 Tomorrow Never Dies


- For intense sequences of action violence, sexuality and innuendo.
Director:
Roger Spottiswoode
Starring:
Pierce Brosnan, Michelle Yeoh, Jonathan Pryce, Teri Hatcher
Running Time:
1 hour, 59 minutes
Official Site
Plot Summary


In the 18th James Bond film (second with Pierce Brosnan playing Bond), Bond has to stop the start of a possible World War 3. Elliot Carver (played by Jonathan Pryce, is a powerful media figure who's about to launch his Satellite News Network around the world. Needing a story to headline the big event, he decides to start a global conflict to boost his ratings. He uses a stealth ship to sink a British naval frigate and make it look like the Chinese military was responsible. This even sets the two countries at the brink of war. Who's to prevent this? Well, who else?
Film Review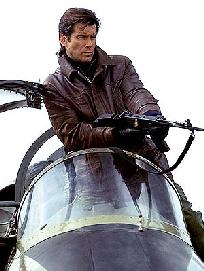 The latest Bond film, Tomorrow Never Dies, is an improvement over the previous one, Goldeneye, but it certainly wasn't perfect. Tomorrow... is faster, more intense and more chock-full of action scenes, senseless violence, and the like. But it remains more entertaining than Goldeneye. As a hero, Bond's insatiable lust for women is a disappointment. His womanizing ways are even a bit unsettling and the fact that these films make it seem totally acceptable is rather disturbing. The film also had what seemed like too many stunts and action scenes, failing to slow down for more than a couple minutes to actually develop the characters. On the other hand, this kind of breakneck speed of storytelling makes it far from boring.
I really think Pierce Brosnan is the best Bond since Sean Connery. It was relieving not to see Pryce portrayed as a maniacal, corny, take-over-the-world psychopath, rather, he is smarter and a bit more sophisticated. All in all, Tomorrow Never Dies is good, entertaining and a must for 007 fans, but this is in no way a kids' film.
- John DiBiase(reviewed: 1997)
Parental Guide: Content Summary

Sex/Nudity
: Sex, but no real nudity. Like all other Bond flicks, Bond has his times of pointless fun with the ladies. In the beginning, he has sex with a Dutch girl and we see them in bed together but no nudity or the actual act of sex. Later on, some innuendo is instituted when Bond is told to "pump" Carver's wife for information. And later he does have sex with his old friend (Carver's wife) & we see the top of her bare back as he removes her dress, but no nudity is made visible. Also, the standard opening credits show the silouettes of nude females, but nothing is clearly shown. When Bon and Wai Lin are taking an outdoor shower with clothes on, her shirt is wet and becomes translucent.

Vulgarity/Language
: 1 "s" word, 2 "d*mn," 7 "h*ll," 1 "J-sus," 1 "Chr-st," 1 "Oh my G-d"

Alcohol/Drugs
: Champagne, vodka, martinis. Bond finds cocaine in a safe.

Blood/Gore
: Bond's a little bloody after a fight & after the movie's finale. A man is struck in the neck with a chinese star by Wai Lin & a little blood is shown for a brief second. A man falls into a printing press, killing him, making the papers running through it stained with blood. In the finale, Bond stabs a man in the arm with a knife & blood is seen trickling down his forearm.

Violence
: Loads of it. People being shot, kicked, stabbed, punched, beaten, things blowing up, crashing, etc. Bond shoots a man in the head off screen. The way a man dies at the end is very violent, yet nothing is shown.
Disclaimer: All reviews are based solely on the opinions of the reviewer. Most reviews are rated on how the reviewer enjoyed the film overall, not exclusively on content. However, if the content really affects the reviewer's opinion and experience of the film, it will definitely affect the reviewer's overall rating.
To find out why we don't typically review R-rated movies,
click here