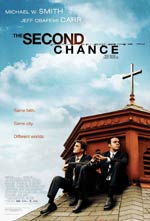 The Second Chance


- for some drug references.
Director:
Steve Taylor
Starring:
Michael W. Smith
, Jeff Obafemi Carr
Running Time:
1 hour, 42 minutes
Theatrical Release Date:
February 17, 2006 (limited release)
Official Site
Christian Film Database Page
Plot Summary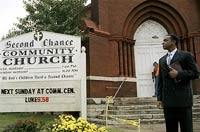 The Second Chance is a film about two men - one from a white church in the well-to-do suburbs and one from a black church in the inner-city projects. Although founded by the same man, each church manifests its mission in a very different way. This film authentically tells the story of how a rebellious son and a street-smart pastor struggle to bridge the gap between their respective churches and cultures. More importantly, at its core, The Second Chance is about being willing to step outside your comfort zone and serve where you are called.
(from TheSecondChanceMovie.com)
Film Review
Christian music legend Steve Taylor makes his feature film directorial debut with The Second Chance. After years of producing music, making his own music, directing music videos and even a straight-to-video Newsboys concept film, it may seem about time for Taylor to try his hand at a feature film. His first project? An aptly titled film called The Second Chance which gives a realistic glimpse into two different kinds of ministries set in the city and slums of Nashville, Tennessee.
Vocalist and musician Michael W. Smith makes his acting debut in The Second Chance, filling the shoes of an associate pastor and music director named Ethan Jenkins who is assigned to observe an inner city church called Second Chance in order to learn a few things. Where the film goes from here, is a character-driven story about faith, redemption, love, sacrifice, humility, and being Jesus to one another. Smith's acting performance fluctuates between genuine and forced, but never distracts from the story. Another newcomer, Jeff Obafemi Carr, turns in the most memorable performance of the film as Smith's antagonist, Jake Sanders, who ends up helping to drastically change Jenkins' world view. Some of the film's best scenes involved Carr and Smith's interactions, and Taylor's direction and writing allowed for plenty of humor and emotion at the right moments to reel in the audience through it all.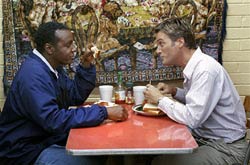 Although I've been a fan of Taylor's work for over a decade now, I wasn't sure what to expect from The Second Chance. Christian film isn't the most promising genre of filmmaking with the final products being mostly unfavorable. While The Second Chance maintains an indie feel through much of its duration, the realism of the characters and the clever writing and direction from Taylor help set this film apart. Taylor managed to write a script and story that fit situations in life not too unfamiliar -- especially amongst Christians. Each character, especially the Christians, are as flawed as the next one, while often offering merit as well. When the characters in the film talk about their faith, servanthood, or scripture, it feels genuine and natural and not as entirely forceful as preachy like many Christian films can be. The film isn't perfect, however. Some of the subplots almost seem incomplete at times, but add to the story nonetheless.
The film does earn its PG-13, although it remains a mild one. Thematically, the film is mostly aimed at adults, and rightfully so, with only a handful of minor language being the film's greatest caution. The language mostly consists of a handful of "h*ll," "d*mn," and a few "a" words but are never used gratuitously. Lastly, there is very little violence as well as some minor drug references since the film introduces inner city characters who are struggling (or have struggled previously) with addictions.
The Second Chance is a truly inspiring film. Seldom do I find such a film that can convict you spiritually and tug on your heartstrings while giving you plenty to think and talk about long after the credits have rolled. Christian filmmakers should start showing this film as an example of getting a Christian film right and churches need to start showing this at their board meetings. The Second Chance is a wonderful little film and I can't recommend it enough.
- John DiBiase, (reviewed: 2/19/06)
Parental Guide: Content Summary

Sex/Nudity
: None.

Vulgarity/Language
: At least 1 incomplete "S.O.B.," 3 "a" words (plus 1 incomplete), 6 h*ll, 1 "n*gger," 4 "d*mn" (with one seen written briefly)

Alcohol/Drugs
: It is mentioned that one character is a recovering drug addict; we see some people smoking an unidentified substance, etc

Blood/Gore
: A girl appears to have bruises on her face and a cut on her mouth from being abused; We see a tiny bit of dried blood on Ethan's jacket and shirt; We see a boy with bandages on his head and some pretty nasty scrapes and bruises on his face.

Violence
: A man holds a gun to another's head; A man presses a man up against a fence and twists his arm (but doens't hurt them); A person is beaten but we don't see the act (just the bandaged victim afterwards)
Disclaimer: All reviews are based solely on the opinions of the reviewer. Most reviews are rated on how the reviewer enjoyed the film overall, not exclusively on content. However, if the content really affects the reviewer's opinion and experience of the film, it will definitely affect the reviewer's overall rating.
To find out why we don't typically review R-rated movies,
click here