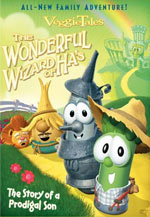 VeggieTales: The Wonderful Wizard Of Ha's

Company:
Big Idea Inc.
Release Date:
October 6, 2007
Running Time:
45 minutes
Buy It:
Jesusfreakhideout Store
Official Site
Plot Summary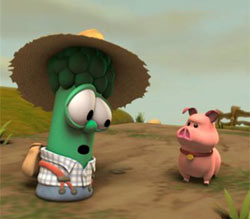 Meet Darby, the son of a Kansas dental floss farmer who just wants to have fun! When he learns about the Wonderful Land of Ha's where you can do whatever you want to do, Darby is determined to go - even against his father's wishes. But when Darby reaches Ha's, will he find all he's searching for...and at what price? Will it be worth everything Darby has given up - his home back on the farm? His father's love? Harvesting floss? Find out in an all-new family adventure that reminds kids everywhere that there's nothing like forgiveness and there's no place like home. (from BigIdea.com)
Film Review
The VeggieTales crew is beginning to master the art of spoofing. From targeting Indiana Jones, Lord Of The Rings, Batman, Spider-Man, and now The Wizard Of OZ, our favorite CGI vegetables are upping the ante in cleverness with each succeeding episode. This time around, The Wonderful Wizard of Ha's brings the story of the prodigal son to life in the form of a little dental floss farmer who leaves his home for The Land Of Ha's - an amusement park where he decides to squander his inheritance in the name of fun. It's an ingenious way to tie a Biblical tale into the classic story and the Big Idea folks don't hold back the laughs and inside jokes. And by the time a subtle Star Wars reference and a not-quite-as subtle Mary Poppins one are tossed in for good measure, it's evident that no opportunity for a well-placed gag is missed.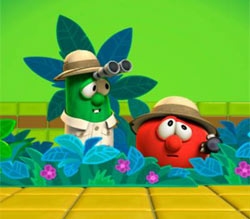 And no great Veggie story is complete without a solid Silly Songs With Larry interlude, and this one does not disappoint. Aside from the Silly Song "Monkey," the Wizard Of Ha's parody songs are great as well. "Somewhere Over The Rainbow" is given an alternate treatment with "Somewhere Beyond The Barn" (prefaced by a hilarious dig on the original's concept by little Jr. Asparagus). But laughs aren't all that's delivered. As usual, this episode yanks at the heartstrings as it drives home the timeless lesson of God's unconditional love and forgiveness in true VeggieTale fashion. Twenty-seven episodes in, these delectable treats for your soul haven't lost even a hint of steam yet.
From the lovable peas known as the Munchies to their sweet enchanting leader Splenda, to the quest to follow Old Yellow McToad with little Darby's faithful pet "dog" TuTu by his side, The Wonderful Wizard Of Ha's delivers on all fronts. I may continue to say this from review to review, but this may be one of the team's most memorable and fun lessons yet, suitable for viewers of any age.
-
John DiBiase
(reviewed: 10/5/07)
Disclaimer: All reviews are based solely on the opinions of the reviewer. Most reviews are rated on how the reviewer enjoyed the film overall, not exclusively on content. However, if the content really affects the reviewer's opinion and experience of the film, it will definitely affect the reviewer's overall rating.
To find out why we don't typically review R-rated movies,
click here