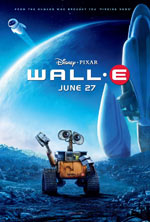 WALL•E


- for not containing material to warrant a higher rating.
Director:
Andrew Stanton
Starring:
Voices of Jeff Garlin, Ben Burtt, Sigourney Weaver, Kathy Najimy
Running Time:
1 hour, 43 minutes
Theatrical Release Date:
June 27, 2008
Official Site
Plot Summary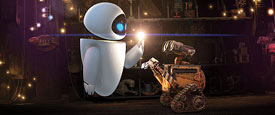 After hundreds of lonely years of doing what he was built for, WALL•E (short for Waste Allocation Load Lifter Earth-Class) discovers a new purpose in life (besides collecting knick-knacks) when he meets a sleek search robot named EVE. EVE comes to realize that WALL•E has inadvertently stumbled upon the key to the planet's future, and races back to space to report her findings to the humans (who have been eagerly awaiting word that it is safe to return home). Soon, WALL•E chases EVE across the galaxy and that's when the real adventure begins...
Film Review
It's a pretty safe statement to say that Pixar can do no wrong. With a successful run of animated feature films to their name (since they debuted with 1995's Toy Story), Pixar Animated Studios has brought nothing but some of the best and most creative stories to life through stunningly beautiful computer-generated animation. 2008's WALL•E is no exception. In WALL•E, we're introduced to a little garbage-collecting robot who's been assigned to cleaning up Earth long after man has evacuated it due to pollution and over accumulation of trash. Somehow, WALL•E begins to develop a personality, including an overwhelming sense of loneliness. Once WALL•E is graced with the presence of a scout bot named EVE, his life changes in ways he'd never dreamed.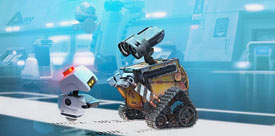 While most film trailers show way too much of the story, the ones for WALL•E showed audiences just enough to give you a hint of what the film is about without giving away too many details. In essence, the idea behind WALL•E is somewhat of a darker tale than you might have expected - almost like a strange trip through The Twilight Zone as we come to discover that mankind in 2700 have become obese, inactive couch potatoes who lie in a chair all day drinking liquified food through a straw. Of course, Pixar lightens this imagery up greatly, but it carries the message clearly of warning us about the dangers of becoming too lazy, too comfortable, and too cavalier about the condition of the planet we live on. While that is a heavy theme of the movie, the main part of the story is WALL•E's infatuation with EVE. I have to admit, I didn't expect much from a love story between two animated machines, but Pixar pulls this off incredibly well. Both characters are so adorable and fun to watch that even when the film goes on for long periods of time with hardly any dialog at all, relying solely on what we see to carry the story, oftentimes just watching WALL•E carry out his routines by his lonesome is entertaining enough. But this is something that is greatly supported by the breathtaking animation from Pixar. From the opening scenes where we see a trash-covered Earth with little WALL•E zipping around the skyscraper-tall cubes of garbage while listening to music, to the detailed world within the steel walls of the Axiom spaceship, Pixar has truly outdone themselves.
Oddly enough, to give you the feeling that this really is our Earth and we could very well be watching a live action movie, Pixar has inserted some sequences that show actual live action human actors. From our first glance of a newspaper showing actor Fred Willard on the cover, to actual video recordings of him shown later on, it fits right in with the movie almost seamlessly (as well as actual footage from the classic Hello Dolly). However, meshing the futuristic, animated obese humans in with live action video doesn't quite translate as well as they may have hoped. It's the one aspect of the movie that doesn't really seem to work all that well. It's tough to watch a cartoony animated human watching a screen of live action people and accept that they're supposed to be cut from the same cloth, so to speak. Perhaps it's just all part of Pixar's quirky humor, but it's ultimately forgivable and hardly a hindrance to the outcome of the film.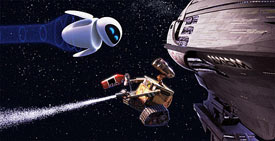 WALL•E isn't your typical family animated comedy. While there's a great deal of humor throughout, and WALL•E and EVE are cute and fun to watch, the film feels a bit more fashioned for adults than children. Whether they're hoping to scare children into taking better care of their environment as they grow up or not isn't made clear, but much of the film being without dialog or cartoon-like characters may hinder the younger children from being able to pay attention. This isn't Cars or Ratatouille or even Monsters, Inc. -- there really has never been a film quite like this one. Still, there's no serious content issues to worry about. Most of the violence is comical involving robots, so families have a movie here that isn't likely to scare the young ones or shock the parents with unnecessary content.
WALL•E is a great achievement in animated filmmaking. While it's probably not my favorite of all the Pixar features, it's entertaining from start to finish with a unique story you won't feel like you've seen several times over. The post-apocalyptic, trash-covered Earth aspect of the story is a little heavy-handed, but not enough to ruin the enjoyability of the movie, but it is a little disturbing to think that something like this could even be possible. WALL•E himself is truly the best thing about this movie, and paired with incredible visuals, the two are enough reason to see this one on the big screen. Better still, Pixar's latest short that precedes WALL•E, entitled Presto, is possibly the most fun opening short we've seen yet and is just as endearing and dazzling as the featured presentation. WALL•E is another Pixar success!.
-
John DiBiase
,
(reviewed: 6/27/08)
Parental Guide: Content Summary

Sex/Nudity
: None.

Vulgarity/Language
: None.

Alcohol/Drugs
: None.

Blood/Gore
: None.

Violence
: EVE's arm doubles as a gun and we see her blow up several things throughout the movie -- from rocks to enemy robots; A robot that is malfunctioning destroys a group of enemy bots; We see a robot's eye get smashed and then replaced/fixed; Another time, a robot is crushed partially and we see a damaged eye and fried circuit board - which also gets fixed; A large robot struggles with a human and overpowers him several times before being turned off; The Axiom tilts sideways a bit and a mass of people begin sliding to one side, with two large pieces of metal falling towards them (which a robot stops from crushing them), and some other minor comedic cartoon violence
Disclaimer: All reviews are based solely on the opinions of the reviewer. Most reviews are rated on how the reviewer enjoyed the film overall, not exclusively on content. However, if the content really affects the reviewer's opinion and experience of the film, it will definitely affect the reviewer's overall rating.
To find out why we don't typically review R-rated movies,
click here