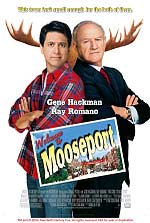 Welcome To Mooseport


- for some brief sexual comments and nudity
Director:
Donald Petrie
Starring:
Ray Romano, Gene Hackman
Running Time:
1 hour, 50 minutes
Theatrical Release Date:
February 20, 2004
Plot Summary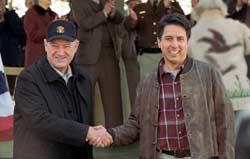 You think you've got competition for your girlfriend? Then welcome to Mooseport, where the local plumber Handy Harrison (Ray Romano) finds himself in a race for his longtime girlfriend Sally's (Maura Tierney) affections - and in a race for mayor - with none other than the charismatic former President of the United States (Gene Hackman).
Film Review
Ray Romano has shot to fame through the success of his hit TV show Everybody Loves Raymond. Romano also found success in his voice contribution to the hit family film Ice Age in 2002. 2004's Welcome To Mooseport is Romano's first top-billing gig, partnering him with heavy hitter acting legend Gene Hackman. So how does Romano hold up being pitted against the 72-year-old veteran?
Welcome To Mooseport plays out as a mild comedy that misses most of its opportunities to offer really genuine laughs. Romano is charming and fun to watch on screen as everyone's underdog, but he isn't given much material to work with here. Hackman has the spotlight -- it's his show for the most part -- and he has just enough muscle to keep this movie afloat. Hackman and Romano rescue the film from disasterville with their charm and character, but that isn't enough to carry it past utter mediocrity.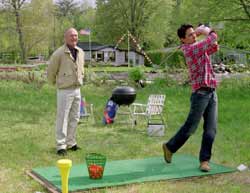 What worked best about the story of Welcome To Mooseport, was the political satire. Never once was an underlying political agenda or message revealed during the film. In fact, I don't recall major political issues or the terms "Republican" and "Democrat" even mentioned. There was an almost innocence to the political angle of the film, which made it more enjoyable to watch. Where the movie faltered was in the love triangle between Handy, Sally, and the ex-president. It worked for some scenes, but got old after awhile with there being very little real character development for Handy or Sally. A lot of the characters were merely caricatures instead of fully-fleshed out people. More detail into developing them might have made the film stronger overall.
The film's number one drawback, however, is the sexual content. The opening frame of the movie shows the bare butt of a naked older man jogging down the street. Soon after that we see two dogs having sex (one on top of the other from behind in a head and shoulders shot from behind a rock), and several sexually-related comments (and the man's bare butt again later on) are made. These scenes as well as the dialog are enough to probably skip the movie altogether. There just isn't enough that Welcome To Mooseport has going for it to make it worth seeing.
The promise and premise of Welcome To Mooseport had potential but director Donald Petrie and company just didn't have enough comedic power to really pull it off right. As a result, Welcome To Mooseport is an average comedy with some good moments (especially near the film's resolution), but not enough to pass it with flying colors.
-
John DiBiase
,
(reviewed: 2/21/04)
Parental Guide: Content Summary

Sex/Nudity
: We see the bare butt of a naked older man who is jogging. We then see a banner blocking frontal nudity. We later see the same man's bare butt again. We see a male dog on top of a female dog while they mate (with motions). Something in the foreground blocks the lower halves of them, but we see their heads and the male dog on top of the female dog. Handy gives Sally a hard time about wearing black underwear on her date with the president. She then throws him several pairs of underwear (including a skimpy thong) asking if any of those would be better. As a joke, Handy gives Sally a box with a pair of underwear in it while on her date with the president... Other minor references are made in the dialog.

Vulgarity/Language
: 1 "s" word, 5 "S.O.B.", 9 "G-d", 1 "Jesus," 4 "h*ll", 3 "cr*p", 2 "d*mn", 1 "a" word

Alcohol/Drugs
: Some characters have drinks during the film. Sally and Grace get drunk after spiking their coffee.

Blood/Gore
: None.

Violence
: Minor. President Cole and Handy get into a struggle/fight and then a tarp and ladder fall on top of them.
Disclaimer: All reviews are based solely on the opinions of the reviewer. Most reviews are rated on how the reviewer enjoyed the film overall, not exclusively on content. However, if the content really affects the reviewer's opinion and experience of the film, it will definitely affect the reviewer's overall rating.
To find out why we don't typically review R-rated movies,
click here