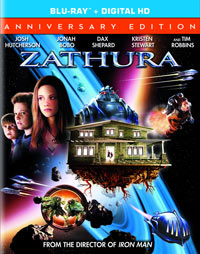 Zathura


- for fantasy action and peril, and some language.
Director:
Jon Favreau
Starring:
Jonah Bobo, Josh Hutcherson, Tim Robbins, Kristen Stewart, Dax Shepard
Running Time:
1 hour, 41 minutes
Theatrical Release Date:
November 11, 2005
Blu-Ray/DVD Release Date:
September 22, 2015 (
Amazon.com
)
Plot Summary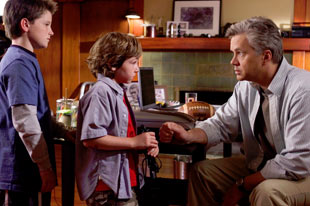 In this heart-racing science fiction adventure, ZATHURA, two squabbling brothers are propelled into deepest, darkest space while playing a mysterious game discovered in the basement of their old house. On their fantastic journey, they are joined by a stranded astronaut and must survive meteor showers, hostile lizard-like aliens, a rocket-propelled robot who runs amok and an intergalactic spaceship battle. Unless they finish the game and reach the planet Zathura, they could be trapped in outer space forever. (from Sony Pictures)
Film Review
As a child of the 80's, it seemed to be a big thing to make fantasy films when I was a kid. These films offered imaginative creatures and otherworldly situations that took the viewer to new lands from their theater seat or couch at home. These films also preceded the usage of CGI -- or, in most cases, the over-usage of it -- and relied extensively on miniatures and puppets to create some of the most imaginative creatures ever to grace the silver screen. Since then, there seems to be a lot less attention to such detail and imagination, making CGI sort of a costly "easy" way out.
Enter 2005's fantasy space adventure Zathura. As actor Jon Favreau's follow-up to his successful directing debut Elf (and as a precursor for his smash hit Iron Man), Zathura returns fantasies to their glory days, and even works in a strong pro-family message into the mix.
The film centers around two young brothers -- one 10 years old, the other 6, who are stuck in the middle of their parents' divorce and are just trying to make the best out of having to spend portions of their week with Mom or Dad individually. This time around, the boys Danny and Walter are just trying to get along while in their Dad's new house, when Danny discovers an old board game in the house's creepy basement. Once he starts playing, the two realize there's a lot more involved than just turning a key and reading a card... the game is REAL. Before they know it, their house has been hurtled into space and must remain there until one of them finishes the game successfully. What unfolds is an exciting space adventure that never leaves their house, but brings plenty of excitement and dangerous situations to their newfound "mobile" home.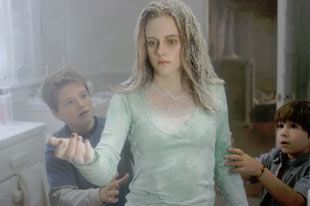 I must admit I'm mostly skeptical about today's children / family films. Growing up, the films they made for "family" were often rated PG but were borderline PG-13 films considering there was no rating between PG and R yet (well... not on as large a scale as it is now, that is). A lot of these movies were imaginative and exciting but still a bit too harsh for the younger audience in the content department. Some family films in recent years have abandoned creativity for campy or corny material, making many of those films fine for kids, but painful for anyone even slightly older. Zathura is a breath of fresh air, offering a wonderful blend of excitement for any age, with a fine script, strong acting, and excellent special effects. What helped make the world of Zathura work so well is Favreau's insistance on using mostly minature models and puppeteering for a lot of the effects. This brought a tangible element to the creatures and the boys' house that pulls the audience in in ways modern computer effects can't do (See the argument of "original" Star Wars trilogy versus the overly animated prequels). Also, despite their characters bickering through most of the film, the boys turned in strong and believable acting performances, and when the film eventually calls for them to unite, it's a wonderful moment.
I thought the content was kind of rough for today's family films. I was surprised to hear 6-year-old Danny call Walter a "d*ck" in the first scene, even though their father soon reprimands him for it in the next. Their 13-year-old sister (played by Twilight's Kristen Stewart) utters a couple minor cuss words as well, but there luckily isn't all that much swearing in the film (something I wish I could say about the "family" films of my day). There's also quite a bit of violence, although none of it is lethal or gory or anything beyond the house blowing apart and the kids being chased around by robots and "lizard people." Finally, the Zorgon aliens in the film look great, but being lizard-like aliens, they may be quite horrifying for younger viewers.
Overall, I was more than impressed with Zathura. Since I saw it on DVD and not in the theaters, I'm sorry I missed it on the big screen. But the DVD offers some fantastic featurettes--as does the brand new Anniversary Blu-Ray release--on the making of the special effects that it makes for some great at-home entertainment. When all's said and done, Zathura is a fine family film that will most likely stand the test of time.
-
John DiBiase
,
(reviewed: 2/22/06; revisited 9/22/15)
Blu-Ray Special Features Review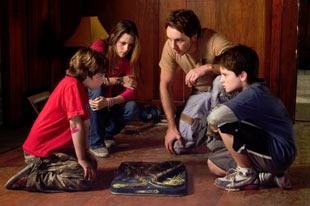 The Blu-Ray release of
Zathura
is positioned to help promote the brand new Sony Pictures film,
Goosebumps
. As such,
Zathura
gets a crisp Blu-Ray treatment that is super nice and does the film justice. Revisiting it almost a decade later--and now as a father myself--the movie holds up really well, and I see it in a new light as a dad of a young 5-year-old in addition to remembering what it was like being a little younger brother. It's a fun movie, that although I probably would wait to share it with my kiddo, it's a cool space adventure with realistic family elements to it.
The "Anniversary Edition" Blu-Ray release takes the original DVD feaurettes (which are excellent - and there's over an hour and a half of them!) and adds the following:
The Cast of Goosebumps Reflects on Zathura (5:18) - This is kind of misleading. On the back of the Zathura case it mentions "Cast Reflections" but doesn't make it super clear that they're NOT from the Zathura cast! As part of the promo for Goosebumps, Dylan Minnette and Ryan Lee share their favorite scenes from Zathura and then introduce a Goosebumps trailer.
Goosebumps Sneak Peak (3:01) - ...then that Goosebumps trailer from the above featurette is available to view by itself...
Zathura Motion Storybook as Read by Author Chris Van Allsburg (17:39) - This is a pretty novel idea. The original book is read to us here by the original author of Zathura! The illustrations from the book are presented in motion form to add a little extra dynamic. It's pretty neat and a nice way to give fans of the movie the complete picture of the story all in one place.
Featurettes (1:33:08) - These are all of the original DVD featurettes presented in standard definition. The quality isn't great, but these are extensive and show how the film came together!
Finally the extras are rounded out with a feature-length commentary from director Jon Favreau.
-
John DiBiase
,
(reviewed: 9/22/15)
Parental Guide: Content Summary

Sex/Nudity
: Lisa tells her Dad that she's hooking up with a guy later that evening. Her Dad expresses concern over the usage of the term, hoping it doesn't mean sex, she insists it doesn't; Lisa wears very small shorts and a small tank top

Vulgarity/Language
: 1 d*ck," 1 "a" word, 1 "h*ll," 5 "G-d," 2 "Oh my G-d," 1 "be-otch" (slang for "b*tch")

Alcohol/Drugs
: None

Blood/Gore
: None

Violence
: Lots of fantasy-related violence including segments of the house being destroyed throughout the film, a robot chasing Walter with intentions to kill him; Zorgon aliens chasing the characters; etc
Disclaimer: All reviews are based solely on the opinions of the reviewer. Most reviews are rated on how the reviewer enjoyed the film overall, not exclusively on content. However, if the content really affects the reviewer's opinion and experience of the film, it will definitely affect the reviewer's overall rating.
To find out why we don't typically review R-rated movies,
click here