The Mask of Zorro


- for some intense action and violence.
Director:
Martin Campbell
Starring:
Antonio Banderas, Anthony Hopkins, Catherine Zeta-Jones
Running Time:
2 hours, 16 minutes
Plot Summary
It's the early 1800s. After Zorro's (Anthony Hopkins) last battle for freedom, the evil Spanish governor of Alta California, Don Rafael Montero (Stuart Wilson), discovers his identity (as Don Diego) & throw's him into jail, but not before stealing his baby daughter, burning down his mansion, & accidentally murdering his wife. 20 years later, the "old Zorro" escapes from prison & recruits an old friend, Alejandro (Antonio Banderas), who is now a thief, to be trained as the new Zorro. With both bent on revenge (Alejandro wanting to avenge his brother's murder), Don Diego teaches Alejandro everything he knows & prepares him to defend the Mexicans from Montero, while Diego gets his daughter back.
Film Review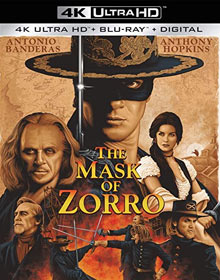 That Mexican version of Batman we all know and love returns to the big screen, but this time, you get two Zorros for the price of one. The Mask of Zorro is the summer movie for 1998! Despite some content, the acting is superb, the humor strong, and Banderas makes a perfect Zorro. Let's start off by addressing the violence of the film. The very worst is a scene where we see a decapitated head floating in a jar, followed by a dismembered hand floating in another. Zorro has always been a character for the famil and it seemed odd and unnecessary to make the latest theatrical adventure so violent. Dismemberments aside, characters are stabbed and cut up, with one character impaled by a sword. Some other content is also shown or implied, making the film more intense and brutal than it really needs - or should - be.
Sexual content was minor for the most part. We see a few soldier tied naked facing a bunch of cacti, giving us an unwanted view of their bare butts. In another scene, Alejandro playfully cuts off Elena's dress in a dual, but her long hair covers anything explicit, and nothing specific is seen.
I enjoyed Martin Campbell's retelling of the famous legendary story. Antonio Banderas' placement in the role of Zorro is inspired to say the least and Catherine Zeta-Jones was a wonderful choice. She's a beautiful actress who has a lot of promise. I look forward to seeing many more films for her. Hopkins, who's British in real life, is a strange choice for the original Zorro who passes the blade down to Alejandro, but manages to offer a lot of charm and authority to the role.
Overall, I really enjoyed the The Mask of Zorro. However, due to the graphic violence, I can't give this film any higher than four stars. It's a shame Campbell and company couldn't make this more for families given Zorro's widespread appeal, but perhaps if future installments follow, this could be corrected.
-
John DiBiase
(reviewed: 8/8/98)
Parental Guide: Content Summary

Sex/Nudity
: Some male soldiers' bare butts as seen as they are tied nude to a cactus. Alejandro cuts off Elena's top and we see it fall to the floor, but her long hair covers any visible nudity. Elena admits having impure and lustful thoughts about a masked man to a confessional.

Vulgarity/Language
: 2 "d*mn," 2 "p*ckerwood," 1 "For the love of G-d"

Alcohol/Drugs
: Some people are drunk, including Alejandro in one scene; people drink wine; etc...

Blood/Gore
: Zorro slices a bloody "Z" on Montero's neck. A man shoots himself & we see him lying there with a slightly bloody shirt. We see a bag supposedly carrying a decapitated head. As such, we see some blood soaked through the bottom of it. Don Diego has blood on his sleeve. Don Diego has a minor bloody cut on his head. A man is thrown against a wall in prison and has some blood on him. A dying man's mouth has blood in it. We see a decapitated head & a dismembered hand in separate jars. A sword impales a man & we see an overhead shot of the sword's entrance & exit through him.

Violence
: Lots of swordplay; punching; kicking; slicing; dicing; stabbing.
Disclaimer: All reviews are based solely on the opinions of the reviewer. Most reviews are rated on how the reviewer enjoyed the film overall, not exclusively on content. However, if the content really affects the reviewer's opinion and experience of the film, it will definitely affect the reviewer's overall rating.
To find out why we don't typically review R-rated movies,
click here