PHIL KEAGGY INDUCTED INTO GOSPEL MUSIC HALL OF FAME
Legendary Musician Honored at October 29th Ceremony, Celebrating 30+ Years in Music
NEWS SOURCE: McCain PR
November 1, 2007

Nashville, TN (Nov 1, 2007) - Legendary guitarist and singer/songwriter Phil Keaggy joined the Statler Brothers, Larnelle Harris, the Winans and Joe Moscheo as the newest inductees into the GMA Gospel Music Hall of Fame at the October 29, 2007 ceremony in Nashville, Tenn. At the ceremony, Keaggy was recognized for his 30+ year career in music, with his friends and past collaborators on hand for special remembrances and tributes. Christian artists Scott Dente (Out of the Grey) and Wes King, along with Keaggy's son Ian, performed a special musical homage to Keaggy, while Tommy Coomes (guitarist/singer for the pioneer Christian rock band Love Song and frontman for the Tommy Coomes Band) and Jason Truby (former guitarist for P.O.D.) shared memories and stories about the guitar virtuoso.
One of the world's and Christian music's most beloved master musicians, Phil Keaggy has enjoyed immense success over his career. Having first entered the music scene as the co-founder and guitarist for '70s power group Glass Harp, Keaggy has since released close to 50 albums and has made appearances on countless others. Widely recognized for his phenomenal guitar playing as well as his vocal and songwriting prowess, he has received numerous accolades and awards for his music, including seven Dove Awards and a GRAMMY nomination. Keaggy continues to sell out concerts all over the US with his ever-changing style, ranging from rock 'n' roll to fully orchestrated instrumental compositions.
Keaggy is gearing up for the release of his newest instrumental project, The Song Within, releasing November 6, 2007, on Autumn Records. When it comes to expressing the song within, few musicians of any genre, age or instrument have been as true to themselves and their art as Keaggy.
On The Song Within, Keaggy uses his command of his art to communicate rather than dazzle. The result is a project that is imminently accessible and radiantly brilliant. Keaggy consciously created songs with his considerable fan base in mind. Newer initiates will be amazed with the deft, apparently effortless, artistry of this 16-song collection, while older fans will be thrilled by the myriad of styles and influences that combine to make Keaggy's work impossible to categorize and equally impossible to mistake.
Phil Keaggy's The Song Within will be available from Autumn Records/Christian Network International. For more information, visit www.autumnrecords.com.
Pictured Below (L-R): Phil Keaggy and John Styll (President, Gospel Music Association)
# # #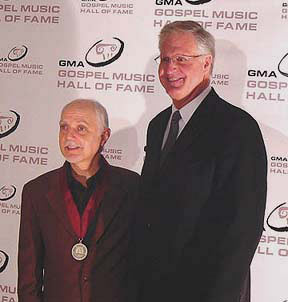 [2021]
Jan. | Feb. | March | April | May | June | July | Aug. | Sept. | Oct. | Nov. | Dec.
[2020]
Jan. | Feb. | March | April | May | June | July | Aug. | Sept. | Oct. | Nov. | Dec.
[2001 - 2020]
Visit our complete MUSIC NEWS ARCHIVE