SARAH KELLY WAS BORN TO WORSHIP
NEWS SOURCE: Sarah Kelly; Jesusfreakhideout.com
November 3, 2007

Christian music sweetheart Sarah Kelly is about to finish up her junior release on Gotee Records. The worship leader gave the following update online on Saturday about the latest...
Hey everyone,

It is sooooo good to be back in Sweden again. I missed it so much. My first shows since my long break went amazingly well. I was a bit scared that I would forget the words, but nope! It went great. (Yes, I do forget the words to my own songs occasionally, due to an excessive Diet Coke addiction!! he he)

I fly in about 7 hours from Gothenburg (Sweden) to Nashville, TN to FINISH, YES THAT IS RIGHT... FINISH... MY NEW PROJECT. I think it will be called "Born to Worship." It is turning out so different than the others, but that shouldn't suprise you after the first two. I guess I get bored easy and always need the music to evolve with me. I do not ever want to make the same album twice. All I have to say... is it is raw, passionate, and yummy worship! With all original songs of course. The word on the street (nothing for sure yet) is that it will come out the end of May or so!
Love you all so much and can't wait to run into you at a show.
Sarah Kelly
For more information about Sarah Kelly, visit our Artists Database.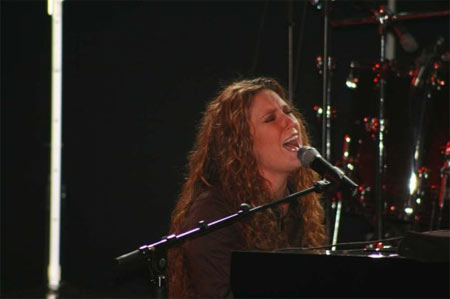 [2021]
Jan. | Feb. | March | April | May | June | July | Aug. | Sept. | Oct. | Nov. | Dec.
[2020]
Jan. | Feb. | March | April | May | June | July | Aug. | Sept. | Oct. | Nov. | Dec.
[2001 - 2020]
Visit our complete MUSIC NEWS ARCHIVE