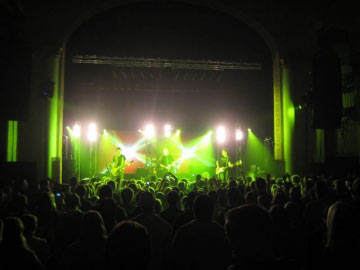 HAWK NELSON STORMS THE WEST COAST ON THEIR GREEN T TOUR
Band Plays Three Sold Out Venues & Fans Fall in Love with New Music
NEWS SOURCE: Overture Media
March 18, 2008
Seattle, WA...March 18, 2008...Two weeks from today on April 1st, Hawk Nelson fans will be clamoring to the nearest store if they haven't already pre-ordered the forthcoming studio release, Hawk Nelson Is My Friend. Since February 27th, fans on the West Coast have been able to get a small sample of the upcoming album on the popular "Hawk Nelson Green T Tour," which sold out to three West Coast venues in Tracy, CA, Redmond, WA and Spokane, WA.
In addition to three sold-out dates, the tour has had more than 31,000 in attendance and over 6,700 Green T bundle purchases. The Green T bundle is for the avid Hawk Nelson fan that wants an up-and-close experience at the concert. The Green T bundle, which can be purchased online through Music Today, includes a concert ticket, pre-order of the new CD, and special edition green t-shirt. To purchase this bundle that is specially priced at $30, fans just need to go to HawkNelson.com and buy tickets to the Green T Tour in their respective city. With each ticket purchased, the fan will get an official Hawk Nelson Green T, which will be a special edition numbered shirt. So far the fans love the Green T concept (quotes below).
Promoting the Hawk Nelson West Coast explosion was Lowell MacGregor of LMG concerts - promoter for the Pacific Northwest Region. After the recent Hawk Nelson run, MacGregor shared, "Hawk Nelson has consistently put on great performances and the momentum they have built as a result feels like the real thing. I look forward to being a part of the future with this talented band."
The media markets for the tour have also picked up on the wave with daily newspaper features in such cities as: Abilene, TX, Highland, CA, and a cover story of the entertainment section in Eugene, OR (below).
The Green T Tour also features special guests Run Kid Run, who have an upcoming album (Love At The Core) releasing April 29th, and the newly signed Tooth&Nail Records' Capital Lights, who will be releasing this summer.
Not only is the band putting on a great show and tour, the band is catapulting at radio on both CHR and Rock formats. This week their album debut single "Friend Like That" is at No. 5 on CHR and jumped to No. 3 on Rock. The band also premiered their music video on Amazon.com with their pre-sell page. Go to the link here to catch the new music video.
Hawk Nelson Is My Friend releases April 1st. Go to the official Hawk Nelson website for more tour details and upcoming dates for the Green T tour that continues until May 4th. Also visit their MySpace for more updates.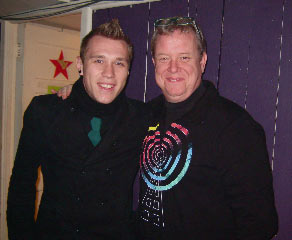 Hawk Nelson's Jason Dunn poses with Lowell MacGregor of LMG concerts
Here are just a few things that Hawk Nelson Fans have to say about the tour:
"We saw you guys in Tracy, CA. It was AWESOME! We've seen you live before, but this topped EVERYTHING! The shirts are by far the COOLEST shirts I've seen from a band. The songs for the new album are AMAZING. Thank you guys for making this a concert to remember. We can't wait to see you guys in May!" -Katie, California
"The Highland, CA show was great! The meet and greet was fun, and it made getting a seat really easy! I enjoyed the mix of old and new songs. Unlike some bands when they introduce new music that the fans don't know yet, you guys never lost momentum or your crowd! Hawk Nelson is an amazing band made up of an amazing group of guys! I'm never disappointed after one of your shows! Hope to see you again soon!" -Bekah, California
"Absolutely amazing tonight. You guys did great!! Come back soon. Hawk Nelson is my BFF! " - Kylie, Washington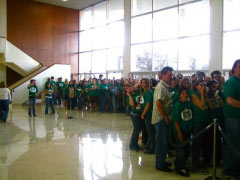 "Green T" fans line up at the opening show in Texas for the special listening party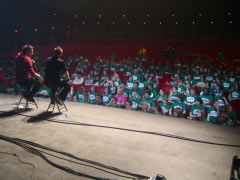 "Green T" Listening Party includes Jason Dunn & Daniel Biro sharing music and talking about the upcoming record for an exclusive sneak peek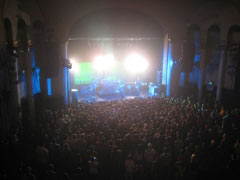 Hawk Nelson Green T Tour Plays the historical McDonald Theatre in Eugene, OR
###