MUSIC CITY WALK OF FAME PRESENTED BY GIBSON GUITAR INDUCTS STEVEN CURTIS CHAPMAN
Chapman Honored with Merle Kilgore, Nitty Gritty Dirt Bank, Steve Wariner, Kirk Whalum and Hank Williams Cemented in Nashville's Music Mile
NEWS SOURCE: The M Collective
April 22, 2008

Nashville, Tenn— Music City, Inc inducted multi-platinum Grammy and Dove Award winning artist Steven Curtis Chapman into the fourth class of the Music City Walk of Fame, presented by founding sponsor Gibson Guitar yesterday: along with Chapman, Merle Kilgore, Nitty Gritty Dirt Band, Steve Wariner, Kirk Whalum and Hank Williams Sr. were honored. The honorees were recognized officially with the unveiling of commemorative sidewalk marker in the Hall of Fame Park in downtown Nashville. The induction ceremony, sponsored by Great American Country (GAC), was free and open to the public.
The Music City Walk of Fame is an official project of Music City, Inc., the charitable foundation of the Nashville Convention & Visitors Bureau (NCVB), and is produced with the support of presenting sponsor Gibson Guitar and sponsors GAC, the City of Nashville and Metro Parks.
"It's a pleasure to honor the accomplishments of this talented class of inductees," said Butch Spyridon, president of the Nashville Convention & Visitors Bureau. "Each honoree represents the immense talent, creativity and diverse musical styles that have made Nashville, Music City."
Created in the fall of 2006, the Music City Walk of Fame, on Nashville's Music Mile, is a landmark tribute to those from all genres of music who have made significant contributions to preserving the musical heritage of Nashville and have contributed to the world through song or other industry collaboration. With the induction of this new class of honorees, there will be 24 total stars along the Walk of Fame. A new brochure promoting the Walk of Fame is now available in Visitors Centers, hotels and venues across the city.
Permanent sidewalk medallions made of stainless steel and terrazzo, with each honoree's name displayed in a star-and-guitar design, were installed in the sidewalk along with Music Mile. The plaques for this class of inductees were inlaid in Hall of Fame Park on Demonbruen, between 4th and 5th Avenues South.
Nominations were open to the public and accepted in the categories of Artist, Musician, Songwriter, and Producer/Music Industry Executive. Application forms were reviewed by the Music City Walk of Fame anonymous selections committee.
"The Music City Walk of Fame continues to celebrate the enormous talent which has originated from Nashville over the years," said Henry Juszkiewicz, Chairman and CEO of Gibson Guitar. "It continues to be an honor to be involved with the Walk of Fame program as it continues to grow and recognize the rich tradition and heritage that only Nashville can claim as its own."
Steven Curtis Chapman
In his iconic musical career, Chapman has won five GRAMMY© Awards, most recently in 2005 for his release All Things New. Chapman has sold over 10 million records including two RIAA certified platinum albums and seven RIAA certified gold albums. Along with his Dove and GRAMMY © awards, Chapman has won an American Music Award, has recorded 44 No.1 US radio hits as well as receiving numerous other honors. Chapman has also been awarded 51 Dove Awards, more than any other artist to date. Since his recording career began in 1987, Chapman has recorded sixteen projects with Sparrow records. He has performed at the White House and has appeared on: CBS, NBC, ABC, CNN, MSNBC, CMT, FOX News, Hallmark, E! as well as the CBS Sunday Morning, The Tonight Show with Jay Leno, among many others.
On a personal note, in a response to the miracle they saw in their own family through adoption and with a desire to help eliminate the obstacle of finances for families they knew, Chapman and his family established the Shaohannah's Hope ministry in 2000. In 2002, as opportunities to financially assist families ready to adopt far outpaced the Chapman's personal abilities to fund, the ministry began accepting donations to raise further financial grants for willing families. In 2003, Shaohannah's Hope became an official 501c3 non-profit organization. Arriving at a milestone in October 2006, Shaohannah's Hope announced the 1000th grant awarded. To date, they have impacted over 1600 families with grants and receive approximately 125 adoption assistance applications a month, and with current funding capacity awards 30-40 grants each month with an average amount of $3,000.
Chapman has become a voice for this cause, with fans, and strangers, and has mobilized hundreds of donors giving to the foundation, with a great need for thousands more. His message has impacted others, and a web of influence has been created through the ministry. For more information, please visit www.showhope.org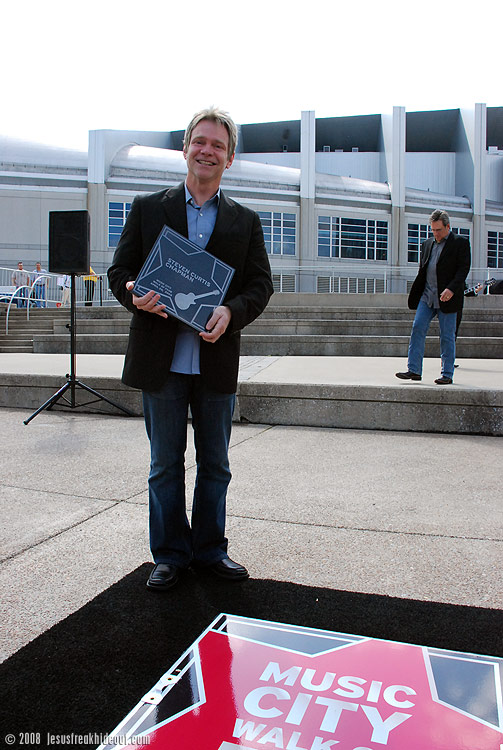 (Photo credits: John DiBiase, Jesusfreakhideout.com)
###

[2021]
Jan. | Feb. | March | April | May | June | July | Aug. | Sept. | Oct. | Nov. | Dec.
[2020]
Jan. | Feb. | March | April | May | June | July | Aug. | Sept. | Oct. | Nov. | Dec.
[2001 - 2020]
Visit our complete MUSIC NEWS ARCHIVE