NEW SWITCHFOOT SONG "THIS IS HOME" SELECTED FOR UPCOMING WALT DISNEY PICTURES, WALDEN MEDIA FILM The Chronicles of Narnia: Prince Caspian
Switchfoot To Debut Song Live On Gospel Music Association Dove Awards Tonight
NEWS SOURCE: Hoganson Media
April 23, 2008

Nashville, Tenn., April 23, 2008 – The multi-Platinum selling rock band Switchfoot has recorded a new original song, "This Is Home," for the highly anticipated Walt Disney Studios and Walden Media May 16 theatrical release, The Chronicles of Narnia: Prince Caspian. The song will be featured during the end credits of the film, and will appear on the Original Walt Disney Records Soundtrack CD releasing on May 13.
Switchfoot recently taped a companion music video for "This Is Home" in Los Angeles with director Brandon Dickerson who filmed Switchfoot's most recent video, "Awakening," from its current, acclaimed studio album, Oh! Gravity..
"We are so honored to be a part of the Prince Caspian film with 'This Is Home,'" says Switchfoot frontman Jon Foreman. "The Narnia stories have a really special place in my brother Tim and my lives. Our dad used to read these to us at bedtime when we were boys. Our imaginations were shaped on these amazing novels.
"'This Is Home' was inspired by the book after re-reading it for the opportunity to write for the film," continues Foreman. "I am always taken by [C. S.] Lewis' ability to write about the bittersweet beauty in this world; this home we aren't really made for but is the place we work out our humanity in the midst of our longing for our true home."
"We are encouraged to continue our collaboration with Walt Disney Studios with the new Switchfoot song 'This is Home' for the new Chronicles of Narnia: Prince Caspian film," says Peter York, EMI CMG Label Group president. "The band continues to create thought provoking music and has been truly inspired by the C. S. Lewis series. It felt like a natural fit, and it's an honor to continue to work with the Music/Creative team at Walt Disney Studios."
"Going back to our first Narnia film, 'The Lion The Witch and The Wardrobe,' Switchfoot was at the top of our creative list of artists whose sound and artistry we felt was a perfect fit," said Mitchell Leib, President of Music and Soundtracks for Walt Disney Studios. "When approached for 'Prince Caspian,' Jon Foreman had a concise read on the story and delivered a stellar, important composition and record, which we feel reflects our film brilliantly. We are proud to have Switchfoot involved and to be working with our friends at EMI CMG once again."
In conjunction with local market promotions around the film designed to build excitement toward the release of the new "Narnia" movie, EMI CMG Label Group will release "This Is Home" to AC and CHR Christian radio as Red Light Management/Entertainment works the single at mainstream AC and Triple A radio formats. Fans can also see the band debut the song live nationwide tonight (April 23) between 8 – 10 p.m. (ET) on the Gospel Music Channel television network as part of the 39th Annual GMA Dove Awards telecast.
About Switchfoot:
With over 5 million records sold, three albums in the Billboard Top 20, two top-five singles at both pop and alternative radio, performances on all the major late night talk shows, a Les Paul Horizon Award, and one of the Top 50 Most Performed Songs of 2005 with "Dare You To Move" (ASCAP), Switchfoot is recognized as one of the hardest touring bands in rock. Currently on its "Up In Arms Tour" that benefits To Write Love On Her Arms, the San Diego-based band has sold over three million concert tickets worldwide since the 2003 release of its double-Platinum breakthrough album The Beautiful Letdown.
Oh! Gravity., Switchfoot's newest studio album, debuted at No. 1 on the iTunes Top Albums chart and has received stellar reviews, with Billboard magazine calling it "the best of the San Diego group's nearly 10-year recording career." Spin exclaims this album is "their liveliest record, full of dive-bombing guitar fuzz, juicy arena-alt choruses." "This is an outstanding record in every sense," raved Associated Press. MTV's "Life of Ryan" tapped the album's title track for its theme song as the album showcases a harder rock direction for Switchfoot.
With an ever-growing fan base, Switchfoot has also been actively involved in a number of humanitarian causes since its inception, including DATA, Bono's THE ONE Campaign, Invisible Children and Habitat for Humanity. The band further founded the Switchfoot Bro-Am, a surfing and music benefit-event, and the online magazine, lowercase people (www.lowercasepeople.com), a daring new endeavor to revolutionize the way beauty, truth and humanity is viewed.
More information about the band can be found at www.switchfoot.com.
About The Chronicles of Narnia: Prince Caspian:
The characters of C.S. Lewis's timeless fantasy come to life once again in this newest installment of the "Chronicles of Narnia" series, in which the Pevensie siblings are magically transported back from England to the world of Narnia, where a thrilling, perilous new adventure and an even greater test of their faith and courage awaits them.
One year after the incredible events of "The Lion, the Witch and the Wardrobe," the Kings and Queens of Narnia find themselves back in that faraway wondrous realm, only to discover that more than 1300 years have passed in Narnian time. During their absence, the Golden Age of Narnia has become extinct, Narnia has been conquered by the Telmarines and is now under the control of the evil King Miraz, who rules the land without mercy.
The four children will soon meet an intriguing new character: Narnia's rightful heir to the throne, the young Prince Caspian, who has been forced into hiding as his uncle Miraz plots to kill him in order to place his own newborn son on the throne.
About EMI CMG Label Group:
EMI CMG Label Group is comprised of Sparrow Records, Forefront Records, and Credential Recordings, in addition to providing A&R and marketing support for sixstepsrecords via a joint venture and licensing partnership. Balancing freedom, discipline, creativity, profitability and ministry, EMI CMG Label Group strives for excellence in artist development. For further information, visit www.emicmg.com.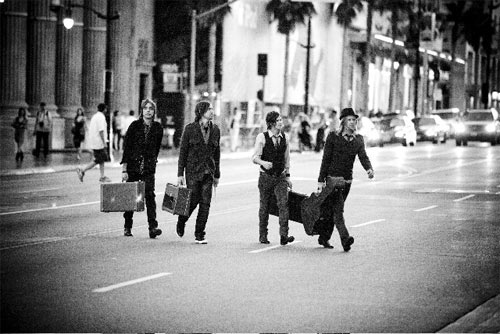 Switchfoot members are pictured crossing Hollywood Blvd. at Hollywood and Highland Metro station where filming began at sunset with hundreds of extras and onlookers for the opening sequence for the "This Is Home" video. The video footage will be intercut with the Pevensie children from the Narnia story boarding the train in London in The Chronicles of Narnia: Prince Caspian. (Photo by Andy Barron.)
###

[2022]
Jan. | Feb. | March | April | May | June | July | Aug. | Sept. | Oct. | Nov. | Dec.
[2021]
Jan. | Feb. | March | April | May | June | July | Aug. | Sept. | Oct. | Nov. | Dec.
[2001 - 2022]
Visit our complete MUSIC NEWS ARCHIVE