MARK LOWRY TAKES HOME DOVE AWARD FOR INSPIRATIONAL ALBUM OF THE YEAR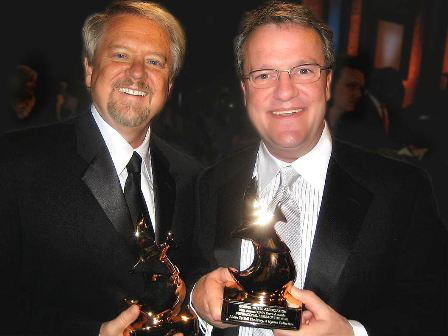 (L-R: Producer Paul Johnson and Mark Lowry backstage at the Dove Awards)
NEWS SOURCE: Nashville Publicity
April 25, 2008
(NASHVILLE, TN) -- Funnyman, Mark Lowry took home a Dove Award last night for his latest recording, I Love To Tell The Story-A Hymns Collection (Spring House/Gaither Gospel Series), which was named Inspirational Album of the Year. Lowry also joined Sandy Patti on stage to present the final award of the night, Artist of the Year, to TobyMac. The 39th Annual GMA Dove Awards aired live from the Grand Ole Opry in Nashville on the Gospel Music Channel.
"Winning this particular Dove Award was a great honor because it was an all-singing project," said Lowry. "I've won a Dove for comedy but never for singing. So this is quite a treat. But the credit must go to Paul Johnson. He did such a great job arranging and leading the orchestra and co-producing I Love To Tell The Story-A Hymns Collection. It couldn't have been made without him."
It was in 1988 that Bill Gaither invited Lowry to sing baritone in the Gaither Vocal Band--a position he held for 13 years--and this dynamic relationship with Gaither made Lowry an overnight sensation throughout the Christian music world and far beyond. He continues to appear in the Gaither Homecoming videos and he often shows up as a surprise guest in Gaither's live Homecoming concerts. Currently, and regularly, Lowry co-hosts Bill Gaither's Homecoming Radio show on the Salem Music Network.
Mark Lowry has enjoyed a multi-layered career filled with sold-out concert tours and gold and platinum-selling albums and videos. His lyrics include the phenomenal Christmas classic, "Mary Did You Know?" -- recorded by Michael English, Wynonna, Kenny Rogers, Clay Aiken, Reba McEntire, Natalie Cole, Brian Littrell, Donny Osmond and over 50 other international artists. Of Lowry's many best-selling videos, Mark Lowry on Broadway sat at #1 on the Billboard Video Chart for 5 weeks, besting releases from Britney Spears, Christina Aguilera, 'NSYNC and the Backstreet Boys. Mark Lowry Goes to Hollywood was soon to follow and remains one of Lowry's favorites. His Mouth In Motion video won a Dove Award for Long Form Music Video of the Year in 1995. In 2005 he was nominated in the Southern Gospel Album of the Year category for Some Things Never Change. Through the years he has also received multiple Grammy and Dove Awards from a cornucopia of Gaither-related recordings and videos that he has been featured in.
Award-winning producer/arranger/composer/conductor Paul Johnson served as musical director for the Dove Awards in the late 70's / early 80's. His previous producing credits include projects from Debby Boone, Pat Boone, Rick Dees and Andrae Crouch, and he has arranged and conducted for over 100 international performing artists including Whitney Houston, Frank Sinatra, Al Jarreau, Michael Bolton, The Four Tops, Donna Summer, Michael McDonald, Andy Williams, Petula Clark, Janet Jackson, The Temptations, Kim Carnes, Robert Goulet, Randy Travis and the original movie casts of Bye Bye Birdie, Oliver, and Flower Drum Song.
For more information on Mark Lowry, visit: www.marklowry.com.
# # #