- PROVIDENT'S FRIDAY BUZZ -

FOR THE WEEK ENDING MAY 23, 2008
NEWS SOURCE: Provident Label Group
May 23, 2008
Got a mess of news for you guys again on Provident's artists...
Red's "Already Over" Music Video on MTV2, Starting Saturday:
Dove Award-winning rock band Red will see its brand-new music video, "Already Over," added into rotation at MTV2, starting tomorrow (5/24). The video is already being featured at MTV2's "You Rock the Deuce" section of its website, http://www.mtv2.com/#series/23643. Red will rock it out this Sunday night (5/25), in the hometown of the Rock and Roll Hall of Fame, Cleveland, Ohio, at the Time Warner Cable Amphitheater, with Seether.
Warren Barfield Rocks a Brown Bag in Winston-Salem; Readies for Performance at Saturday's Zellwood Sweet Corn Festival:
Warren Barfield's third, in-studio album, Worth Fighting For, hit stores this past Tuesday, May 20. The week has been non-stop for Barfield, who was in South Bend, Ind. on Tuesday (5/20), for a live TV performance on "The Harvest Show" (LeSea Broadcasting), where he performed his current radio single, "Love Is Not A Fight," along with "The One Thing." Following the TV performance, Warren did radio interviews in ten different markets. On Thursday (5/22), Barfield performed at a WBFJ brown bag event in Winston-Salem, N.C., where the performance of "Love Is Not A Fight" once again was a show-stopper. Tomorrow (5/24), Barfield will be in Zellwood, Fla., to perform as part of the Zellwood Sweet Corn Festival. The brand-new music video for "Love Is Not A Fight" is currently being added to music video playlists, nationwide.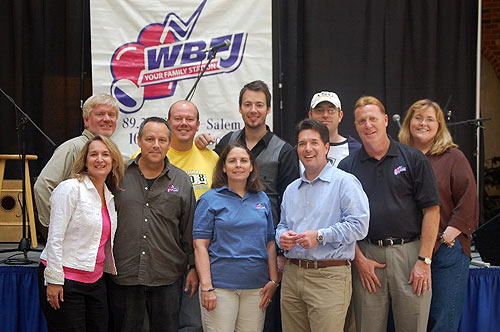 Photo caption:
Warren Barfield poses with the staff of WBFJ, in Winston-Salem, N.C., following his brown bag performance.
Casting Crowns Featured in Charisma Magazine Cover Story for June:
Multi-platinum, GRAMMY-winning artist Casting Crowns is the June cover story in Charisma, Strang Communications' premiere Christian lifestyle magazine reaching 600,000 readers monthly. The story titled "Running From Fame" says of Casting Crowns, "America's most popular Christian band has made ministry a priority." The 5-page article focuses on lead singer Mark Hall's 17-year post as a Youth Pastor and the band members' continued mission outside of the top-selling group, to remain involved in youth ministry at each of their respective home churches in the Atlanta area. The June issue is on stands now. Visit Charisma's web site www.charismamag.com for more, and to sign up to join a live interview with Mark Hall and Charisma on May 27.
Fireflight on PBS Orlando This Week; New AC and Rock Singles Gain Heat:
Orlando-based rock band Fireflight will be featured on PBS network's "The Arts Connection" program this week. The segment features the eight-year journey of the band from hometown favorite to nationally-acclaimed act. The story airs Thursday, May 22nd at 8 PM (EST) on Orlando's local PBS station and will re-air on Sunday, May 25 at noon. The program is also available via podcast and online at wmfe.org/arts and youtube.com/theartsconnection. Fireflight's new AC radio single "Brand New Day" is up to No. 29 on R&R's AC-Monitored chart and remains New & Active at AC-Indicator, while gaining on the CRW formats with audience impressions exceeding 2.2 million this week. The new rock single "The Hunger" debuts this week at No. 25 at Christian Rock radio, following up the No. 1 hit "Unbreakable."
Leeland Returns to Land Today, After Week-Long, Music Boat Cruise:
GRAMMY-nominated, progressive rockers Leeland return from the Music Boat Cruise today. After docking in Miami, the band will board a plane to make the cross-country flight to Del Mar, Calif., for its performance tonight at Spirit West Coast. Opposite Way (2/26/08), the latest album from Leeland, is in stores now.
Matt Maher Goes to Mississippi to Pray With Friends:
Singer/songwriter/worship leader Matt Maher will spend the evening of Friday, May 30 doing some of the things he loves most, praying with and serving friends. Maher will perform a 7 p.m. (CT) benefit concert in honor of cancer-victim, Ray Lacy, at the Auditorium on the Campus of the University of Mississippi, Gulf Park Campus, in Long Beach, Miss. 28-year old Ray Lacy, a Life Teen youth minister at St. Thomas the Apostle Catholic Church in Long Beach, and a religion teacher at St. Patrick High School, also in Long Beach, was recently diagnosed with an aggressive form of colon cancer. The proceeds of the show will directly aid Lacy's fight with the disease. For ticket information about the event, contact Lori Lea Sawyer at 228-596-8040 or lorilea@cableone.net. Matt Maher's current radio single, "Your Grace Is Enough," is currently a Top 5 hit on the R&R AC-Indicator Chart.
Pillar's Rob Beckley, Celebrity Judge:
Pillar's lead singer, Rob Beckley, will serve as a celebrity guest judge, during the upcoming "Incredible Rocket to the Top Singing Competition," presented by KXOJ-FM and sponsored by Drapp Studios and Incredible Pizza Company. One hundred entrants will be randomly selected from all entries. The competition will be held at Incredible Pizza Company, in Tulsa, Okla., on May 27, June 3, June 10 and June 17. The three finalists for each night will be announced at the end of the evening, and perform on June 24, with the overall winner having the opportunity to sing from stage at the Rockets Over Rhema Event on June 29. Pillar's For the Love of the Game, the band's fifth, in-studio album, is in stores now.
# # #

[2020]
Jan. | Feb. | March | April | May | June | July | Aug. | Sept. | Oct. | Nov. | Dec.
[2019]
Jan. | Feb. | March | April | May | June | July | Aug. | Sept. | Oct. | Nov. | Dec.
[2001 - 2018]
Visit our complete MUSIC NEWS ARCHIVE