BECAUSE OF YOUR LOVE FOLLOWS HIGHLY SUCCESSFUL DEBUT SOLO ALBUM EVERLASTING GOD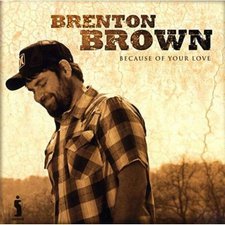 NEWS SOURCE: BookEnd Media
June 26, 2008
(NASHVILLE, TN) JUNE 25, 2008 --Award-winning songwriter and worship leader Brenton Brown has written some of the most popular praise and worship songs in the church today. Writing such modern worship classics as "Lord Reign in Me," "Hallelujah (Your Love is Amazing)," "All Who Are Thirsty," "Holy" and "Humble King," Brown is a formidable figure within the worship music scene. And now Brown is gearing up to release his sophomore album Because Of Your Love in July of 2008 through Survivor Records.
Born and raised in Cape Town, South Africa, Brown grew up listening to the charts and local African music, but couldn't help being inspired by the bluegrass and country music his father's loved - artists like Merle Haggard and Emmy-Lou Harris. Inspired by the music of his youth, and the fact that he and his wife have lived in the United States for three years, Brown wanted his new album to reflect the music that moves him so deeply. "Living in Los Angeles for the past three years and playing with the guys I've played with has also influenced the sounds on this record," states Brown. "Apart from the various country strains of 'Americana', the album also has a more than a little indie and alt-rock flavors to it."
Because Of Your Love showcases an impressive musical team that collaborated with Brown, such as Aaron Sterling (Natasha Bedingfield, Liz Phair, Miley Cyrus); Dwayne Larring (Sonic Flood, Kelly Clarkson); Sarah MacIntosh (Sarah MacIntosh, Chasing Furies); Daniel Ornellas (Tree63); Chris Carmichael (Alison Krauss, Mindy Smith); Joshua Grange (KD Lang, Rocco Delucca, Dwight Yoakam); Phil Madeira (Emmy Lou-Harris, Patty Griffin, Julie Miller, Roseanne Cash); Larry Myers (Bob Dylan, Chuck Girard, Kevin Prosch) and Joe Baldridge (tobyMac, Tree63) engineered and mixed the album. Brown also welcomed the chance to write with longtime friends Paul Baloche and Matt Maher for the new album as well as sing with Kathryn Scott and Leeland Mooring.
Because Of Your Love follows the highly successful 2006 debut solo release Everlasting God. Brown won a 2008 ASCAP Award for the album's title song "Everlasting God," which he co-wrote with Ken Riley, and was nominated for a 2008 Dove Award for "Worship Song of the Year" for "Everlasting God". In addition, Brown has been a featured worship leader on several Vineyard Music UK albums and co-producer on two - Surrender and Holy.
For more information visit www.brentonbrownmusic.com or www.myspace.com/brentonbrownmusic
###

[2020]
Jan. | Feb. | March | April | May | June | July | Aug. | Sept. | Oct. | Nov. | Dec.
[2019]
Jan. | Feb. | March | April | May | June | July | Aug. | Sept. | Oct. | Nov. | Dec.
[2001 - 2018]
Visit our complete MUSIC NEWS ARCHIVE