DecembeRadio Lands Highest Chart Debut with Sophomore Album
Rock Band's Promotions Leave Multiple Markets SATISFIED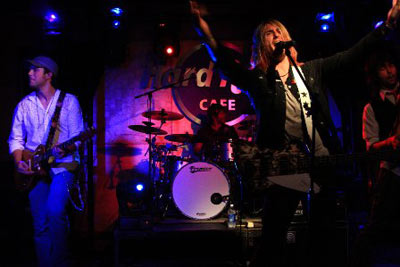 NEWS SOURCE: Nashville Publicity
September 8, 2008
(NASHVILLE, Tenn.) – September 8, 2008 – GRAMMY-nominated and DOVE Award-winning rock band DecembeRadio's highly anticipated sophomore release hit shelves last week, coming in at #3 on the CCM sales chart, making it the week's highest CCM debut. The project, Satisfied (Slanted Records), landed at #116 on the Top 200 BILLBOARD chart as well, as the band's first week sales nearly doubled that of their lauded debut.
"This is certainly a high note for DecembeRadio," stated Paul Sizelove, vice president of Slanted Records. "This band has hit the road hard continuously, and they take their musicianship very seriously. We are thrilled to see the responses they are getting and it's gratifying to start out with a strong week at retail for an up-and-coming band."
DecembeRadio performed songs from Satisfied at the newly renovated Hard Rock Café in Atlanta, GA, the week prior to street date. The Atlanta location was fitting as the band recorded the new release in the city's famed Southern Tracks studio. The event was aired locally by radio station J93.3, where listeners tuned in all day on August 20th for the chance to win one of the new Satisfied releases during "DecembeRadio Day" at the station.
The band was featured on two segments of "Good Day Atlanta," a popular show on Atlanta's FOX affiliate, where they performed the title cut from the new release in addition to their DOVE-nominated hit "Drifter."
DecembeRadio appeared street week for the student body at Liberty University in Lynchburg, Va., where they will return for Winterfest 2008, a youth music festival and conference to be held later this year. The band played two songs from Satisfied at the convocation service for an excited group of students.
After debuting some of the new release on a spring tour with Third Day, DecembeRadio hit several festivals this summer including last week's Rock the Light event in Kansas City, Missouri, and experienced their first tour to Sweden and Norway alongside veterans Jars of Clay. In addition to their concert appearances, the group recently performed on "Every Day with Marcus and Lisa" (FamilyNet) and "Atlanta Live" with numerous on-air radio visits including WAY-FM's "Total Axxess," WONU (Bourbonnais, IL), WNAZ (Nashville, TN), KZKZ (Fort Smith, AR), WVFJ (Atlanta, GA) and KHZR (St. Louis, MO) among others.
"The past few months have felt like a whirlwind," stated band member Eric Miker. "It feels like we've 'lived' on the road and in the studio for months. This is an exciting time for us, and we're just happy that our fans can now experience the new record for themselves. When you live with it the way we have, it feels good to finally let go on stage through the new songs and see people enjoy them firsthand. We are grateful for everyone's support and we feel it everywhere we go."
"For Your Glory," the first AC single from the project, is off to a rousing start with new adds this week. "Better Man," the first rock single from the new release, is #4 on the rock New & Active chart; and "Believer," already receiving glowing comments from program directors nationwide, has just gone for adds at CHR radio with numerous out-of-the-box adds.
Satisfied is distributed by Word/WEA Entertainment with digital distribution by EMI CMG Distribution. For further information and tour schedules, visit www.decemberadio.com or www.myspace.com/decemberadio.
###